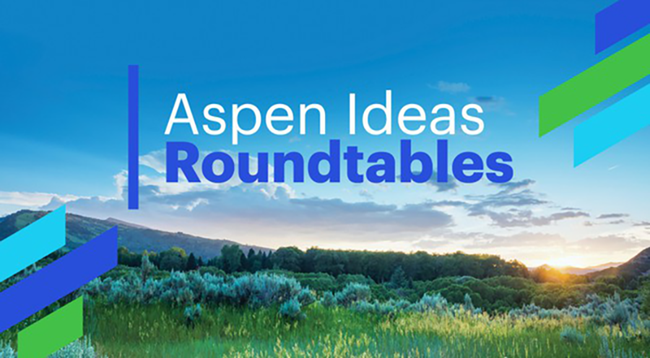 Aspen Ideas Festival 2019 Roundtables
June 23 – 29, 2019
Aspen, CO
Monday, June 24
Reception
Topic: When Women Lead
Underwritten by: Walton Family Foundation
---
Monday, June 24
Roundtable Dinner
Who are the winners in the sharing economy?
Underwritten by: Audi
---
Tuesday, June 25
Roundtable Breakfast
What can, or should, the media do to ease political divisions in this country?
Underwritten by: PBS
---
Tuesday, June 25

Roundtable Breakfast
What has to happen for more Americans to adopt healthy lifestyles?
Underwritten by: Nestle Waters North America
---
Tuesday, June 25
Roundtable Dinner
A top of the mountain networking reception.
Underwritten by: Allstate
---
Tuesday, June 25
Roundtable Dinner
What can national leaders learn from location innovators about creating economic opportunity?
Underwritten by: Grow with Google
---
Wednesday, June 26
Roundtable Breakfast
Why the Debates Matter and What to Watch For
Underwritten by: Comcast NBCUniversal
---
Wednesday, June 26
Roundtable Lunch
The Future of Health Care Delivery: Better Care, Lower Costs, a Healthier Community
Underwritten by: Mount Sinai
---
Thursday, June 27
Roundtable Breakfast
How can companies move the needle on climate change?
Underwritten by: Southern Company
---
Thursday, June 27
Roundtable Dinner
Who's responsible for solving world hunger?
Underwritten by: General Mills
---
Thursday, June 27
Roundtable Dinner
What can business leaders do to build a more inclusive and equitable economy?
Underwritten by: PayPal
---
Friday, June 28
Roundtable Breakfast
What policies will drive meaningful action on climate change?
Underwritten by: ExxonMobil
Presented by
Upcoming Events
Health Care

Pulse: The Atlantic Summit on Health Care

July 15, 2020
Virtual Event

COVID-19 has exposed the longstanding inequities and deficiencies in our health care system.

Energy/Sustainability

Water Summit

July 21, 2020
Virtual Event

Some two million Americans lack consistent access to clean tap water.

Health Care

People v. Cancer

November 2020
Virtual Event

In its third edition of People v. Cancer, The Atlantic will illuminate stories from the frontlines of the cancer community, from the latest oncology breakthroughs to the power of the human experience.