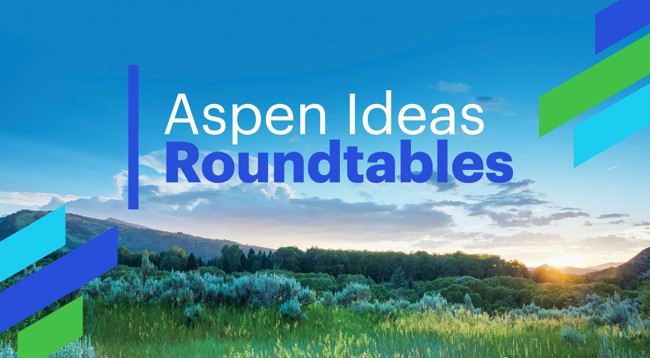 Aspen Ideas Festival 2018 Roundtable Dinners
April 1 – June 30, 2018
Aspen, CO, Colorado
Monday, June 25
Reception
Economic Heartland
Underwritten by: Walton Family Foundation
---
Tuesday, June 26
Breakfast
How can Americans find community in today's society?
Underwritten by: PBS
Breakfast
In an era of low trust, what can corporations do to gain the confidence of Americans?
Underwritten by: Nestlé Waters North America
Dinner
Is American society ready for the waves of automotive change about to roll in? And what can the public and private sectors do to prepare for what's to come?
Underwritten by: Audi
---
Wednesday, June 27
Dinner
What roles should the government and the private sector play in providing a safety net for American workers when they most need it?
Underwritten by: Google
---
Breakfast
As concerns about data privacy rise, how can companies, nonprofits and government agencies rebuild trust among the general public?
Underwritten by: Southern Company
Dinner
What does Generation Z want and how do companies reach them?Underwritten by: General Mills
Dinner
Empowering start-ups and small businesses: What steps can be taken to unlock a new era of inclusive entrepreneurship in America?
Underwritten by: PayPal
---
Breakfast
What reforms are required to break this country's cycle of over incarceration?
Underwritten by: Koch Industries
Presented by
Upcoming Events
Health Care

The New Old Age

October 24, 2018
New York City

How is getting older changing in America?

Energy/Sustainability

Sustainability Summit

October 25, 2018
Los Angeles

Can sustainability save the environment?

CityLab

October 28 – 30, 2018
Detroit, MI

The Atlantic, The Aspen Institute and Bloomberg Philanthropies will convene mayors and city practitioners from across the world for conversations on the future of cities.