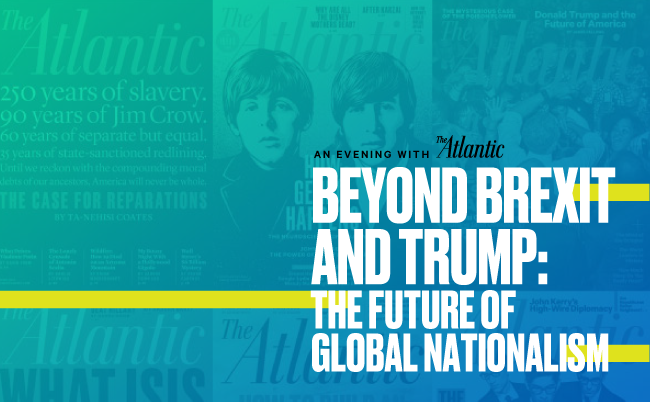 Beyond Brexit and Trump: The Future of Global Nationalism
May 10, 2017
London
The launch of The Atlantic's first ever Global Bureau in London comes at a time when the role of media in today's world is evolving. As the role of the free press comes under scrutiny,   
The Atlantic's editors will explore the changing landscape of global politics and the effect that Washington, DC has on the rest of the world. What impact will Donald Trump have on US foreign policy? How has the role of media changed around the world?
6:30 pm GST Guest Arrival and Reception
7:00 pm GST Conversation
Hosted by


WeWork Waterhouse Square
138 Holborn
London EC1N 2SW, UK
For more information, please email KC Packer at kpacker@theatlantic.com
Presented by
Also in This Series
Culture

Atlantic Exchange: A Retrospective on Race in America

December 5, 2019
Washington, D.C.

"The feeling of the nation must be quickened; the conscience of the nation must be roused; the propriety of the nation must be startled; the hypocrisy of the nation must be exposed; and its crimes against God and man must be proclaimed and denounced." - Frederick Douglass

International/Foreign Affairs

Atlantic Exchange with Mike Giglio

October 24, 2019
Washington, D.C.

What will it take to defeat ISIS?

International/Foreign Affairs

Atlantic Exchange
Former Secretary of Defense Ash Carter
with The Atlantic's Jeffrey Goldberg

June 13, 2019
Washington, D.C.


On June 13th, Secretary Carter will join The Atlantic's editor in chief, Jeffrey Goldberg, for a conversation about the military, leadership, and foreign affairs.
Upcoming Events
Renewal Summit: Los Angeles

November 21, 2019
Los Angeles

In L.A., a thriving metropolis that is home to a rich diversity of people from all walks of life, we'll ask: what will it take to ensure quality of life and greater opportunity for all area residents?

Other

Innovators Lab: San Francisco

December 3, 2019
San Francisco, CA, California


What does it take to stay on top?

Energy/Sustainability

Blueprint

December 4, 2019
Washington, D.C.

The climate is changing. Will our aging infrastructure survive?