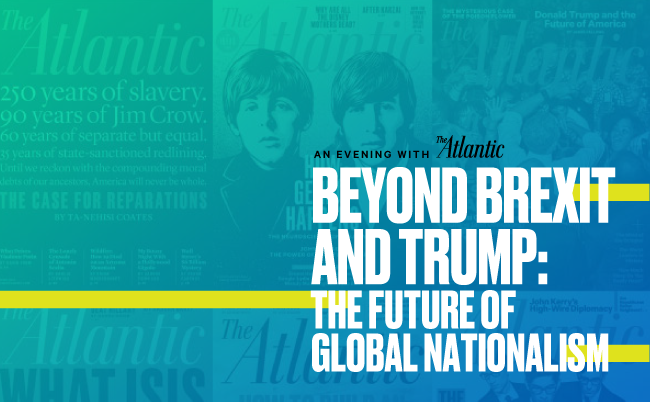 Beyond Brexit and Trump: The Future of Global Nationalism
May 10, 2017
London
The launch of The Atlantic's first ever Global Bureau in London comes at a time when the role of media in today's world is evolving. As the role of the free press comes under scrutiny,   
The Atlantic's editors will explore the changing landscape of global politics and the effect that Washington, DC has on the rest of the world. What impact will Donald Trump have on US foreign policy? How has the role of media changed around the world?
6:30 pm GST Guest Arrival and Reception
7:00 pm GST Conversation
Hosted by


WeWork Waterhouse Square
138 Holborn
London EC1N 2SW, UK
For more information, please email KC Packer at kpacker@theatlantic.com
Presented by
Also in This Series
Politics

Atlantic Exchange
Featuring Alan Wolff
and Steve Clemons

July 17, 2018
Washington, DC

The Deputy Director-General of the World Trade Organization Alan Wolff joined The Atlantic's Washington Editor at Large Steve Clemons for a conversation on the current state of global trade and the future of international economic policy.

Politics

Atlantic Exchange
Featuring Graham Allison
and Jeffrey Goldberg

June 1, 2017
Washington, DC

Graham Allison, Director of Harvard University's Belfer Center for Science and International Affairs, and author of Destined for War: Can America and China Escape Thucydides's Trap?, joined The Atlantic's Editor in Chief Jeffrey Goldberg to explore the US-China relationship and see how war in East Asia can be avoided.

Culture

Atlantic Exchange featuring Helene Cooper and Steve Clemons

March 13, 2017
Washington, DC

New York Times correspondent Helene Cooper will join The Atlantic's  Washington Editor at Large Steve Clemons to discuss her new book on work of Liberian President Ellen Johnson Sirleaf and her successful mobilization of a coalition built on the grassroots foundation of female voters.