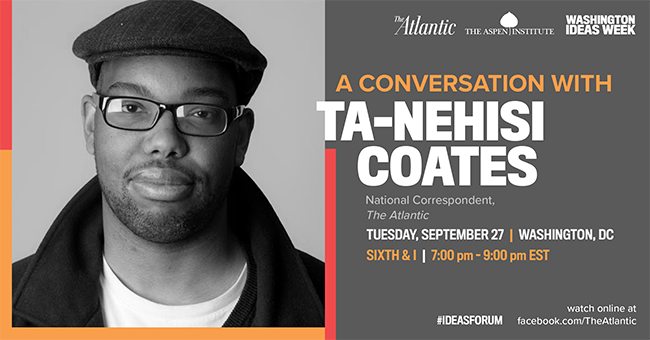 An Evening with Ta-Nehisi Coates
September 27, 2016
Washington, DC
As part of The Atlantic's eighth-annual Washington Ideas Week, Ta-Nehisi Coates reflects on American culture, race and politics. Coates is a national correspondent at The Atlantic, where he writes about culture, politics and social issues. He is the author of two books, The Beautiful Struggle and Between the World and Me. In addition to earning a MacArthur Fellowship in 2015, Coates has received the National Magazine Award and the George Polk Award. Coates recently returned to the U.S. after spending a year in Paris with his wife and son.
6:00 — 8:00 pm ET
Sixth & I
600 I Street, NW
Washington, DC 20001
Presented by
Also in This Series
Spinster: Making a Life of One's Own

April 27, 2015
Washington, D.C.

Kate Bolick joined The Atlantic's Scott Stossel to discuss her new book and the pleasures and possibilities of being a single woman in the 21st century.

Is It Time For the Jews to Leave Europe?

April 7, 2015
Washington, D.C.

The Atlantic's James Bennet sat down with Jeffrey Goldberg to discuss his April cover story on whether the time has come for the Jews to leave Europe.

The Power of Two

September 8, 2014
Washington, DC

The Atlantic's July cover story author Joshua Wolf Shenk joined Alix Spiegel to consider the question of what it means to be creative—and how many people it takes.