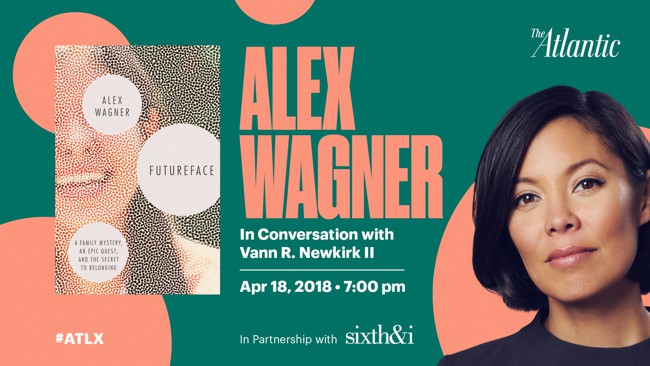 Alex Wagner
In Conversation with Vann R. Newkirk II
April 18, 2018
Washington, DC
Hosted in Partnership With

The daughter of a Burmese mother and a white American father, Alex Wagner—a contributor to The Atlantic and CBS News and co-host of Showtime's The Circus—grew up thinking of herself as a "futureface," an avatar of a mixed-race future when all races would merge into a brown singularity. But when one family mystery led to another, Wagner's post-racial ideals began to fray as she became obsessed with the specifics of her own family's racial and ethnic history.
Drawn into the wild world of ancestry, Futureface: A Family Mystery, an Epic Quest, and the Secret to Belonging chronicles Wagner's quest around the world—and into her own DNA—as she searches for answers to the mystery of her own ancestry and to the ultimate questions of who she really is and where she belongs. Along the way, the journalist raises deeper questions about the American experience of race, immigration, exile, and identity. In conversation with Vann R. Newkirk II, a staff writer at The Atlantic. Book signing to follow.
6:00 pm ET Doors Open
7:00 pm ET  Program Begins
Sixth & I
600 I Street, NW
Washington, DC 20001

Presented by
Speakers
Vann R. Newkirk II

Staff Writer

The Atlantic

Alex Wagner

Contributing Editor

The Atlantic
Upcoming Events
The Atlantic Festival

October 2 – 4, 2018
Washington, DC

Now in its 10th year, The Atlantic Festival will tackle the most consequential issues of our time with some of the nation's most important leaders from business, politics and culture.

Health Care

The New Old Age

October 24, 2018
New York City

How is getting older changing in America?

Energy/Sustainability

Sustainability Summit

October 25, 2018
Los Angeles

Can sustainability save the environment?