Watch full session videos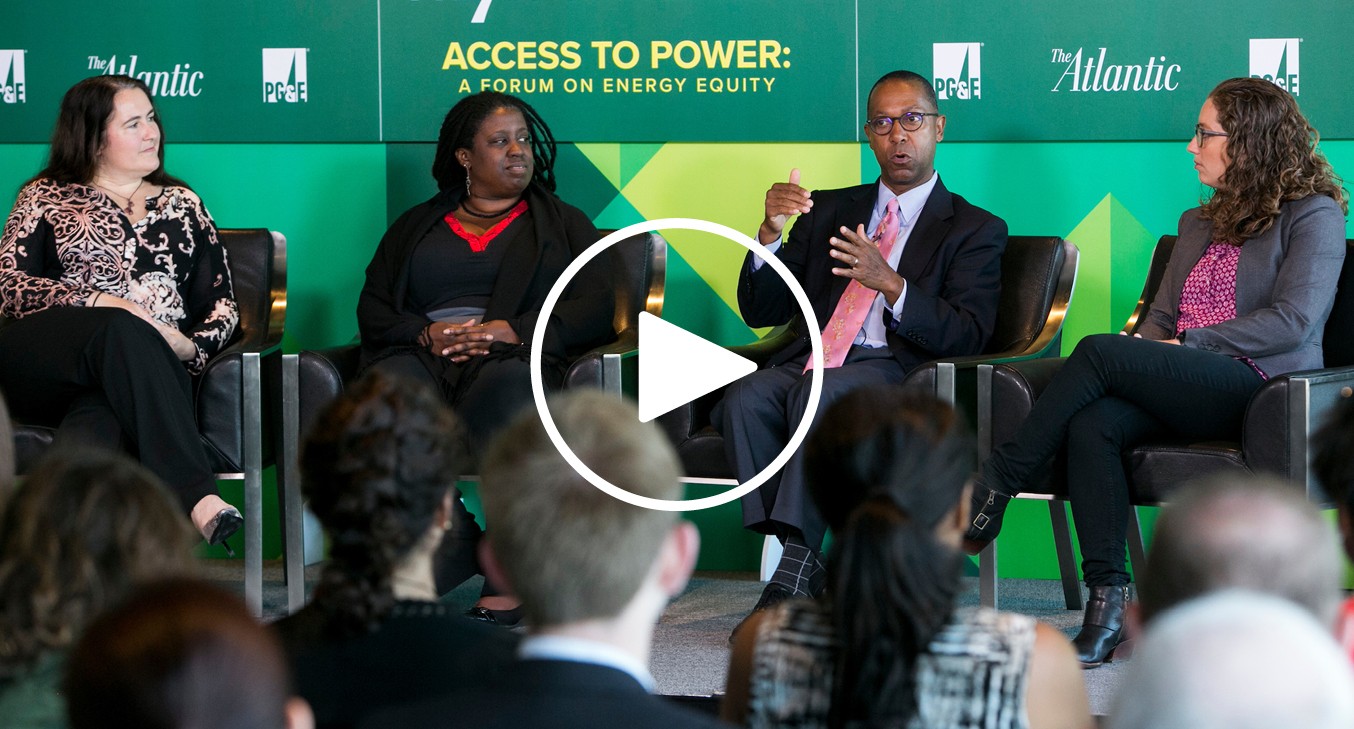 ---
The cost of energy consumption in America hits the poorest households the hardest. This is especially true for people of color and renters who live in multifamily units where buildings are not updated to meet energy efficiency standards. As the energy landscape continues to modernize with better technology and greater investments from both the public and private sector, what will it take to ensure that the benefits of energy innovation are extended to all communities and consumers?
The Atlantic held a policy forum engaging with regulators, industry leaders, innovators and community advocates in a conversation about making clean energy more accessible for all.
To view photos from this event, please visit our Facebook page.
Presented by
Agenda
Thursday, June 09

8:30 a.m.

Welcome Remarks

Emily Akhtarzandi, Managing Director, AtlanticLIVE
Melissa Lavinson, Vice President, Federal Affairs and Policy and Chief Sustainability Officer, PG&E

8:40 a.m.

What Can Consumers Do?

Michelle Moore, Chief Executive Officer, Groundswell
Jacqui Patterson, Director of Environment and Climate Justice Program, NAACP
Ted Trabue, Director, District of Columbia Sustainable Energy Utility
With Rebecca Rosen, The Atlantic

9:10 a.m.

The Energy Vision: The Role of the States

Richard Kauffman, Chairman of Energy and Finance for New York, Office of the Governor
With Ron Brownstein, The Atlantic

9:30 a.m.

Making Clean Energy Affordable

Trenton Allen, Chief Executive Officer, Sustainable Capital Advisors
Jim Barrett, Chief Economist, American Council for an Energy Efficient Economy
Priya Jayachandran, Deputy Assistant Secretary, Office of Multifamily Housing Programs, U.S. Department of Housing and Urban Development
With Ron Brownstein, The Atlantic

10:00 a.m.

Can Peer Pressure Lower Your Electric Bill?

Jim Kapsis, Vice President of Global Policy and Regulatory Affairs, OPower
Susan Mazur-Stommen, Cultural Anthropologist, Founder, Indicia Consulting
With Rebecca Rosen, The Atlantic

10:20 a.m.

Closing Thoughts

-
Also in This Series
Politics

Reforming Criminal Justice

November 10, 2016
St. Louis

In this Next America forum, The Atlantic engaged with state and local leaders, law enforcement officials and community activists for a conversation on how emerging policies will affect safety and justice in St. Louis and in the country at large.

Energy/Sustainability

Access to Power:
Energy Equity in California

September 16, 2016
Oakland, CA

The Atlantic was in Oakland to discuss access to clean energy for low-income and underserved communities.  

Next America

January 1, 2016
Washington, D.C.

This series seeks to explore how the country's growing racial and ethnic diversity is changing the national agenda and ask what it will take to lift more of the emerging Next America into the middle-class.