California has historically led the nation in its ambitious adoption of clean energy technologies. The state has the highest percentage of electric vehicles on the road, the largest number of solar panels installed on rooftops and regulatory processes that allow consumers to advocate for an evolving energy landscape. Despite these shifts, the state's low-income communities face barriers to the clean energy economy due to lack of investments and infrastructure. How will energy stakeholders come together to create a modernized electric grid that benefits everyone?
---
Watch full session videos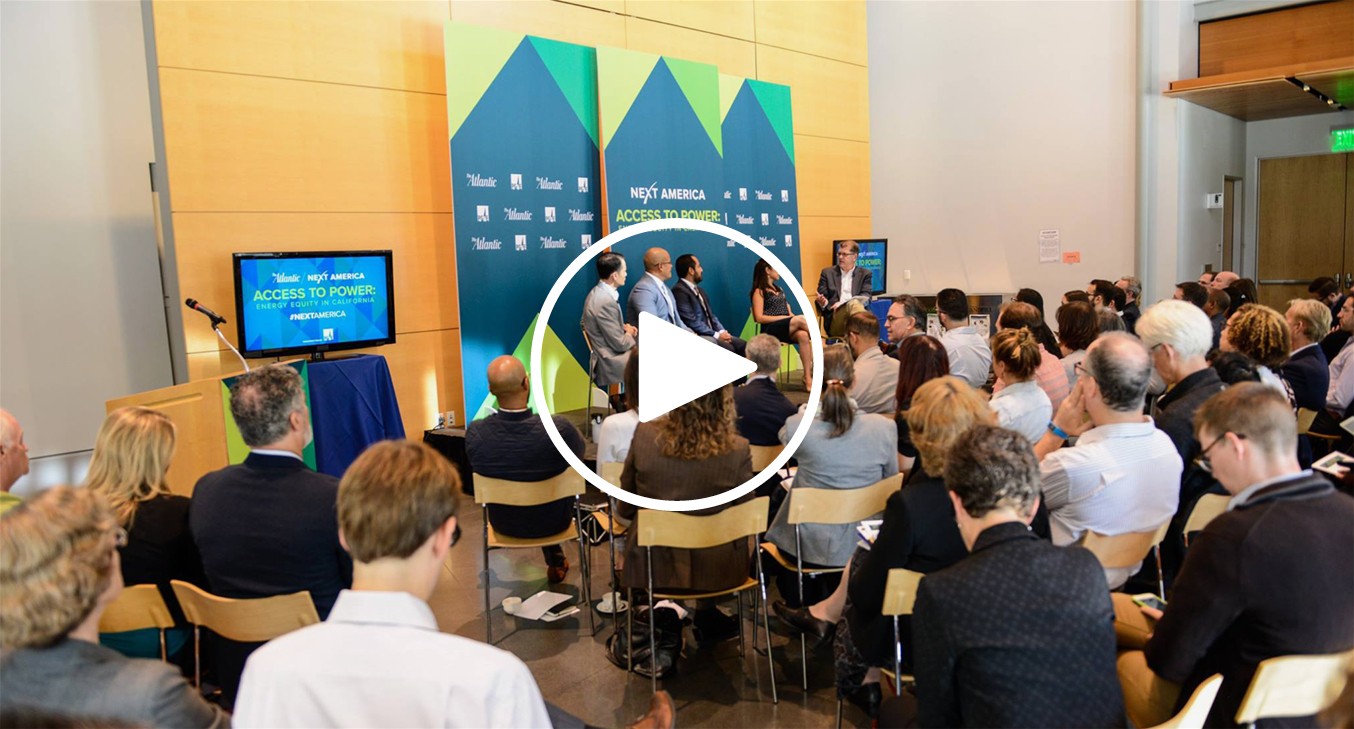 Presented by
Agenda
Friday, September 16

9:30 a.m.

Welcome Remarks

Emily Akhtarzandi, AtlanticLIVE

9:35 a.m.

Oakland's Story

Mayor Libby Schaaf, City of Oakland
With Ron Brownstein, Senior Editor, The Atlantic

9:55 a.m.

Expanding Access to Clean Power

Stanley Greschner, Vice President of Government Relations and Market Development, GRID Alternatives
Jose Atilio Hernandez, Founder and Managing Principal, IDEATE California
Alvaro S. Sanchez, Environmental Equity Director, The Greenlining Institute
Vien Truong, National Director, Green For All
With Steve Clemons, Washington Editor at Large, The Atlantic

10:25 a.m.

Creating Opportunities Through Partnerships
Produced by our underwriter PG&ERobert Kenney, Vice President, CPUC Regulatory Relations, PG&E
With Ortensia Lopez, Co-Chairperson and Co-Founder, The Greenlining Institute

10:35 a.m.

Charting California's Energy Future

Carson Bruno, Research Fellow, Hoover Institution
Alana Mathews, Public Adviser, California Energy Commission
Dan Rosen, Co-Founder and President, Mosaic
Maria Stamas, Project Attorney, Natural Resources Defense Council
With Ron Brownstein, The Atlantic

11:10 a.m.

Closing Thoughts

-
Also in This Series
Politics

Reforming Criminal Justice

November 10, 2016
St. Louis

In this Next America forum, The Atlantic engaged with state and local leaders, law enforcement officials and community activists for a conversation on how emerging policies will affect safety and justice in St. Louis and in the country at large.

Energy/Sustainability

Access to Power:
A Forum on Energy Equity

June 9, 2016
Washington, D.C.

The Atlantic hosted a policy forum engaging regulators, industry leaders, innovators and community advocates in a robust conversation about what it will take to make clean energy more inclusive and accessible for all.

Next America

January 1, 2016
Washington, D.C.

This series seeks to explore how the country's growing racial and ethnic diversity is changing the national agenda and ask what it will take to lift more of the emerging Next America into the middle-class.
Upcoming Events
In Pursuit of Happiness

May 20, 2021
Virtual Event

The Atlantic will host a live event that explores the human hold on happiness—and aims to find ways to build a more meaningful life.

Health Care

The Equity of Cancer Care

June 3, 2021
Virtual Event

The Atlantic will gather leading experts to explore the equity of cancer care and what the oncology community is doing to improve outcomes and survivorship for all Americans.

Health Care

The Atlantic's Health Equity Summit

June 22, 2021
Virtual Event

The Atlantic will explore what the health-care system is doing to combat inequities across race, age, and gender and to improve health outcomes for all Americans.