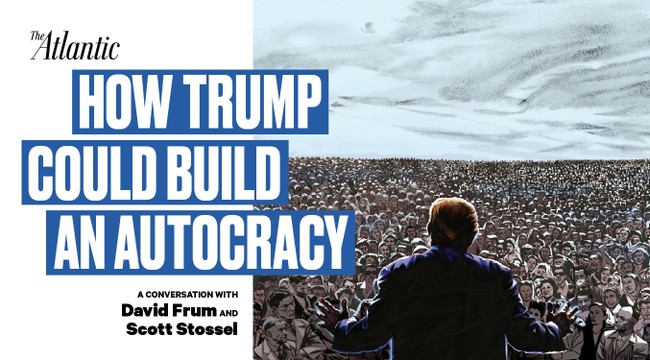 How Trump Could Build an Autocracy:
A Conversation with David Frum and Scott Stossel
February 16, 2017
Washington, DC
Hosted in Partnership With

Over the past generation, we have seen ominous indicators of a breakdown of the American political system," writes David Frum in his cover story "How to Build an Autocracy" in the latest issue of The Atlantic.

The piece comes at a critical time in our history, as a confluence of factors have made the country's democratic institutions ripe on what some would say is perilous footing. As President Trump implements his agenda for the country, Frum writes, it will be up to the public and to Congress to push for checks and balances.

As part of The Atlantic's ongoing partnership with Sixth & I, Frum, a former speechwriter for President George W. Bush, joined The Atlantic Editor Scott Stossel to discuss why he believes President Trump could lead our democracy to an autocracy, and what it could mean for the future of the Republic.
---
Watch the full interview
Sixth & I
600 I Street, NW
Washington, DC 20001
Presented by
Also in This Series
Politics

What Do the Midterms Mean?
With The Atlantic's Politics Team

November 13, 2018
Washington, DC

The midterm elections could define one of the most pivotal periods in America's recent history. One week after the country votes, The Atlantic's top political reporters and editor-in-chief Jeffrey Goldberg take stock of the results and analyze what they mean for the president, policy, and politics leading up to the 2020 presidential campaign.


Tickets: $15 advance/$18 day of

Culture

Alex Wagner
In Conversation with Vann R. Newkirk II

April 18, 2018
Washington, DC

In a conversation with Vann R. Newkirk II, Alex Wagner discusses her book Futureface: A Family Mystery, an Epic Quest, and the Secret to Belonging chronicling Wagner's quest around the world and into her own her DNA.

Technology

Franklin Foer In Conversation
with Hanna Rosin

September 14, 2017
Washington, DC

Franklin Foer will join Hanna Rosin for a conversation about his new book World Without Mind and how consolidation of knowledge and information has changed how we contemplate the world.
Upcoming Events
Economy/Business

Future Economy Summit

May 4, 2021
Virtual Event

The path to the new economy is being charted today. The Atlantic will explore what the future might hold for Americans across the socioeconomic spectrum.

In Pursuit of Happiness

The Atlantic will host a live event that explores the human hold on happiness—and aims to find ways to build a more meaningful life.

Health Care

The Atlantic's Health Equity Summit

June 22, 2021
Virtual Event

The Atlantic will explore what the health-care system is doing to combat inequities across race, age, and gender and to improve health outcomes for all Americans.