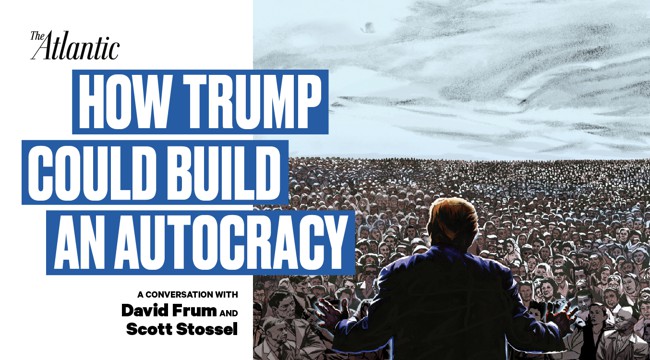 How Trump Could Build an Autocracy:
A Conversation with David Frum and Scott Stossel
February 16, 2017
Washington, DC
Hosted in Partnership With

Over the past generation, we have seen ominous indicators of a breakdown of the American political system," writes David Frum in his cover story "How to Build an Autocracy" in the latest issue of The Atlantic.

The piece comes at a critical time in our history, as a confluence of factors have made the country's democratic institutions ripe on what some would say is perilous footing. As President Trump implements his agenda for the country, Frum writes, it will be up to the public and to Congress to push for checks and balances.

As part of The Atlantic's ongoing partnership with Sixth & I, Frum, a former speechwriter for President George W. Bush, joined The Atlantic Editor Scott Stossel to discuss why he believes President Trump could lead our democracy to an autocracy, and what it could mean for the future of the Republic.
---
Watch the full interview
Sixth & I
600 I Street, NW
Washington, DC 20001
Presented by
Also in This Series
Politics

The Rise of Populism and Nationalism

June 19, 2017
Washington, DC

The Atlantic's Graeme Wood, Rosie Gray and Jeffrey Goldberg will discuss the future of nationalism in the era of Trump and what it means for our country, our allies and our democracy going forward.

Health Care

If Our Bodies Could Talk:
A Conversation with James Hamblin & Matt Thompson

January 11, 2017
Washington, DC

We sat down with Atlantic senior editor James Hamblin to discuss his new book, If Our Bodies Could Talk: A Guide to Operating and Maintaining a Human Body, a handbook for tackling life's most pressing health concerns and curiosities.

Politics

Inside the Mind of a President

March 30, 2016
Washington, D.C.

Atlantic Editor in Chief James Bennet hosted a conversation with National Correspondent Jeffrey Goldberg about his April cover story, The Obama Doctrine.
Upcoming Events
Health Care

Innovation Pipeline: Examining Modern Medicine

August 1, 2017
San Francisco

In the third event of the "Examining Modern Medicine" series, The Atlantic will gather stakeholders, original thinkers and tinkerers from the nation's innovation capital to explore what it means to put the bio into biotech.

CityLab Baltimore

August 2, 2017
Baltimore, MD

CityLab Baltimore will convene top urban stakeholders from around the country to discuss some of the most pressing issues US cities face.

Washington Ideas

September 25 – 28, 2017
Washington, DC

For its ninth year, the Washington Ideas Forum will convene the nation's leaders, from politics and government to business and culture for two days of idea sharing and thought provoking conversation.