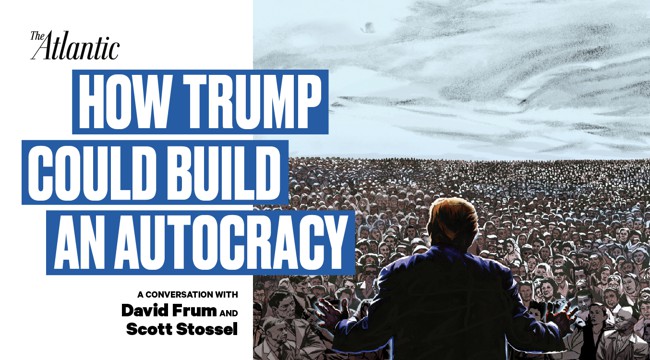 How Trump Could Build an Autocracy:
A Conversation with David Frum and Scott Stossel
February 16, 2017
Washington, DC
Hosted in Partnership With

Over the past generation, we have seen ominous indicators of a breakdown of the American political system," writes David Frum in his cover story "How to Build an Autocracy" in the latest issue of The Atlantic.

The piece comes at a critical time in our history, as a confluence of factors have made the country's democratic institutions ripe on what some would say is perilous footing. As President Trump implements his agenda for the country, Frum writes, it will be up to the public and to Congress to push for checks and balances.

As part of The Atlantic's ongoing partnership with Sixth & I, Frum, a former speechwriter for President George W. Bush, joined The Atlantic Editor Scott Stossel to discuss why he believes President Trump could lead our democracy to an autocracy, and what it could mean for the future of the Republic.
---
Watch the full interview
Sixth & I
600 I Street, NW
Washington, DC 20001
Presented by
Also in This Series
Health Care

If Our Bodies Could Talk:
A Conversation with James Hamblin & Matt Thompson

January 11, 2017
Washington, DC

We sat down with Atlantic senior editor James Hamblin to discuss his new book, If Our Bodies Could Talk: A Guide to Operating and Maintaining a Human Body, a handbook for tackling life's most pressing health concerns and curiosities.

Culture

An Evening with Ta-Nehisi Coates

September 27, 2016
Washington, DC

As part of The Atlantic's eighth-annual Washington Ideas Week, Ta-Nehisi Coates reflects on American culture, race and politics.

Politics

Inside the Mind of a President

March 30, 2016
Washington, D.C.

Atlantic Editor in Chief James Bennet hosted a conversation with National Correspondent Jeffrey Goldberg about his April cover story, The Obama Doctrine.
Upcoming Events
Education

We The People
Featuring Georgetown University's
John J. DeGioia and
The Atlantic's Steve Clemons

March 7, 2017
Washington, DC

In a series of conversations, The Atlantic will explore civitas, the contract binding all citizens together.

Education

The Formative Years: What's Next for Early Care and Education? An Atlantic Next America Forum

March 8, 2017
Washington, DC

In this Next America forum, The Atlantic will convene key policymakers, local officials, stakeholders and experts to examine the future of early care and education policy.

Culture

Atlantic Exchange featuring Helene Cooper and Jeffrey Goldberg

March 13, 2017
Washington, DC

New York Times correspondent Helene Cooper will join The Atlantic's  Editor in Chief Jeffrey Goldberg to discuss her new book on work of Liberian President Ellen Johnson Sirleaf and her successful mobilization of a coalition built on the grassroots foundation of female voters.