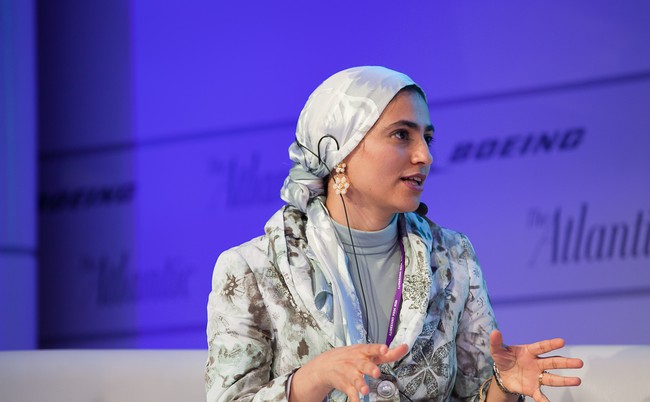 ABU DHABI — The intersection of culture and code. The balance of privacy and progress. Skills acquired online, in person and outside the traditional classroom.
These and other big ideas were among the topics that panelists and speakers explored Wednesday during the afternoon session of the "What's Next? Navigating Global Challenges with the Innovation Generation", presented by The Atlantic in Abu Dhabi, United Arab Emirates.
The event, underwritten by Boeing, featured an array of panelists, moderators and speakers from a number of sectors including education, government, technology and elsewhere speaking on the ways that a connected world continues to change at an ever quickening pace.
The notion of where expertise comes from—whether it's the traditional classroom, an ongoing education program, real-world experience or even less formal pathways—loomed large in sessions focusing on technology and society.
Brad Hargreaves, co-founder and chief product officer of the General Assembly education network, walked through the culture of open and transparent innovation in the technology ecosystem. His company works to keep creative and technology professionals current on a number of professional standards.
Hargreaves said he thinks many businesses no longer use the traditional degree as an indicator of skill, at least not as much as they have in the past.
"I believe one of the biggest challenges facing the creative class is that everything is changing so quickly," Hargreaves said in an pre-event interview. "The technologies you needed to be a successful web developer ten years ago are totally different from the technologies you need to know today. So I believe we're moving away from a world in which individuals go to school for 18 years and then are out in the workforce and don't need to be reskilled. We need shorter, more packed forms of education that allow people to keep their skills fresh, especially creative individuals."
The value of experience and the hands-on connection people get with physical interaction—as opposed to strictly online interaction—also came up earlier in the afternoon, during a session on Facebook.
Terry Kane, head of travel and auto for Facebook, spoke to the ways the company seeks to balance its responsibility to its stakeholders with its responsibility to users who share very personal information and expect it to be treated with respect.
Brands like Facebook are more than just advertisements, Kane said. They have become in many ways part of the cultural fabric.
"Brands form a part of us," he said. As things develop, ads in the social space should "give people the ability to see only what is interesting and relevant to them."
The balance of privacy and progress arose again in a session covering the nature of insider threats and cyber security.  Marta Arsovka Tomovska, deputy minister of information society and administration for Macedonia; and Mahir Nayfeh, a senior vice president at Booz Allen Hamilton, spoke about the ways that new technologies have demanded new responses to emerging threats—for governments and individuals alike.
Sophisticated internet activity "that you might attribute to government actually can be done by individuals," Nayfeh said, noting that upwards of 90 percent of the Internet is not even searchable on Google.
The deputy minister noted that threats from the inside of organizations are some of the hardest to guard against.
"It's very important that governments have a systematic approach to this question," she said.
While the seemingly endless possibilities of the Internet can result in Earth-shattering incidents and malignant attacks, those same possibilities also have the capacity to welcome disruption that can spur development.
That was the theme of the day's final panel, which examined disruption through the lens of individuals who have seen it from the frontlines.
The panel included Katie Bisbee, chief marketing officer for donorschoose.org;
Leslie Dewan, co-founder and chief executive officer of Transatomic Power, a company that makes sustainable energy from nuclear waste; Habib Haddad, CEO of Wamda, an enabling platform for engineers; and Brian Mullins, CEO of Daqri, an augmented reality firm.
In a pre-event interview, Mullins keyed into one of the major themes of the day—that innovation and the spread of ideas can have a compounding effect—in any sector.
"The thing that's most interesting to me about this event is the broad coverage, how much innovation is going on in so many sectors, and not just falling into the mold that a lot of innovation and technology conferences stay in," Mullins said. "At this event I saw things from nuclear power to augmented reality and everywhere in between."