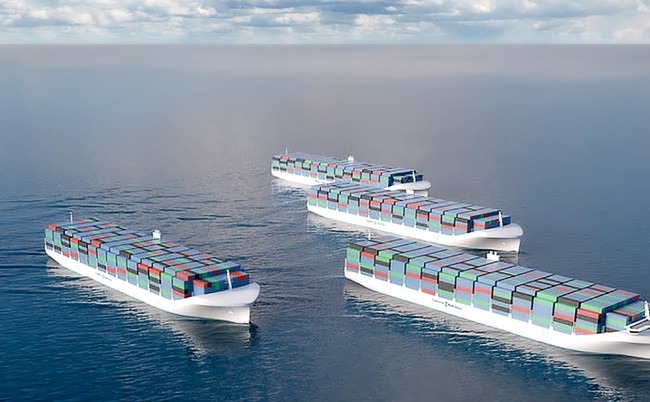 A ship with no crew.
What was once an idea relegated to the ghost stories of sailors and tellers of tall tales will soon become a reality thanks to innovations in seafaring navigation technology. The engineers working to build this new class of automated ships even give a nod to the stories of yore, referring to these drones of the sea as ghost ships.
Technology under development could soon enable sea vessels to join the ranks of other unmanned technologies, such as Google's driverless cars, Amazon's drone deliveries and Mercedes' self-driving trucks.
Advocates say remotely guided ships could prove a safer, cheaper and greener alternative to models piloted by captain and crew. But not all are on board. Shipping professionals who oppose the idea have pointed to safety concerns, friction with maritime legal traditions and significant costs as possible impediments wide-scale adoption of automated shipping. Nevertheless, champions of the cause are increasingly singing the praises of the technological possibilities.
Various projects are underway to explore the feasibility of introducing so-called ghost ships into the $375 billion shipping industry, where 90 percent of world trade takes place. After more than a decade of research and development, the idea of an unmanned cargo ship is beginning to crystallize: Experts see working prototypes a possibility in the next few years, with working vessels sailing the seas in 10 to 20 years down the line.
The mechanisms of an unmanned watercraft are not unlike those behind the unmanned aircraft. Both are controlled remotely by a human driver, who uses cameras that provide full-circle and bird's-eye views of the craft's surroundings. In the case of automated shipping, a secure communications link transfers this data in real-time to ships as large as 600,000 tons. The pilot also uses object-recognition software and radar to avoid other vessels, with the ability to connect with passing ships and other communications systems.
British manufacturer Rolls-Royce Holdings, which has its hand in aerospace, defense and marine industries, is at the forefront of ghost ship development. The company's Blue Ocean development team has crafted a virtual-reality simulator in its Norway office that projects 360-degree views of a cargo ship's command center.
Meanwhile, the European Union has teamed up with eight partner organizations to fund the $4.8 million research project, dubbed the Maritime Unmanned Navigation through Intelligence in Networks (MUNIN). Researchers are building and testing a prototype they say will be ready by next year.
Elsewhere, DNV GL, a leading ship classification company and energy efficiency expert, is experimenting with the battery-powered "ReVolt" vessel, a cargo ship that DNV GL predicts will save the company up to $34 million over a span of 30 years, compared to a diesel-run boat.  
Automated ships are an effort to address the shipping industry's perpetual manpower shortage. In recent years, mariners have begun shying away from spending weeks away from their families and friends on open water. By controlling the vessel from land, advocates say, sailors and captains who would be lost to the shipping industry can now have more regular schedules and control more vehicles. In fact, one captain can operate up to ten vessels at once.
In addition to offering benefits to shipping professionals, the automated vessel would also allow more space for extra cargo. By removing components such as crew quarters, air conditioning and heating that are necessary only for on-board crew, automated ships are 5 percent lighter before loading and use 15 percent less fuel, Rolls-Royce says. Having no hands on deck also eliminates between $3,000 and $4,000 worth of daily crew operating expenses.
Cutting the crew keeps down more than just costs: Slowing a medium-sized ship's speed by 30 percent, which is possible with the crew absent, saves 50 percent of the fuel, MUNIN reports. Rolls-Royce predicts a 20 percent reduction in carbon dioxide and other emissions as well. The green initiatives also save money: Currently, fuel takes up the largest percentage of operating costs.
Opponents of the unmanned vessels argue the savings will not be as substantial as many advertise when taking into account the development and safety costs associated with the technology.
"I don't think personally that there's a huge cost-benefit in unmanned ships today, but technologically it's possible," said Tor Svensen, CEO of maritime for DNV GL. "My prediction is that it's not coming in the foreseeable future."
It may take 20 to 30 years before ghost ships will be sailing the seas, but that's not for lack of technological development, according to Simon Bennett, director of external relationships at the International Chamber of Shipping, a group that manages 80 percent of the approximately 100,000 vessels in the ocean.
"The technology for electronic positioning, satellite communications and anti-collision measures already exists", says Ornulf Rodseth, a researcher at MARINTEK, one of the eight partner organizations involved in the EU's MUNIN project. "Many vessels are also equipped with advanced sensor systems. It is one thing to have the technology, but quite another to bring it all together and demonstrate that it works well enough to satisfy the authorities and the industry."
Most importantly, engineers need to focus technological development on communications security, with a particular focus on seafaring combatants who might seek to disrupt international shipping patterns.
"Even with modern encryption, data links and communications pathways can be jammed or otherwise disrupted," writes Commander Chris Rawley, the U.S. Navy deputy commander of special operations in the Horn of Africa. "Networked weapon systems and perhaps engineering controls of future combatants might be vulnerable to hacking or takeover."
Another issue researchers will need to tackle is the problem of law on the high seas, or the lack thereof. Currently, international law sets minimum crew requirements, making unmanned vessels illegal, Bloomberg reports. Certain existing regulations create a confusing, mismatched picture. For example, a report from the Institute of Intelligent Systems for Automation highlights a law that states any unmanned sea vessel can be seized by any claimer.
These and other matters can be addressed, but public preconception needs to be adjusted, advocates say. Some still distrust a machine's ability to respond in the case of danger without the backup of in-person intervention.
"It cannot and will never replace the eyes, ears, and thought processes of professional seafarers," says Dave Heindel, chairman of the International Transport Workers' Federation's London seafarers' branch. "The human element is one of the first lines of defense in the event of machinery failure and the kind of unexpected and sudden changes of conditions in which the world's sea specialize. The dangers posed to the environment by unmanned vessels are too easily imaged."
Supporters of the new designs respond that the vessels will in fact be safer, pointing to research that suggests that human error—due to fatigue and lack of attention—causes 75 percent of maritime accidents. Deaths in the sea shipping industry are 90 percent more prevalent in the land-based industry, currently numbering 900 fatalities a year, DNV GL reports.
Oskar Levander, vice president of innovation in marine engineering and technology at Rolls-Royce, says that physical crews won't necessarily add any safety measures that remote control, preventative maintenance and emergency back-ups don't already provide.
Whatever the case, it's unlikely the world will see a dramatic shift to empty ships swarming the sea anytime soon. Rather, the transition may be gradual.
Companies will slowly develop new technology that shifts responsibility from man to machine, such as transitioning to crewless navigation at night. Most projects allow for crewmen on board when docking or taking off, but the deep-sea voyages and crowded territory are considered ideal opportunities for using the self-navigating ship. Seamen will remain on deck as an extra precaution for hazardous ships, such as large tankers, says Levander.
"Now the technology is at the level where we can make this happen, and society is moving in this direction," Levander said to Bloomberg. "If we want marine to do this, now is the time to move."
This is one in a series of posts related to the event What's Next: Navigating Global Challenges with the Innovation Generation.
An Arabic translation of this article is provided here.