CityLab 2014
Photo Gallery: On-the-Ground in Los Angeles, California
Visual highlights from the main stage to the Ace Theatre.
The second annual CityLab took place in downtown Los Angeles from September 28 - 30, 2014. Hosted by The Atlantic in partnership with The Aspen Institute and Bloomberg Philanthropies, the program brought together hundreds of guests from more than 125 ​cities across the world to discuss urban solutions to global challenges.​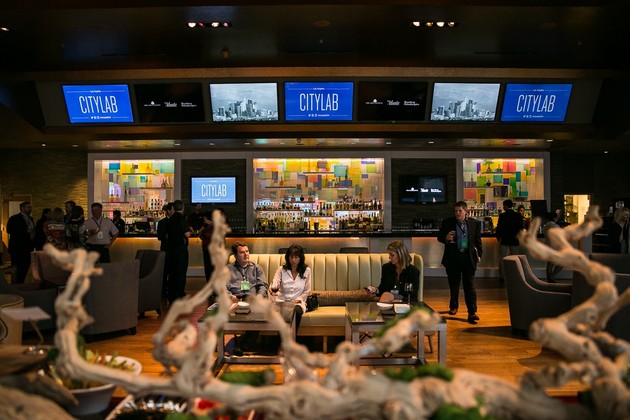 Guests start to file into a welcome reception kicking off the event at the JW Marriott Los Angeles L.A. LIVE's The Mixing Room.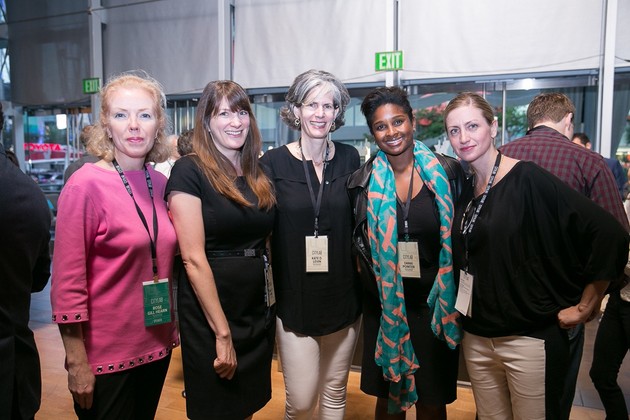 Rose Gill Hearn and Kate Levin, Principals at Bloomberg Associates, and Crime Prevention and Criminal Justice Officer of UNODC Tanja Santucci pause for a picture with attendees.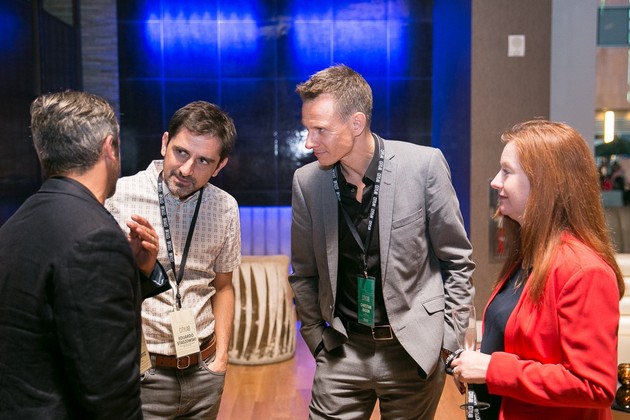 The head of MindLab's Christian Bason chats with CityLab participants in The Mixing Room.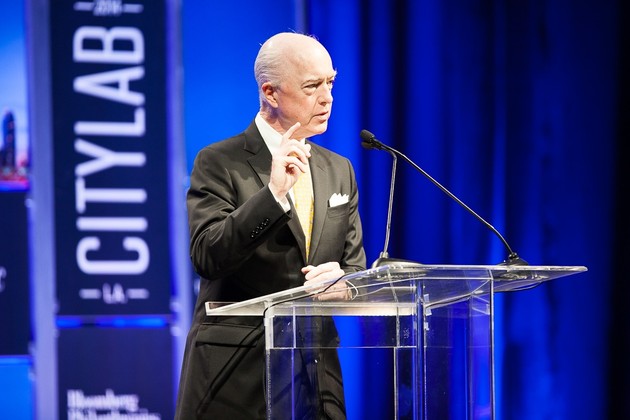 Chairman of Atlantic Media David Bradley delivers welcome remarks in the JW Marriott Los Angeles L.A. LIVE Platinum Ballroom main stage.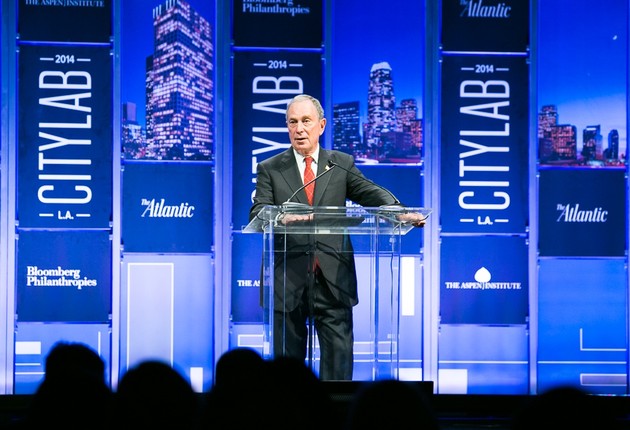 Founder of Bloomberg LP and Bloomberg Philanthropies and 108th Mayor of the City of New York Michael Bloomberg makes opening remarks on the main stage.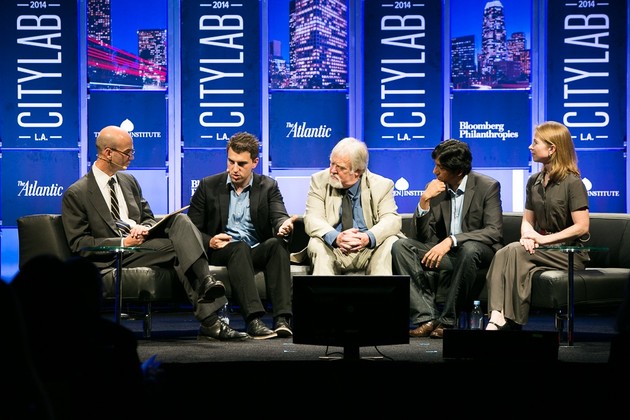 The Atlantic's James Bennet moderates a panel, "What's Mine is Yours? The New Dynamics of the Sharing City," featuring CEO of Airbnb Brian Chesky.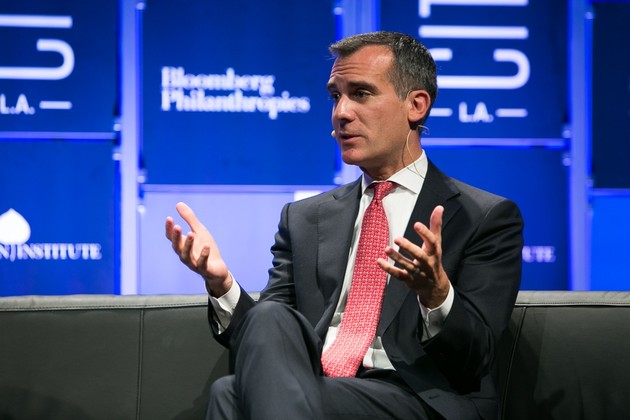 Los Angeles Mayor Eric Garcetti shares his ideas on reinventing city hall.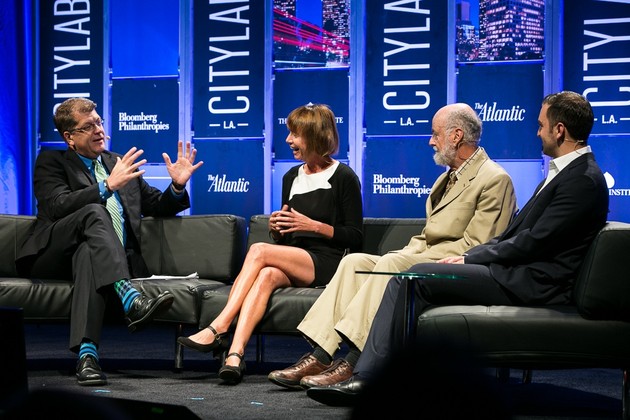 The Atlantic's Steve Clemons discusses the future of urban mobility with Janette Sadik-Khan, Principal, Bloomberg Associates; Donald Shoup, Distinguished Professor of Urban Planning, UCLA; and John Zimmer, Co-Founder and President, Lyft.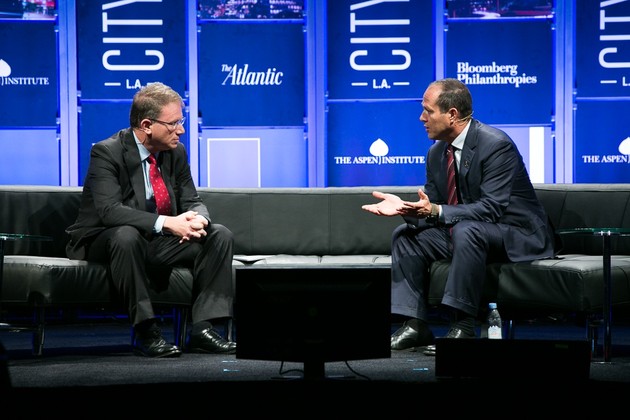 Atlantic National Correspondent Jeffrey Goldberg interviews Jerusalem Mayor Nir Barkat on the topic of "Governing the World's Most Complicated City."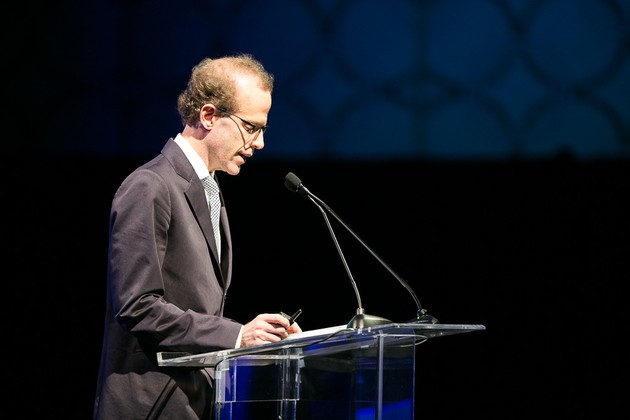 Dan Barber, Co-Owner and Executive Chef of Blue Hill, shares a presentation on "Local Food: Beyond Farm-to-Table."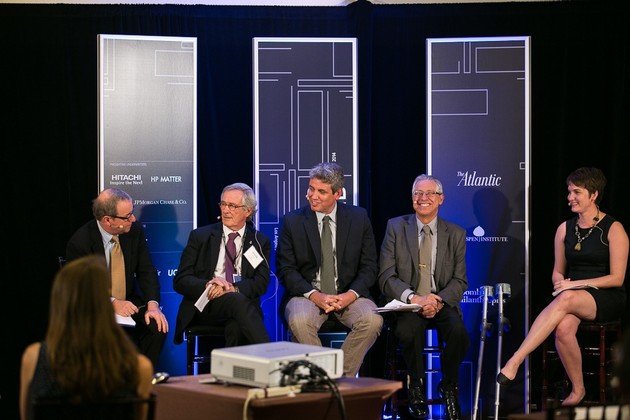 Atlantic Media Editorial Director Ron Brownstein poses a question to panelists at a breakout session called "Age in Place: Designing Cities for Life—and Late in Life."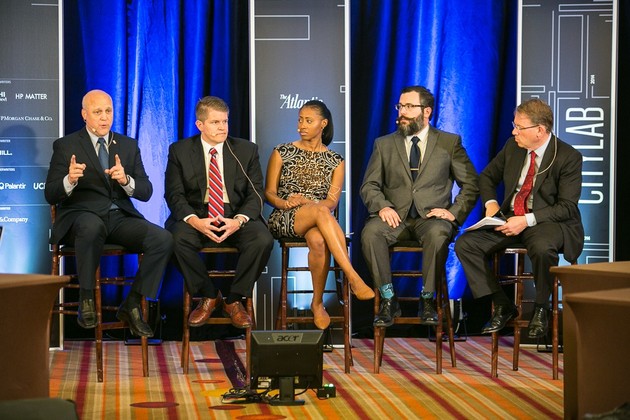 New Orleans Mayor Mitch Landrieu addresses the room at "Don't Shoot: Combating Gun Violence with Data."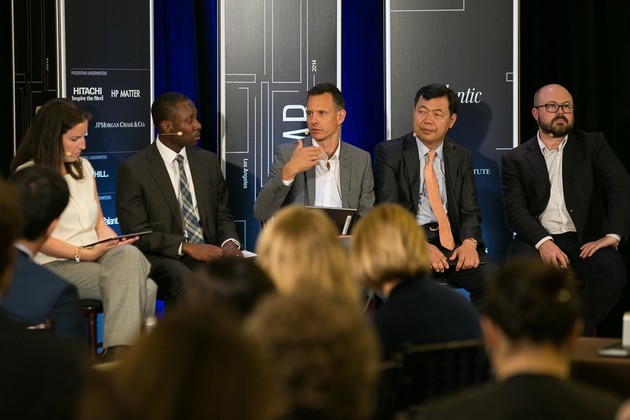 A breakout session called "i-Teams: Making Innovation Happen in Government" features moderator Katie Appel Duda of Bloomberg Philanthropies, Christian Bason of MindLab, In Dong Cho of the Seoul Metropolitan Government, Philip Colligan of Nesta Innovation Lab, and Charles West of the Office of the Mayor of New Orleans.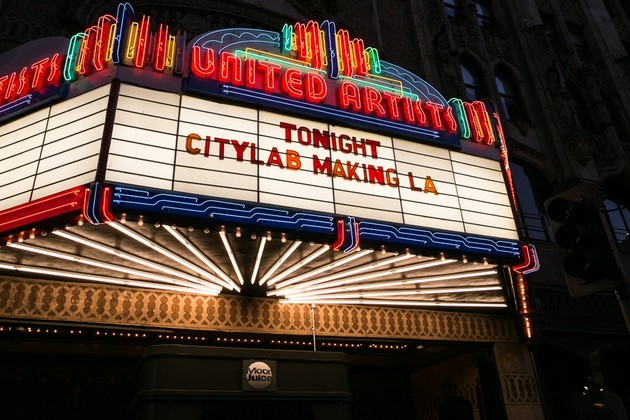 CityLab: Making L.A., a public evening program, is hosted at The Theatre at Ace Hotel in downtown Los Angeles.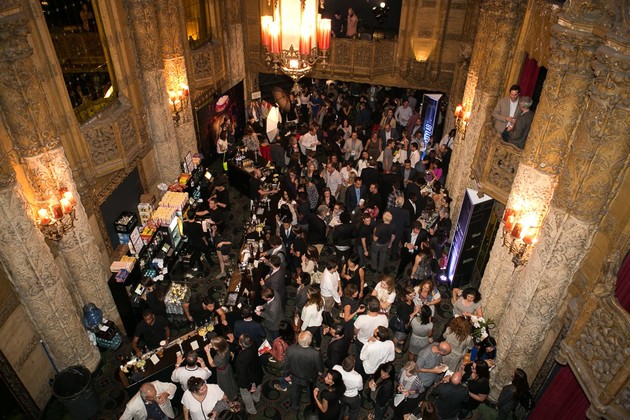 Guests crowd into the busy theatre before the start of the program.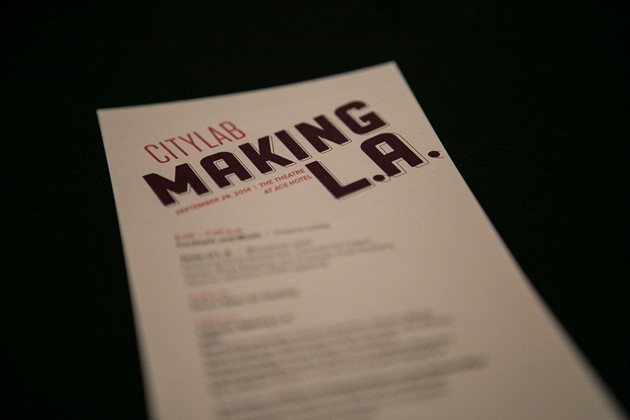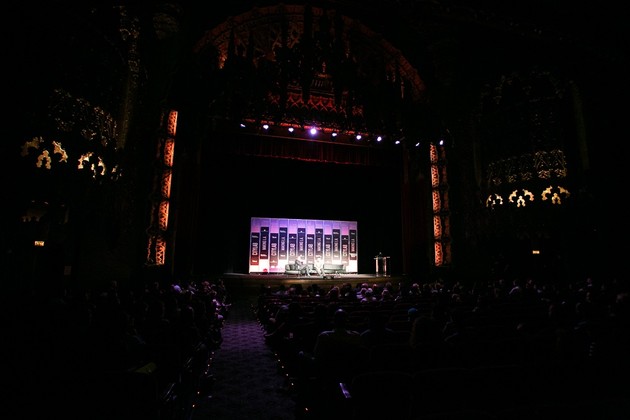 CityLab: Making L.A. featured local civic leaders, from Mayor Eric Garcetti to Pivot President Evan Shapiro.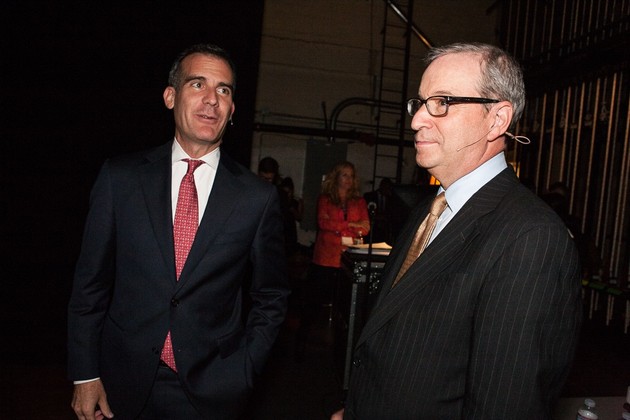 Los Angeles Mayor Eric Garcetti and Atlantic Media Editorial Director Ron Brownstein get ready to go on stage.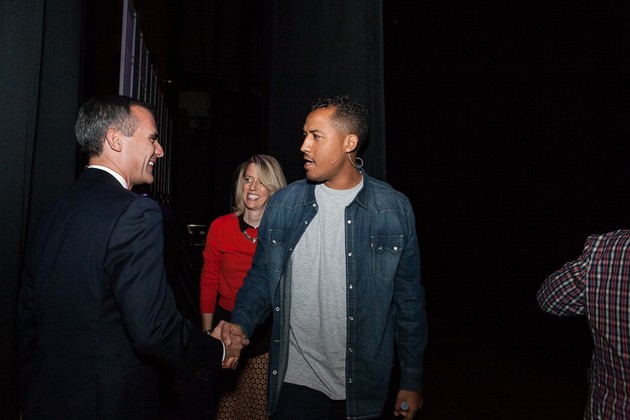 Gavin "Mizzle" McNeill, Creative Director and Owner of YOUth Store and Gallery, and Mary Melton, L.A. Magazine Editor in Chief, are greeted backstage by Mayor Eric Garcetti.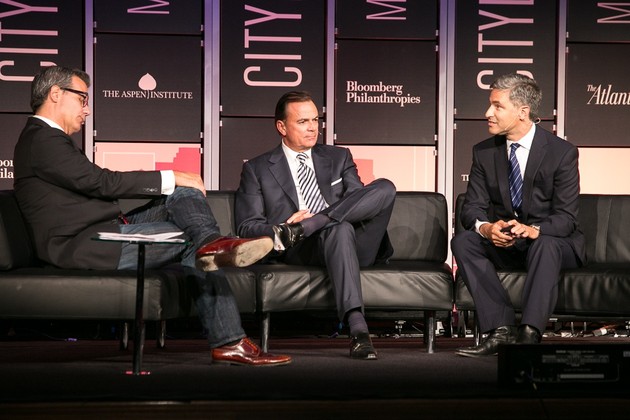 The Atlantic's Richard Florida interviews Rick Caruso, Founder and CEO of Caruso Affiliated, and Michael Govan, Executive Director at LACMA, on a session called "The Power of Place: Putting Culture on the (Urban) Map."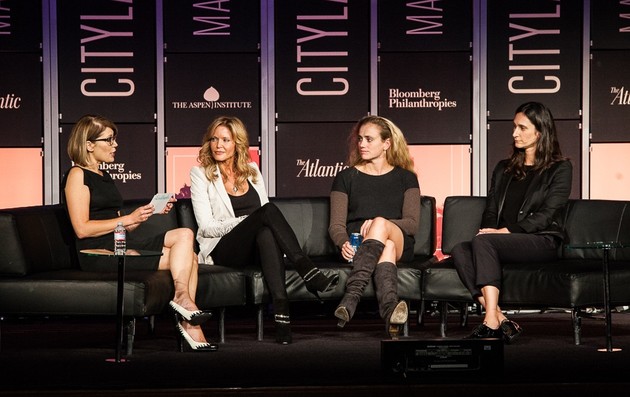 L.A. Magazine's Linda Immediato interviews Paige Adams-Gellar of PAIGE Denim, Meg Gill of Golden Road Brewing, and Bettina Korek of ForYourArt for "Making It in the City: Top L.A. Entrepreneurs Tell All."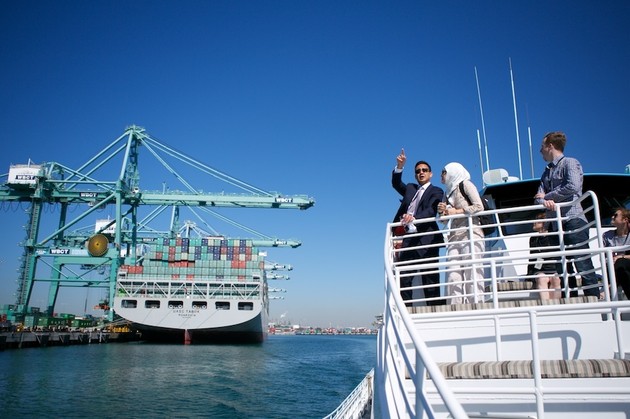 Guests learn about the Port of L.A. at a CityLab field trip.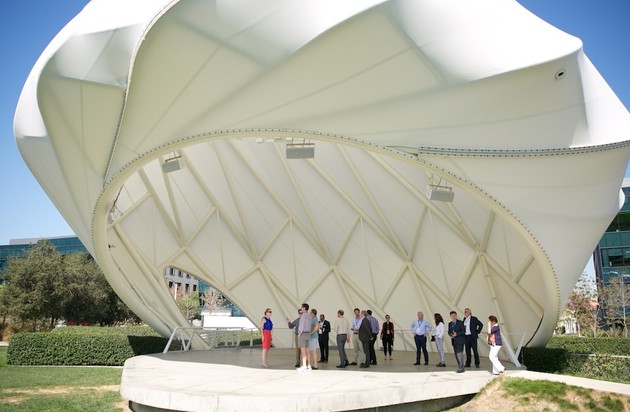 A guide shares details about Playa Vista at a CityLab field trip.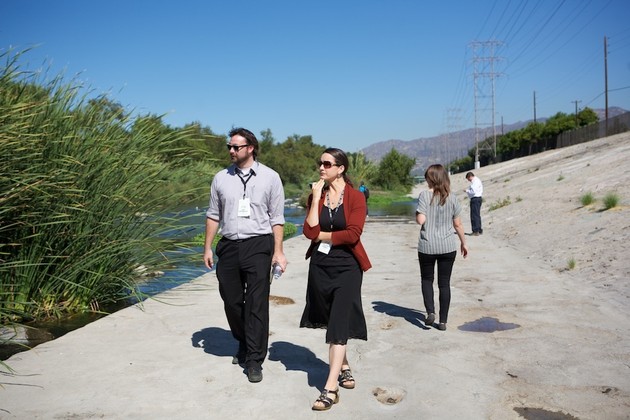 Guests walk a segment of the L.A. River at a CityLab field trip.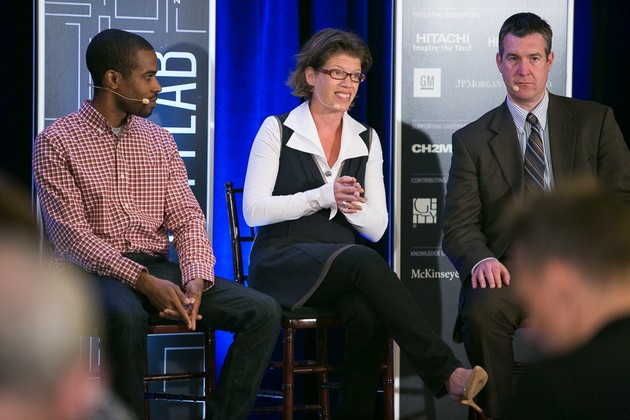 A breakout panel called "Made in [your city here]: The Next Generation of Urban Manufacturing" includes panelists Matthew Burnett, CEO of Maker's Row; Kate Sofis, Founding Executive Director of SFMade/Urban Manufacturing Alliance; and Mayor Dayne Walling of Flint, Michigan.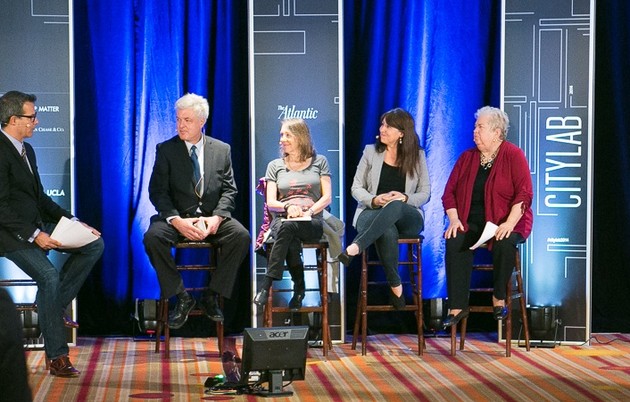 The Atlantic's Richard Florida moderates a panel called "From Skyline to Waistline: Can Smarter City Planning Make Citizens More Active?" with Tim Blumenthal, President of PeopleForBikes Coalition; Esther Dyson, Founder of HICCup; Gabriella Gomez-Mont, General Director of Lab for the City, Mexico City; and Mayor Pam O'Connor of Santa Monica, California.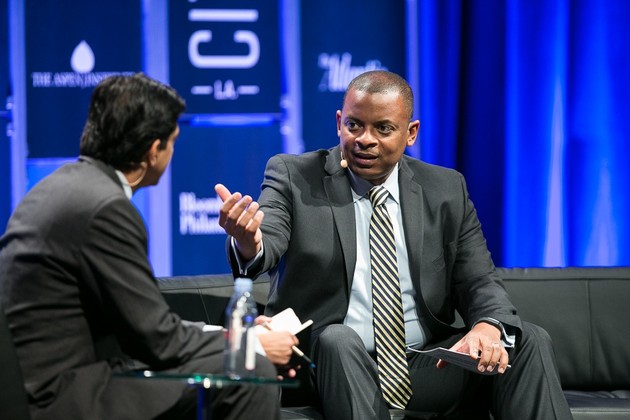 At the Tuesday afternoon closing program, Arun Rath, Weekend Host of NPR's All Things Considered, interviews Anthony Foxx, U.S. Secretary of Transportation.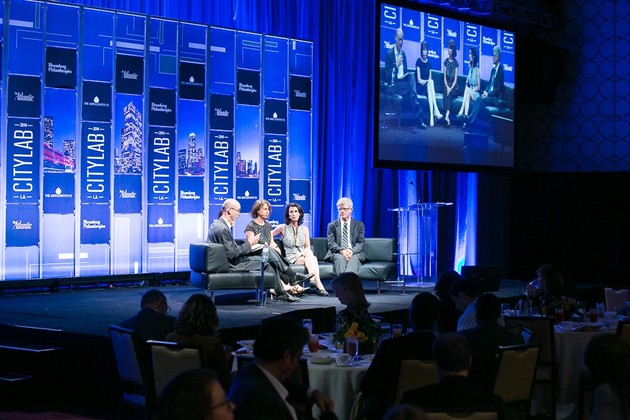 During "L.A. Story: Strategies for Stopping a Runaway Industry," moderated by The Atlantic's James Bennet, the following experts shared their thoughts on the film industry: Kathy Garmezy, Associate Executive Director, Government and International Affairs, Directors Guild of America; Amy Lemisch, Executive Director, California Film Commission; Katherine Oliver, Principal, Bloomberg Associates; Jay Rowe, Senior Vice President, West Coast Production, HBO.