CityLab 2014
Four Things You Missed
Conference highlights, brought to you from Los Angeles.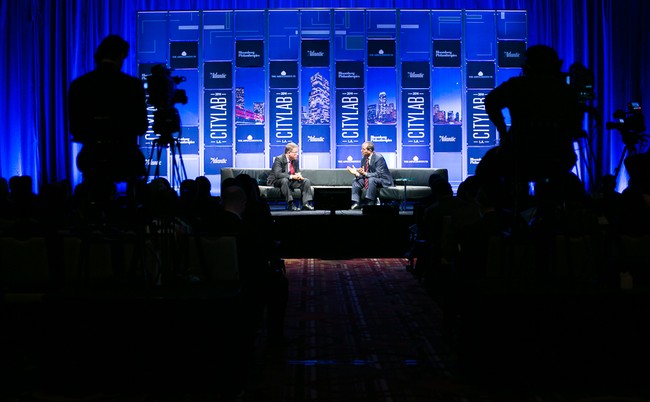 1. A Primer on the Science of Parking Enforcement
Next time you're fumbling for 8 quarters to feed your meter for an hour, remember that the world's top urban mobility experts say charging a premium for parking is rule number one for sound city management. Cities tend to make parking free and housing expensive," Donald Shoup, a UCLA professor and the author of The High Cost of Free Parking, explained to an audience of 400 urbanists and mayors gathered for CityLab. "That's backwards." Instead, Shoup said, cities should make housing more affordable and parking pricier, while using meter revenue to pay for aesthetic and service improvements on the metered block.
Other lessons from a star-studded urban mobility panel: Lyft CEO John Zimmer says the average car in LA has 1.1 passengers in it; up the average to 1.3, and you all but eliminate the city's famous traffic problem. Also, cities could help boost ride sharing if they invested in a network of bathrooms for drivers.
2. A Lesson on Why Even War-Torn Cities Should Leverage Their Brand
Jerusalem Mayor Nir Barkat, a former venture capitalist, clings to a glass-is-half-full mentality, even amidst a recent spate of severe violence. Calling Jerusalem "one of the most important brands in the world," Barkat said his city is the beneficiary of 3,000 years of investment and hosts more than 2 million tourists annually. "There's a huge upside in Jerusalem," Barkat said, "and I'm there to exploit it."
3. Social Network Mapping of Urban Neighborhoods Predict Shootings
Yale sociologist Andy Papachristos maps urban gun violence using social networks, which predict, to a startling degree, he says, "who's gonna get shot." Studying a social network of 170,000 individuals in Chicago, Papachristos found that less than 4 percent of the city population is responsible for 85 percent of all fatal and non-fatal shootings. One Boston neighborhood Papachristos researched is home to 6 percent of the city's population and an astonishing 85 percent of all gunshot injuries. "Just being in this network...increases your risk of being shot by 900 percent," Papachristos said, adding that his use of network science to map gun violence is more than just an academic exercise. The research is used to predict and disrupt the next shooting.
4. An Explainer for Why Los Angeles is the Bohemian Capitol of the World
"There are no rules; there's no taste [and] it's very freeing," Los Angeles County Museum of Art CEO Michael Govan said when asked to explain why LA appeals to bohemians. "No taste and good space…is a powerful mix." Speaking with
The Atlantic's
Richard Florida before a crowd of 800 Angelenos gathered for CityLab's Making L.A. evening program, Govan hailed the city's "frontier" vibe.
It was easy to appreciate the sentiment from inside the 1920's-era, Spanish gothic-style Ace Theater, formerly the flagship movie house of United Artists. Sitting just blocks from Skid Row, on Broadway, a formerly dilapidated stretch of downtown LA, the theater was a perfect venue for Making L.A., an evening spent celebrating the city in all of its boho glory.
Govan was followed on stage by Gavin "Mizzle" McNeill, a young entrepreneur and clothier to the rapper Lil Wayne, whose brand's flagship store sits in Fairfax, a Jewish enclave being revitalized by skaters and young African-American business owners. The evening closed with an interview of Roy Choi, whose Kogi BBQ food truck spawned a national movement celebrating street food—and has given establishment restaurateurs reason to worry. Ever the upstart, a pony-tailed Choi reacted frankly when told that his interviewer usually speaks with politicians. "Dude," he said, "that sucks."