CityLab 2014
You Asked, They Answered
L.A. leaders and city activists answer virtual questions at LA2050 and The Atlantic's Twitter party online.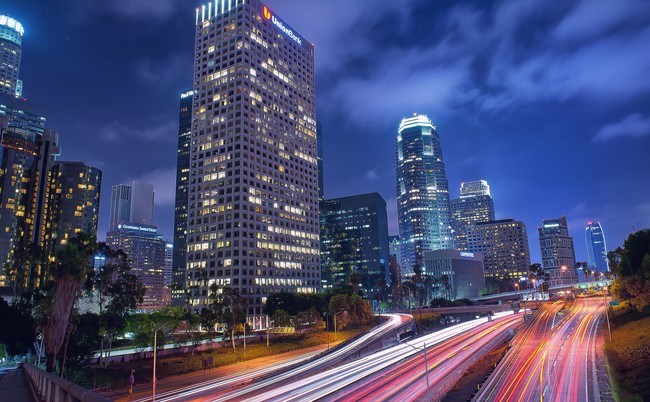 LA2050 and The Atlantic hosted a virtual Twitter party to kickoff the conversation about discovering urban solutions to global problems taking place at this year's CityLab event.  The discussion focused on the event's host city of Los Angeles, with LA2050 and AtlanticLIVE posing a variety of questions to the social community. Below is a highlight of the hour-long exchange:
What's the best part of living in Los Angeles—or your city—right now?
Most people come to LA w/ a dream & determination in their suitcase.There's an aura surrounding LA that anything is possible. #CityLab2014

— Meg Gill (@MegGillGRB) September 24, 2014
A1. Living in Los Angeles is amazing because of the #diversity and vibrancy of the people, food, arts and culture. #CityLab2014

— Because China Arts (@BecauseChinaArt) September 24, 2014
A1. LA has a vibrant community of storytellers, through their voices we can shape a lifestyle to be admired around the world. #CityLab2014

— ALTravelProject (@ALTravelProject) September 24, 2014
What role does the film industry play in defining Los Angeles' character?
Everyone who doesn't live in LA thinks the film industry is LA, it helps drive the creativity, but something else does too. #CityLab2014

— Aaron Z (@Aaron_AtoZ) September 24, 2014
A3. Confusing Hollywood with #LA is like confusing Starbucks with Seattle...there's more in both places! #CityLab2014

— Arts for LA (@Arts4LA) September 24, 2014
Los Angeles is second only to Silicon Valley in number of startups. How does the spirit of entrepreneurship contribute to L.A.'s culture?
A4: #CityLab2014 We are a city of dreamers and entrepreneurs. In LA, anything is possible, and we are proving that. Keep creating!

— Tara Roth (@taranellroth) September 24, 2014
A4. Entrepreneurs ARE #LA! From street vendors, to activists to techies- entrepreneurship is the foundation of #LA. #CityLab2014

— Ki'tay Davidson (@KitayDavidson) September 24, 2014
A4: #LA is a city of changemakers: people who won't settle for "but this is how it's always been done" #CityLab2014 @LA2050 @Atlantic_LIVE

— NationBuilder (@NationBuilder) September 24, 2014
How has L.A.'s new mayor Eric Garcetti changed the conversation in and about the city?
A5 We've finally joined the conversation w/ #OpenData &partnerships to reduce #VetHomelessness & provide #SummerJobs for youth #CityLab2014

— Eric Garcetti (@ericgarcetti) September 24, 2014
A5: @ericgarcetti is putting #LA on the map as a leader in civic innovation & accessible gov 2.0 #CityLab2014 #ProudAngeleno!

— Emma Lalley (@emmaclalley) September 24, 2014
A5 #CityLab2014 I appreciate Mayor @ericgarcetti's work to re-brand LA to represent our diversity & complexity better on a global stage.

— Clare Fox (@clarefoxinla) September 24, 2014
A5: #CityLab2014 Have you seen his instagram? He's given #LA a unique mayor's view of the city @Atlantic_LIVE @LA2050 http://t.co/CGPu7hoIDN

— LA Mayor's Office (@LAMayorsOffice) September 24, 2014
How has the embrace of street food—from trucks to carts—influenced L.A. and other cities?
@Atlantic_LIVE street food gets people onto the streets to enjoy each other, great places and have engaging experiences #CityLab2014

— Los Angeles Walks (@LosAngelesWalks) September 24, 2014
A6. Embracing #LAStreetVendors legitimizes #entrepreneurship among those historically underrepresented. It's huge, it inspires. #CityLab2014

— DSTL Arts (@DSTLArts) September 24, 2014
@LA2050 down in #LA & up here in #PDX, the street food culture has spawned a new-found sense of community #breakingbread #CityLab2014

— ImpactFlow (@impactflow) September 24, 2014
A6 <3 #LAstreetvendors! We hope a new legal permit system will be passed soon & provide incentives for healthy food carts. #citylab2014

— LAFoodPolicyCouncil (@GoodFoodLA) September 24, 2014
Can street vending help make Los Angeles the healthiest place to live?
Street vending encourages people to stay local, walk or bike, get out of their cars & reduce #AirPollution #CityLab2014

— AirTek (@AirTekCA) September 24, 2014
A7 Yes of course! Lower overhead allows #foodtrucks to concentrate on fresh local ingredients and healthy menus. #Citylab2014 #LA

— Tiffy Diamond (@Tiffy4u) September 24, 2014
A7: Let's be honest, it's not the healthy options that make us love #LAStreetVendors. Bacon-wrapped hot dogs, amirite? #CityLab2014

— Leonard Hyman (@cultureindustry) September 24, 2014
What does the future of L.A. look like in the year 2050?
A10: A city that not only draws people from all walks of life, but gives them and locals what they need in order to succeed #CityLab2014

— Jacqueline le (@jackylesavage) September 24, 2014
LA2050 is a place where people CONNECT during their commute & travel freely outside the 'bubble' of their cars. Less traffic! #CityLab2014

— ALTravelProject (@ALTravelProject) September 24, 2014
@LA2050 It looks PROFOUNDLY amazing-a city who loves itself like NYC w/ "at-risk" 'anyone' becoming a thing of the past #CityLab2014 #LA2050

— Childrens Lifesaving (@ChildrensLife) September 24, 2014
A10: Working together to learn and grow more than now. It should be easier with better transportation in the future. #CityLab2014

— Girls in Tech LA (@GITLosAngeles) September 24, 2014