Women of Washington
Kirsten Gillibrand: Off the Sidelines—and Playing Hard Against Sexism
With a new book making headlines, the senator from New York talks gender equality.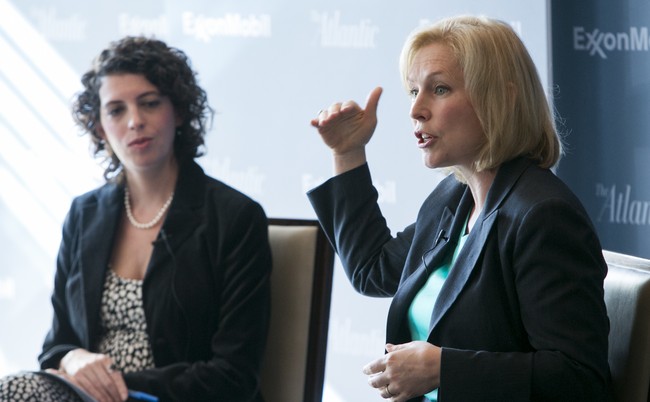 With her new book making headlines, the senator from New York talks gender equality.
"I wrote it as a very intimate conversation among women," Senator Kirsten Gillibrand told a crowd of 100 Washingtonians gathered to hear her discuss her new book, Off the Sidelines, released just a week ago. The New York Democrat, headlining The Atlantic's latest program in the "Women of Washington" event series, told political writer Molly Ball that she hopes the book will "elevate the challenges we [women] face in the workforce."
The senator, whose recent comments on the entrenched sexism she has encountered in the halls of Congress have stirred outrage, said she is focused on using her position to cast light on the role gender issues play in American society. Gillibrand defended her decision to not reveal the source of sexist comments she faced earlier in her career. If she had called out her colleague, she said, "Then our conversation would be about the idiocy of one single individual male." She'd prefer to talk about the real issues affecting women everywhere: the causes she has championed as a legislator include better justice for victims of sexual violence, equal pay for equal work, and parental leave.
Advocating for a combination of strategies for reforming damaging social norms, Gillibrand argued for both a top-down approach of the Sheryl Sandberg variety ("push ahead, make partner, change the culture") as well as government action informed by real-life study of the issues. She cited her now-defeated legislation to remove the prosecution of cases of rape in the military from the chain of command as an example of how government action influenced by the experience of real people can lead to change: "Our solution," she said, "was based on what the victims themselves told us."
Talk very quickly turned to recent news with Gillibrand pointing to the Ray Rice domestic abuse scandal as an example of systemic gender inequality. "There were no facts left to be debated—and he was still given a slap on the wrist," she said of Rice's initial punishment. Asked whether NFL Commissioner Roger Goodell should be fired, however, Gillibrand demurred. "I wanted him to lead the reform," she said of Goodell, before adding that the commissioner should lose his job if conclusive evidence emerges showing he lied about having not seen the video prior to dismissing the case with a two-game suspension.
The interview left no doubt that the 2016 presidential race has begun as Gillibrand launched into campaign mode. "I think Hillary Clinton is the most qualified person to run for President in 2016," Gillibrand said of the woman she's openly labeled as her inspiration for entering politics in the first place. Clinton, she said, galvanized her to step "off the sidelines" and is "a role model across the globe, as someone who stands up for women's rights."
While her message of gender equity was upbeat and inspirational—and delivered to a room full of prominent professional women—Gillibrand stressed the importance of empowering women from all backgrounds with the support and flexibility they need to lead healthy and productive lives. "[It's about] shattering the glass ceiling" and also "cleaning up the sticky floor," she said, before adding:"I'm most worried about the woman who's going to clean this restaurant tonight."