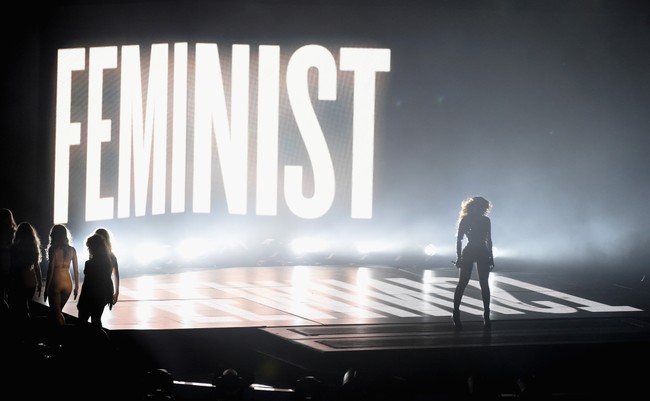 "Feminist: a person who believes in the social, political, and economic equality of the sexes."
It's a simple definition adapted from the dictionary, yes, but it's also a line in a Beyoncé song—one that she sampled from a 2013 TED Talk called "We Should All Be Feminists" by Nigerian author Chimamanda Ngozi Adichie. During a performance at the 2014 MTV Video Music Awards last night, the line took center stage, as Beyonce performed with the word "FEMINIST" emblazoned behind her in bright white letters.
It was a striking image: a pop icon proudly declaring herself a feminist using the words of an African novelist. But Beyoncé isn't the only person who's been inspired by Adichie; her TED Talk has accumulated over one million views, and her third book, Americanah, won the National Book Critics Circle Award for Fiction last year.
"Each time I walk into a Nigerian restaurant with a man, the waiter greets the man and ignores me," explained Adichie during her talk. "I know the waiters don't intend any harm.… [but] I want to tell them that I am just as human as the man, that I am just as worthy of acknowledgement."
Indeed, Adichie's career is worth more than just acknowledgement. She studied medicine at the University of Nigeria for a year and a half before moving to the United States at nineteen with a scholarship to Drexel University. She graduated from Eastern Connecticut State University in 2001, and during her time there worked on her first novel, Purple Hibiscus, which went on to be shortlisted for the Orange Fiction Prize, one of the United Kingdom's most prominent literary awards. Her next novel, Half of a Yellow Sun, won the prize.
Together, her three novels have won eight major literary awards over the past ten years. She was also the recipient of a MacArthur Genius Grant and listed in The New Yorker's 20 under 40.
But despite her inarguably storied career and her momentous role in the feminist movement, Adichie still struggles with the societal norms she tries so hard to fight.
"I'm trying to unlearn many of the lessons of gender that I internalized when I was growing up, but I sometimes still feel very vulnerable in the face of gender expectations," she said.
Those expectations have affected Beyoncé as well. In the wake of her VMA performance, outlets like FOX News accused her of having a double standard because of the revealing clothing she wore while performing, a sentiment The Guardian echoed in a 2013 op-ed.  
But, of course, Adichie has a simple response for Beyonce's critics: "Whoever says they're feminist is bloody feminist."
You can see Chimamanda Ngozi Adichie speak at The Atlantic's upcoming Washington Ideas Forum.