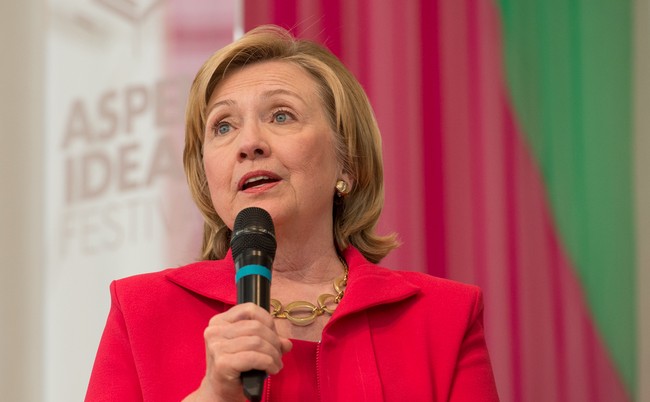 For the previous installment in our series, click here.
This week, we've established that there are a wealth of simultaneous events to choose from at the Aspen Ideas Festival. But on Monday afternoon, all 2800 attendees of the festival convened in a single place: the Benedict Music Tent, for a session titled "An Afternoon of Conversation." Below, the five highlights:
1. A forty-year term as Harvard president. That's what Drew Gilpin Faust, Harvard president for the past seven years, wants to achieve, per an interview with Carlyle Group Co-Founder and Co-CEO David Rubenstein. "I would like to serve as long as Charles William Eliot," Faust declared. "He became president in 1869 and ended his term in 1909… so I have [thirty-three] years to go." Faust and Rubenstein also talked financial aid at Harvard, with Faust providing the impressive statistic that sixty-five percent of Harvard undergraduates are on some form of financial aid. Faust said that the college looks for qualities other than academic excellence when considering a student for admission, namely, "somebody who's going to be able to take advantage of the [Harvard] experience."
2. Hillary speaks out against Hobby Lobby. "I find it deeply disturbing," said Hillary Rodham Clinton to Walter Isaacson about the Supreme Court's Monday ruling that family-owned corporations can deny contraception to their employees. Clinton visited the Aspen Institute campus for an interview that covered subjects including international diplomacy, Russian-American relations, and income inequality. And a run for president? "Nobody should run for president… unless you really believe that you have a vision for where our country should be headed and you can lead us there. Because otherwise, it's just the same political debate over and over again…. Anyone who says they would go to Washington and never compromise should be automatically disqualified from going there."
3. Indra Nooyi's struggles with the work-life balance. Does the Chairman and CEO of PepsiCo think that women can have it all? "We pretend we can have it all," she told Atlantic Media Chairman and owner David Bradley. "[My husband and I] plan our lives meticulously so we can be decent parents. But if you ask my daughters, I'm not sure they would say I've been a good mom." At Pepsi's helm since 2006, Nooyi has spearheaded significant changes across the company, focusing on the two pillars of sustainability and corporate culture. And Nooyi has her eye on even more change, noting that Americans have become much more focused on foods labeled as natural and organic: "Consumers are rethinking how they eat and drink."
4. Al Gore: optimistic about climate change? In a recent article for Rolling Stone, former Vice President and climate change activist Al Gore displayed continued optimism about the green movement. When asked to elaborate by CNN's David Gergen, he said: "We're going to get there. The only question… is how much damage we want to allow to take place for us and our children and grandchildren." But the Obama administration has done well with trying to stop the damage, according to Gore, notably with the $50 billion green stimulus passed in 2012. And Gore provided even more examples of environmental change happening across the country, citing the Green Tea Coalition, a partnership between the Atlanta Tea Party and the Sierra Club; and TUSK (Tell Utilities Solar will not be Killed), a pro-solar foundation founded by Barry Goldwater, Jr.
5. "No one is born is a racist." This from a postcard from the Race Card Project, an undertaking by NPR host and author Michele Norris in which anyone can anonymously submit six words on race and identity. The project has aggregated thousands of submissions from around the world; and Norris, along with several other Ideas Festival speakers, recited some of them on stage to powerful effect.