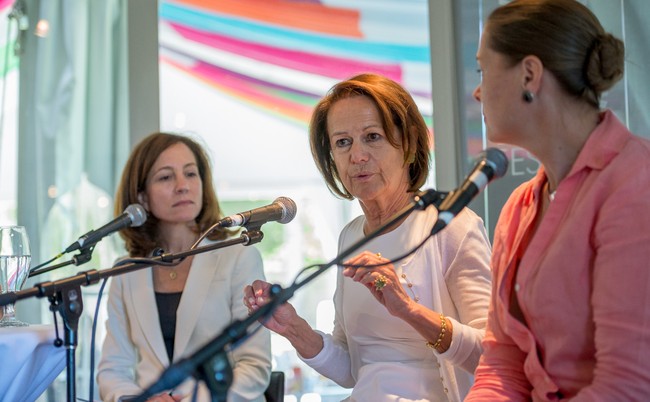 During the penultimate day of the Aspen Ideas Festival, attendees explored topics like higher education improvement, storytelling technologies, and designer babies. Below, five things you missed from the day's events:
1. The underlying purpose of work. During a panel on Wednesday, Quartz's Kevin Delaney asked a crucial question: What is the relationship between business and purpose? That is, is there an underlying reason for working besides making money? Horacio Rozanski, president and chief operating officer at Booz Allen Hamilton, says yes. "I don't go to the workplace every day just to get paid. Much like societies don't just exist to exist, companies don't just make money to make money; purpose becomes the scaffolding in which you build your strategy." The University of Toronto's Roger Martin expanded on that premise, explaining that "there's [not] a formula for purpose, except that if your purpose doesn't serve your customers and inspire your employees, it's probably not very effective."
2. America's—and the world's—massive human trafficking problem. According to Thomson Reuters Foundation CEO Monique Villa, 30 million people are living as slaves today -- more than at any point before in history. In a lunch session, Villa and human rights litigator Martina Vandenburg shared stories from around the world of human trafficking violations—even some within our own borders. "The reality is that sometimes that supply chain, which we often think of [as being] in Bangladesh or Malaysia, is sometimes right beneath our nose," said Vandenburg, citing cases in Philadelphia and Kansas City, Missouri. There are even allegations that people are being enslaved in America's federal system through government contracts. President Obama responded to this in 2012, releasing an executive order that protects against trafficking in federal contracts, but the problem now lies in enforcing the order—and to do that, Villa and Vandenburg say, there must be more pressure put on the American government by media, lawyers, and the general public.
3. Is having a genetically perfect child a good thing? The question was the cause of much debate during a panel called "Should We Design Our Babies?" featuring Duke University's Nita Farahany and the Center for Genetics and Society's Marcy Darnovsky with moderating by The Atlantic's James Bennet. The panelists disagreed, with Farahany advocating for smart trait selection, and Darnovsky cautioning that doing so could lead the country down a slippery slope. However, both agreed on the need for a dialogue. Farahany proposed that a new federal organization be created to address the issue, saying that the Food and Drug Administration "isn't designed well to work in this very complicated field."
4. Interacting through Instagram. Could the photosharing platform become a new form of language? Artist and computer scientist Jonathan Harris thinks so: "It's just one human consciousness trying to communicate with another human language." During a panel discussion about narrative technologies, founders of online companies and internet experts debated whether online innovation is making us dumber and more antisocial. Candice Faktor, the general manager of Wattpad—a website which creates online writing communities—believes the opposite. "What the internet actually gives a lot of people is personal connection," she said. "Our readers and writers… are far less lonely because [of] the personal connection through stories, and a lot of people don't find that in the physical world." Yoni Bloch, co-founder and CEO of the interactive video company Interlude, likened the skepticism to the hysteria around television in the 1940s and 50s.
5. The support of college completion, not just enrollment. That's what Secretary of Education Arne Duncan is hoping to achieve, per a conversation with The New York Times' David Leonhardt. "We at the federal level have been part of the problem," admitted Duncan, sharing that the government gives out 150 billion dollars in loans each year, not based on outcomes but based on enrollment. Duncan hopes to make attendance to high-caliber colleges a reality for low-income students, and has already attempted to simplify the financial aid FAFSA form. Duncan recognized that going to a good college can change a family's life, and that for some, "it is an insurmountable hurdle." It's clear that Duncan considers this issue a personal priority, and one he hopes to solve while in office. "The value of a college degree has never been higher," he said. "The stakes have been been huge."