Spotlight: Health 2014
What Are the Biggest Conversations in Health?
From the legalization of marijuana, to the future of long-term care in America.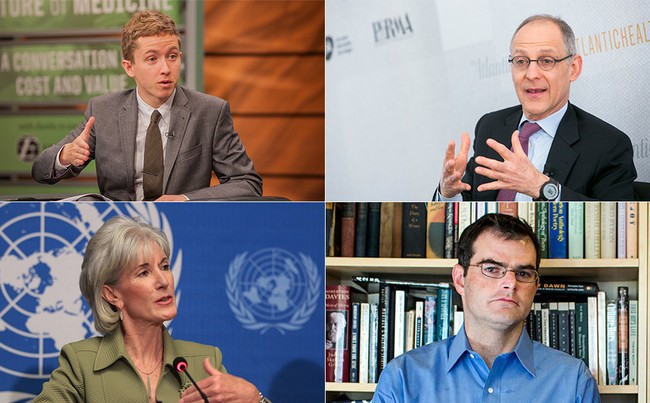 For the next two weeks, The Atlantic will relocate to Aspen, Colorado for the tenth annual Aspen Ideas Festival. AtlanticLIVE will be reporting from the ground, providing snapshots of the day's action in the form of highlight reels, photos, videos, and real-time updates on Twitter.
The programming launches tomorrow with Spotlight: Health, which features former Obama advisers Ezekiel Emanuel and Kathleen Sebelius discussing topics ranging from the business of health to elder care. Read on for an early look at the program's most intriguing and relevant topics:
The nuances of mental health. "I have, since the age of about 2, been a twitchy bundle of phobias, fears, and neuroses," The Atlantic's Scott Stossel revealed in his groundbreaking cover story, "Surviving Anxiety." In a session at Spotlight: Health, he will share more about his lifelong personal struggle while continuing his effort to destigmatize mental illness.
The threats of global disease. At The Atlantic's recent "Going Viral" event, disaster preparedness expert Dr. Irwin Redlener said Americans must hold the public health establishment accountable for what he described as our dire lack of emergency preparedness. At Spotlight: Health, the scrutiny will continue. Doctors from the CDC will spotlight real-life disease detectives, who track emerging diseases and decide how to best combat them. During another session, CDC Director Tom Frieden and Chinese Health Minister Yu Wang will discuss an American-Chinese partnership for improving public health and reducing communicable disease.
Marijuana legalization. Last Friday, New York lawmakers announced that the state had approved the use of marijuana for medicinal purposes; in doing so, it became the 23rd state to legalize marijuana for at least some users. Could the continuing acceptance of the drug signal the emergence of a new industry? In a session moderated by The Atlantic's James Hamblin, marijuana advocates Ben Cort and Kevin Sabet will explain why they believe marijuana laws will continue to be relaxed nationwide.
Longevity and long-term care. As the baby boomers age, experts and policymakers are highlighting the need for a discussion of long-term care. The program will seek to explore the many facets of this conversation, including how emerging technologies will help lower costs while improving quality of life, and who will care for the current adult population. Additionally, a panel discussion with Arthur Leonard Caplan, Ai-jen Poo, and Akaya Windwood will consider the process of dying with dignity.
Health and the arts. The Aspen Ideas Festival is a place where public officials, academics, scientists, and artists converge, and this tradition will continue at Spotlight: Health as we consider the healing power of the arts. Film screenings will explore how music and memory are intertwined. Additional panels will consider: Hollywood's impact on health; the juncture of race, health, and art; and why art is so uniquely therapeutic.
We'll be live streaming select sessions throughout Spotlight: Health beginning on Wednesday, June 25 here.