Building The Future
Terry McAuliffe Says Virginia Manufacturing Is Back
Governor Terry McAuliffe joins us at a factory in Disputanta, Virginia, a suburb near Richmond, for a discussion on the future of stateside manufacturing. McAuliffe's record as governor suggests it is a topic he knows well.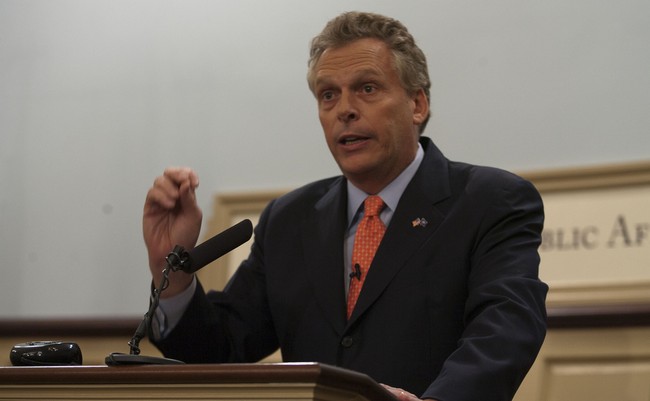 On Wednesday afternoon, Virginia Governor Terry McAuliffe will take the stage at The Atlantic's Building the Future event to discuss his plan for growing the state's manufacturing industry. The convening, underwritten by Siemens, will focus on the rising usage of software to create advanced manufacturing opportunities.
McAuliffe, who assumed office in January, has frequently touted himself as a businessman with the savvy to create more jobs in the state's market. What has he done so far, and what could he be planning for the future of Virginia's manufacturing business?
He ushered in the investment of $40 million to attract the food manufacturing industry. Last month, McAuliffe announced that Mondelez International, producer of Nabisco crackers and cookies, would be adding a new manufacturing line in Henrico County, Virginia. McAuliffe hopes that this move will lead to significant job growth in the region; Mondelez International is one of Henrico County's largest employers.
He introduced a new manufacturer to Virginia. In April, McAuliffe announced the establishment of The Corsi Group's first manufacturing plant in Virginia. The cabinetry manufacturer chose the state over Kentucky AND, According to McAuliffe's announcement, the partnership will create 110 new jobs.
He has a keen interest in alternative energy. Shortly after being defeated in the 2009 Virginia gubernatorial election, McAuliffe invested in an electric-car company called GreenTech Automative, which develops and produces energy-efficient sports cars and sedans. Although the company became mired in controversy and McAuliffe resigned as chairman in 2012, his investment shows a willingness to explore the manufacturing of new technologies. Last year, McAuliffe tried to launch a similar project in Franklin, Virginia, aiming to use wooden pellets as a source of alternative energy.
Join us to hear more about McAuliffe's long-term plans at Building the Future on Wednesday. The event will be live streamed here.