View from the Top
So You're a Graduate. What's Next?
Advice from senior leaders at the top of their careers.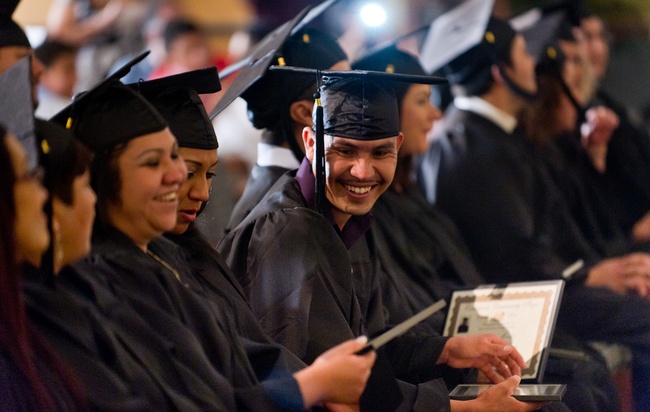 "What are you doing next year?"
Most college seniors hear these six words multiple times a day, but repetition does not blunt their impact. Graduating from college and confronting an unpredictable future is always scary, but for millennials facing a particularly tough job market this rite of passage has become a whole lot scarier. Recent graduates may find some solace in the advice of Dr. Judith Rodin, president of the Rockefeller Foundation, and Peter Orszag, vice-chairman of Citigroup,  however: Both recently told Atlantic audiences that the future will always be unpredictable – whether at the peak of one's career or just beginning it.
Since 2013, The Atlantic and Delta's View from the Top series has put the spotlight on executives at the height of their careers so that they can offer candid advice and lessons learned with the next generation of business leaders . On Wednesday, the series continues with JLL Partners Founder Paul Levy, who will share stories from his many years in the private equity industry.
For a look into what we've learned so far, read on:
Focus on short-term success. Judith Rodin, who has been on Forbes' list of the 100 most powerful women in the world for three years running, has run everything from Ivy League colleges to major philanthropic organizations. Her secret? Not getting caught up in the long-term. "We prided ourselves, and many still do in philanthropy, being the sector that takes the long view…. But the way to keep the long view in sight is by having short-term success stations along the way, otherwise you never get to the long-term success. So that's what we tried to institute and convey, and it has been for us, transformational."
Don't just get into a field because it sounds cool. That's according to United Talent Agent CEO Jeremy Zimmer, who says that the key is "to be familiar with and have affect for the product." To become successful in the entertainment industry, Zimmer advises that "you have to be in touch with that moment where a movie or a TV show or a book or a song touched you and affected you. If you can be in touch with that moment you can connect to an artist, and if you can connect to an artist, then you have a legitimate spot in the business."
If you want to be a leader, just having vision isn't going to cut it. "Life is serendipitous," Peter Orszag told The Atlantic's Steve Clemons. In order to be a pioneer, it's important to embrace that serendipity and plan around it. "Leadership is a mix of being inspiring but also having the details behind it," Orszag explained. "If you just have the detail and no vision, people don't know where they're going; if you just have the vision and nothing behind it, it looks vacuous and empty. It's the combination that's most powerful, and that's a very rare combination for people to embody." Orszag would know, as former director of the Office of Management and Budget and Congressional Budget Office during the early Obama administration.
Don't give up on changing the world. Michael Young, president of the University of Washington, admitted that when it comes to generosity, the millennial generation is special: "there is more service that goes on from our [current] students than I have ever seen in all my years of higher education." And while previous generations turned to revolutions to state their case, the current class of youths "understand that it's more likely to be done one person at a time – it's retail, not wholesale."
To hear Paul Levy's insight on success in the fashion and financial worlds, watch the live stream from 5 to 6PM on Wednesday here.