The Case for Reparations
Twitter Roundup
Audience reaction to Ta-Nehisi Coates' and Jeffrey Goldberg's discussion of the legacy of racism and July's cover story.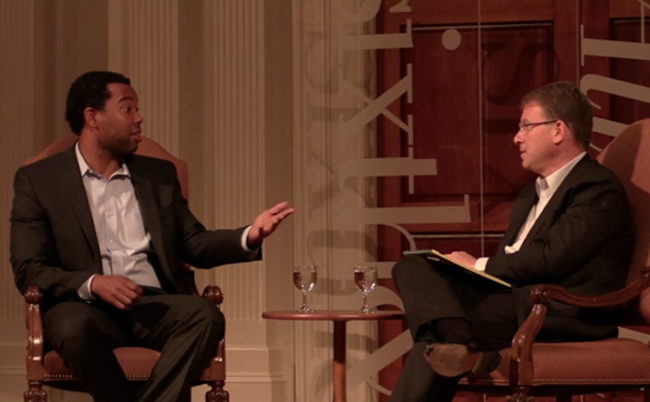 Thursday's event on The Atlantic's June cover story, "The Case for Reparations," drew an eager and diverse crowd of 800 people.  From the packed house at the Sixth & I Synagogue in Washington, DC, here were some of the audience's best tweets:
Attending #CaseforReparations @ @SixthandI w/@tanehisicoates @JeffreyGoldberg -it's an honest, thoughtful,funny,necessary conversation.

— AJ (@AJOUDC) June 12, 2014
Talking about how we have to get Morgan Freeman to read #thecaseforreparations so people will listen to it.

— Althea May (@alymaybe) June 12, 2014
Goldberg asks TNC to refute culture arg. TNC's best line "compelling evidence that only thing wrong w/black people is white supremacy"

— Kelsey D. Atherton (@AthertonKD) June 12, 2014
I would love, love, love if POTUS sat down for a long-form interview with TNC once he's out of office.

— Stacey E. Singleton (@staceyNYCDC) June 12, 2014
Most interesting thing about seeing the conversation live: listening to who in the audience reacts when, and how.

— Kate Cox (@KCoxDC) June 13, 2014
"There are a lot of people who think they are equipped to have this conversation, and they are not. Know the history" #caseforreparations

— Clarence (@cwardell) June 13, 2014
TNC concisely thoughtful about the thin but important boundary between journalism and advocacy as act and profession.

— Squarely Rooted (@squarelyrooted) June 13, 2014
An hour after #CaseforReparations event and people are still outside talking about it. @Atlantic_LIVE @TheAtlantic pic.twitter.com/Q9YKLg45Yd

— Margaret Barthel (@margaretbarthel) June 13, 2014
Video from the event will be available here.