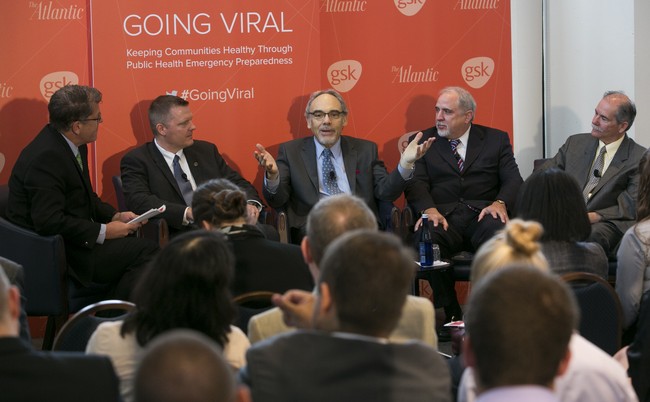 America's emergency-preparedness infrastructure needs serious reform. At least, that was the major takeaway from Wednesday's Going Viral: Keeping Communities Healthy through Public Health Emergency Preparedness, produced by The Atlantic and underwritten by GSK. At the event, a panel of disaster-management experts from the academic and federal sectors shared their insights on, and their grave concerns about, the nation's current disaster-response policies. While all the panelists shared the belief that our current policies are inadequate, their individual solutions to fix these inadequacies were markedly different. Here are their responses:
Andrew Garrett, Director, National Disaster Medical System, Office of the Assistant Secretary for Preparedness and Response, U.S. Department of Health and Human Services
"You have to have a reasonable baseline if you expect resilience to be effective. If you're talking about communities where we've got declining health as a nation overall, whether you're on the receiving end or whether you're on the responding end, that affects everybody in the equation. It's a hugely important issue.... If we don't address it, it's going to be a major variable going forward."
Irwin Redlener, Director, National Center for Disaster Preparedness, Earth Institute; Professor of Health Policy & Management and Professor of Pediatrics, Columbia University
"My first choice, believe it or not, would be fixing the infrastructure. It's $3.6 trillion, let's say, by 2020. If that was the stimulus package, when we had the real economic crisis a few years ago, it would have created an enormous number of jobs, from laborers to scientists to engineers, et cetera, and it would have been a tremendous thing for us to do, and at the end of it would have made our country far more resilient than it is."
Robin Robinson, Director, Biomedical Advanced Research and Development Authority; Deputy Assistant Secretary for Preparedness and Response, U.S. Department of Health and Human Services
"We'll be in a post-antibiotic world soon if we don't address our anti-microbial drug resistance problem globally, and in the United States. Our drugs are going away; they're going to be obsolete. [There's an] abuse and misuse of antibiotics and [we have a] national responsibility towards good stewardship."
Eric Toner, Senior Associate, UPMC Center for Health Security
"I think one thing that's doable is creating a profession: a national, broad profession of healthcare emergency managers. That started after 9/11, but it's started going away, because there's no funding for this. If we want communities to respond together, we need people who know the plan, exercise the plan, who know and communicate with each other and meet on a regular basis. If we don't have this professional organization of emergency preparedness professionals, we can't do any of the things that we've been talking about."
You can find more responses and video footage of the event
here
.