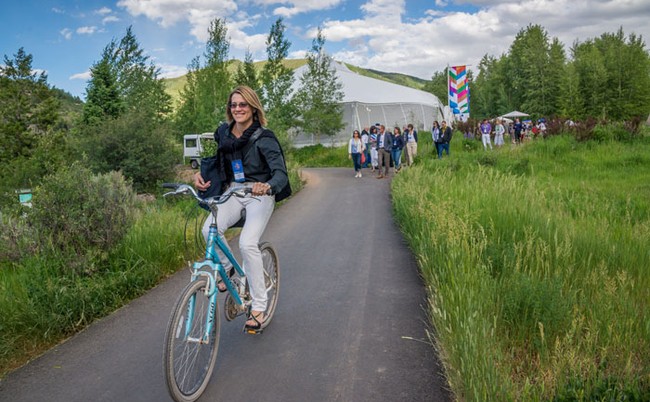 For the previous installment in our series, click here.
In a day that featured more than forty separate sessions of programming—book signings, film screenings, interviews, and more—only choosing five things to feature seems like folly. Here goes:
1.  Lessons on how we can change the way we spend energy. "The power industry is maybe one of the least innovative industries in the history of mankind," President and CEO of NRG Energy David Crane said this morning. Crane, along with Tony Fadell, CEO of Nest Labs and one of the fathers of the iPod and iPad, spoke frankly with The Atlantic's Alexis Madrigal about the future of energy consumption. Both men called consumer support for energy innovation imperative. Among their ideas for increasing consumer engagement: Make green technology beautiful. We have to "bring new technologies to these unloved products," Fadell said, instead of taking them for granted.
2. Robots as the next wave of surgical assistants. Do you own a car that warns you when something's in your blind spot? Similar technology is beginning to be utilized during surgery, according to Drs. Eric Genden of Mount Sinai Health System and Umamaheswar Duvvuri of the University of Pittsburgh. At a mid-morning session, the physicians discussed which robotic devices are being used in the operating room today, and speculated on what will be used ten years from now. Don't fret—R2D2 won't be replacing your surgeon anytime soon. "The concept of fully autonomous systems is really far off into the horizon," Duvvuri insisted. Genden added, "[Robotics are] just a tool, like a laser, like a new kind of clamp. It's just another tool in the bag."
3. Visions of a future where no one owns cars—unless they're powered by hydrogen. Or so says Toyota Managing Officer Osamu Nagata, who told The New York Times reporter Andrew Ross Sorkin he expects gasoline-dependent cars to soon be a thing of the past. In a series of video demonstrations, Nagata shared Toyota's prototype for a hydrogen fuel cell, which can power an electric car with nothing more than oxygen, hydrogen, and water. Nagata also predicted that consumers will increasingly embrace the sharing economy, promising a future where many "people may not have to own his or her car."
4. Cities that rely on the federal government for very little. A stacked panel of mayors, transportation experts, and urban scholars told CityLab's Sommer Mathis what they believe is next for American cities. Mayors Kasim Reed of Atlanta and Mitch Landrieu of New Orleans said local communities and public-private partnerships will drive urban innovation more and more in the coming years. Bruce Katz of the Brookings Institution was blunt, saying: "The federal government has left the building."
5. An honest conversation with a man who writes about dishonest characters. "It's been a weird life," House of Cards creator Beau Willimon told former Disney CEO Michael Eisner in an interview that covered everything from the evolution of television to Willimon's past employment with the Estonian government. The writer shared stories from his advance work on the political campaigns of Chuck Schumer, Howard Dean, and Hillary Clinton—although he insisted that he did not work in politics because he had a conscious plan for researching what would become House of Cards. He also rejected the argument that he has a special talent for creating evil characters. "I don't ever really think of my characters as really good or evil," Willimon said. "What I have to do is put myself in their shoes and their world view. No one really thinks of themselves as evil."