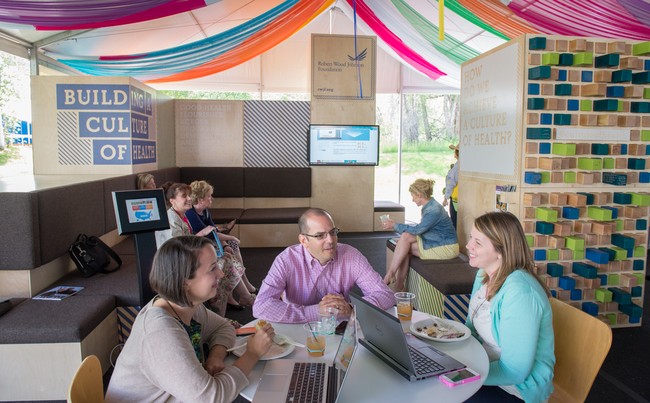 The second day of Spotlight: Health featured a wide array of programs and activities, from morning yoga on the Aspen Institute campus to a series of sessions on caring for the elderly. Here are five things you missed during yesterday's events:
1. A conversation with two USDA secretaries, past and present. In a morning session with The Atlantic's Corby Kummer, former Secretary of Agriculture Dan Glickman and current Secretary of Agriculture Tom Vilsack revealed what's next for food consumption and production in the US. A key insight: The contentious debate over the labeling of food including ingredients from genetically modified crops will only grow more intense. A possible solution? Smart phone friendly, scannable barcodes for foods containing GMO ingredients, enabling concerned consumers to quickly and easily learn more about what's in their grocery cart.
2. The youngest innovators in the healthcare industry. In an interview with Barbara Bush, three young entrepreneurs shared three distinct strategies for improving health care. Grant Verstandig, founder of Rally Health, Inc., is working to ensure that every patient has a personalized health experience. Rebecca Onie founded Health Leads to give low-income patients easy access to basic necessities like heat, food, and clean water. And James Arinaitwe  is applying what he has learned as an American graduate student in public health to promote youth entrepreneurship and sustainable development projects in his home country of Uganda. "Our lack of experience," Onie said "is liberating; it allows us to reevaluate" health care delivery with fresh eyes.
3. The unveiling of wearable technology for paralysis patients. Inventors of a groundbreaking 3D printed bionic exoskeleton suit that allows the paralyzed to walk again showed off their wares to a rapt Spotlight: Health audience. 3D printing engineers and bionic technologists teamed up to develop the suit, which is still in a prototype phase. Bridging Bionics Foundation Executive Director Amanda Boxtel -- who has been paralyzed since a skiing accident 20 years ago -- demonstrated the suit's capabilities in dramatic fashion when she rose from her wheelchair and walking around the stage.
4. Insight into the potential industrialization of marijuana. According to Kevin Sabet and Ben Cort of Project SAM, an alliance that "seeks a middle road" in the drug legalization debate, marijuana is on its way to becoming Big Tobacco redux. In a conversation with The Atlantic's James Hamblin, Sabet and Cort argued against continued legalization, while also admitting that criminal laws surrounding the drug are too harsh. Sabet asked the audience: "Why isn't this a decriminalization campaign as opposed to a legalization campaign?"
5. Doctors, academics, and the media elite convene… to watch the World Cup. Spotlight: Health may be set in the mountains, but its participants' hearts and minds are in Brazil. After a day of programming which included a look at the health benefits of sports, a large crowd of attendees gathered around a television screen in the Koch Building to watch the United States face off against Germany in the World Cup. Whooping at good plays and gasping at close calls, CEOs and healthcare professionals—some decked out in jerseys, others wearing red, white, and blue—took a break from official proceedings to be mere soccer fans like the rest of us.