Spotlight: Health 2014
Finishing the Unfinished Revolution
Why experts say cultural biases are the biggest threat to the future of women's health.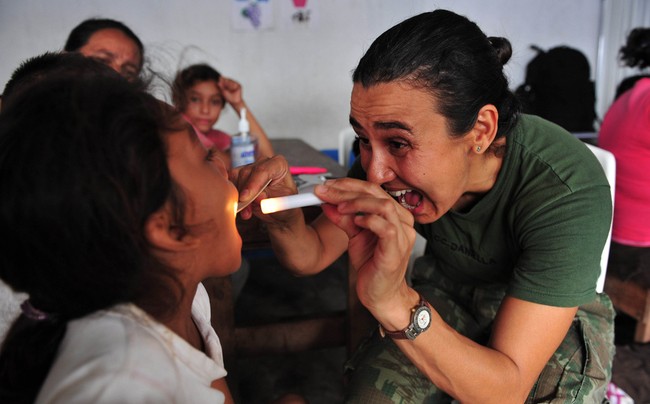 Gains in women's health in the past few decades have been extraordinary: maternal and child mortality rates have plummeted; access to family planning has increased; and clinical research includes women--and their special health concerns--in larger and larger numbers.
But there's still work to be done. In a conversation entitled "Women's Health: The Unfinished Revolution" at the Aspen Ideas Festival's Spotlight: Health program, three experts joined prominent feminist writer and blogger Courtney E. Martin on stage to discuss the way forward.
Jane Otai, an Aspen New Voices Fellow and an advocate for women's health and family planning in Kenya; Sisonke Msimang, another Aspen New Voices Fellow with experience as a feminist activist in post-apartheid South Africa; and Betty King, US Representative to the European Office of the UN and a central figure in the negotiations over the Millenium Development Goals, all agreed that making more progress in the women's health field will require a series of deep cultural shifts in addition to a continuing commitment to policy-based interventions.
If the panelists' experiences are any indication, the process of changing cultural climates to be more hospitable to women's health is slow and laborious--but the rewards are significant. Otai, for example, has had much success in convincing male religious leaders in Kenyan communities to revise their patriarchal values and support family planning initiatives. She does it by reframing the conversation in terms that the male leaders can appreciate. "When we're talking to religious leaders, we don't use the word[s] 'family planning' or 'contraceptives,'" Otai explained. "We use the word[s] 'healthy spacing and timing of pregnancy,' because then the term[s] really [resonate] with them."
Her strategy has paid off: with their religious authorities championing the family planning cause, women are free to pursue family planning alternatives without fear of flouting religious teachings. Otai has even held contraceptive workshops and education sessions in churches. "They have made more progress in this than we have in America," Betty King added.
What sparks these essential shifts in public perception of women and women's health? The panelists identified a series of time-tested feminist strategies--consciousness-raising, community trainings, peer-to-peer conversations--as the key to winning over "hearts and minds," as Martin put it, of both men and women who object to women's health advocacy.
Even if their methods are old standbys, their vision is of a global feminism that crosses cultural lines. "I also, as a young African, have the option to pick and choose what I like and what I don't like [from my culture] that's going to work for my health, for my body, for my rights," said Msimang.
Though much of the conversation focused on progress on the cultural and personal levels, the panelists also aired concerns over complacency on women's health in the policy realm. Msimang, who had served on a UN task force to study the disproportionate incidence of HIV/AIDS in women and girls in Africa, felt that the upshot of the report had been "a lovely rhetorical contribution" without hard action in the form of budget allocations. And King regarded the lack of progress on the two Millenium Development Goals pertaining to women--reducing child mortality and increasing maternal health--as a major source of frustration. "I find it a real disappointment, a tragedy, actually," she said.
Perhaps, though, these "technical" policy-driven solutions have reached their limit, for now. "We have come to the very difficult part of it, and that is [challenging] the deeply ingrained cultural attitudes in a lot of countries about women [and] what role they should play in society . . . Until we can resolve some of those issues, I think we're going to be having this discussion ad nauseum," King said.