Aspen Ideas Festival 2014
Asking the Tough Questions
Everyone's up for interrogation at the Ideas Festival—even Aaron Sorkin and Hillary Clinton.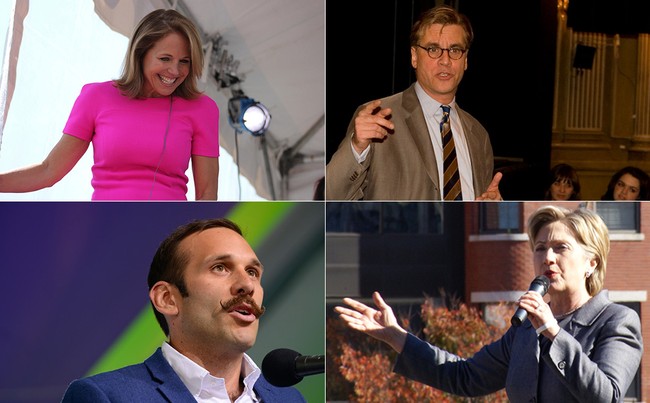 The tenth-annual Aspen Ideas Festival begins tomorrow—and with it, a full week of programming on today's most pressing topics, from international affairs to energy policy. AtlanticLIVE's continued coverage of the festival will be in full swing, and today we're asking five big questions that will be considered at the event:
1. Will robots be our salvation or downfall? The festival will feature several sessions on robotics and its possible effect on entire industries, including education and healthcare. In a conversation with The Atlantic's Alexis Madrigal, inventor Danny Hillis will talk through the evolution of machines that have the ability to think; and The Atlantic's Megan Garber and Duke University's Missy Cummings will explore whether machines are threatening our workforce.
2. Can we create a sustainable future in spite of a booming global population? In two concurrent tracks, "Confronting Climate Change" and "The Metropolis," authorities in environmental and urban theory will discuss how cities can sustain nature. Experts, including David Crane, Tom Fanning, and Chris Hostetter, will consider the challenge of energy conservation and efficiency.
3. What will be the legacies of millennials and baby boomers alike? Generational divides are always a touchy subject, but the Ideas Festival will take the debate in stride. Author Paul Taylor will present on how millennials will shape the next iteration of America, and a panel moderated by National Journal's Ronald Brownstein will contemplate the legacy of the boomer generation.
4. How has modern storytelling affected the way we consume entertainment? The festival has a history of featuring trendsetters from the entertainment industry, and this year is no exception. Hollywood heavy hitters such as Oscar-winning writer and director Aaron Sorkin (in conversation with Katie Couric), "House of Cards" creator Beau Willimon, and actor and filmmaker Robert DeNiro will all be speaking in the form of interviews, film screenings, and panel discussions.
5. Is Hillary Clinton on a slow march to the White House? On Monday, June 30, former Secretary of State, U.S. Senator, and First Lady Hillary Clinton will appear at the festival to promote her new memoir, Hard Choices.
Select sessions from the Aspen Ideas Festival will be available here.