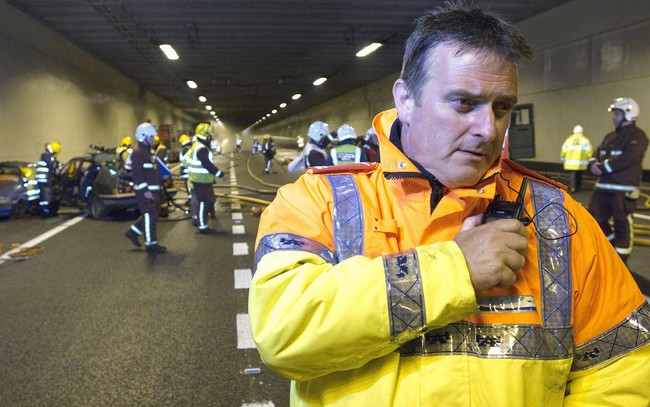 This Wednesday, Irwin Redlener, director of Columbia University's National Center for Disaster Preparedness, will headline a gathering of experts at The Atlantic's Going Viral: Keeping Communities Healthy Through Public Health Emergency Preparedness. The forum, which is underwritten by GSK, will focus on identifying weaknesses in existing infrastructure while exploring how to best counteract threats to the nation's biosecurity. Discuss participants will also spotlight new technologies allowing for the quick mobilization of communities confronted by future disasters.
So, how does one prepare for an event about preparing for disasters? To get you started, we've rounded up some of the best of The Atlantic's writing on the subject:
1. Emergency is the U.S.'s natural resting state. According to the U.S. Census Bureau's real-time map of disasters taking place across the country, there is an emergency occurring somewhere in the U.S. pretty much all the time. The map's purpose is to aggregate live data from across agencies and pair it with hyper-local Census information in order to improve (you guessed it) emergency preparedness and recovery. In contrast to this live-mapping of instantaneous disasters, another startling (if considerably more stagnant) map highlights climate change preparedness by state, according to FEMA's mandate that each state file a State Hazard Mitigation Plan. Is yours up to snuff?
­­­
2. As the waters rise, so does the price tag, and society can write a smaller check after a disaster if it writes a larger one beforehand. A major obstacle to adapting existing infrastructure to future threats is the upfront cost of preventive measures. Speaking at CityLab, a conference on urban solutions hosted by The Atlantic and Bloomberg Philanthropies in October 2013, former FEMA director James Lee Witt stressed the importance of early investment in disaster prevention, citing lessons learned from the Great Flood of 1993, when the Mississippi and Missouri rivers overran their banks. "Every dollar we spent saved five dollars in future losses," said Witt.  Apply that math to the hefty $62 billion the U.S. government spent on disaster relief between 2011 and 2012 and it is hard not to see the need for proactive investment.
3. Boston's response to the marathon bombing in 2013 is a remarkable (and exceptional) success story in urban preparedness. A CityLab article posted during Boston's citywide lockdown on April 19, 2013, examines how the success of the city's response to the bombings was in large part due to the city's simultaneous training of local organizations and, importantly, its dedication to achieving a coordinated response across levels of government. Of note: Boston is one of just four cities with an "all-hazards plan" accredited by the national emergency planning evacuation program. In the 24 months prior to the tragedy, the city had conducted two large-scale 24-hour worst-case scenario simulations.
4. A series of preparedness-oriented partnerships could save San Francisco's poorest community from the next "Big One." Built on tall hills that rest on a massive geologic fault line whose rumblings can be devastating, San Francisco is a disaster waiting to happen. For Bayview, the city's poorest and most underemployed community, the waiting is consumed with generating a "culture of preparedness," congregating local government, community organizations, nonprofits, and businesses around the importance of resilience. These partnerships constitute the so-called tangible measures underway to ready the most economically at-risk neighborhood in one of the nation's most geographically at-risk cities' for a destructive earthquake.
5. We need to prepare for threats that don't yet exist. This fascinating November 2012 magazine story taps the expert imaginations of authorities in genetics and global security to forecast a future stranger than fiction, in which national security is threatened by an unwittingly crowd-sourced direct attack on the president's genome. Accurately summarizing an exponential growth in the biotechnology industry and the origins of genetically-targeted bioweapons, this article reaches beyond hypothetical future scenarios to contemporary impact, examining the measures we should undertake now to prepare for the exponentially more advanced biosecurity threats of the future.
Join us Wednesday for the full conversation on how to prevent the emergencies we can, and how to best mitigate the disasters that are inevitable.  The event will be streamed live here.