New York Ideas 2014
Smorgasburg: A Foodie's Paradise
Smorgasburg Co-Founder Eric Demby gives us the dish on Brooklyn's food scene.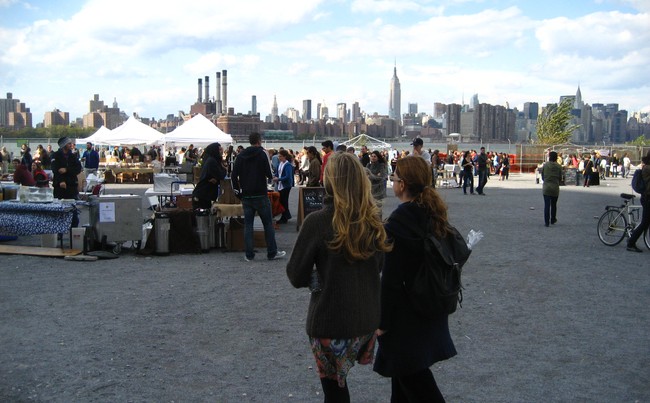 What can you expect from Smorgasburg, Brooklyn's destination food market? Fresh air, every tasty treat you could imagine—from massive ice cream sandwiches to hamburgers encased in ramen noodle buns—and lots and lots of foot traffic. In the lead-up to New York Ideas, a flagship Atlantic event focused on the disruptors making waves across industries, we took a few moments to get a quick download on Smorgasburg from co-founder Eric Demby—how the business has grown, what makes it appealing, and why New York is an epicenter for innovation.
Demby and business partner Jonathan Butler's story of creating experiential outdoor retail spaces began in 2008, with the launch of the Brooklyn Flea market. Year after year, the appetite for these weekend markets grew and, in May 2011, Demby and Butler launched Smorgasburg in Williamsburg. 
Demby said that the food market's growth has paralleled the explosion of Brooklyn's artisanal food scene—there are now over 100 vendors and between 10,000 and 20,000 people visit Smorgasburg on a given Saturday (the second Smorgasburg in Brooklyn Bridge Park, launched in 2012, draws around 10,000 market-goers each Sunday).
What makes the markets so appealing? Demby attributes the popularity to "a national, and even global trend of being more aware of what's in your food." He claims that Brooklynites really care about this "ethos" and like to see people cooking their food on the spot to be assured that what they're eating is fresh and preservative-free. 
"There are enough people that are curious and excited by being more in touch with their food," Demby said. "Smorgasburg represents an even more tactile version of that than a restaurant."
Why is New York the target market? Demby thinks it's that New Yorkers are always game for trying something new. "Having done projects in other cities, it's just so hard to get something to catch fire. In New York, people are constantly looking for something new and interesting because that's just who they are," he said.
Up for your own culinary adventure at Smorgasburg? Our founding foodie offered up some popular recommendations:
Mighty Quinn's: Barbeque brisket or pulled pork
Red Hook: Lobster roll
The Ramen Burger: The "one that everyone knows," a hamburger inside a bun made out of ramen noodles
Buttermilk Channel: Fried chicken and waffles
People's Pops: Fruit ice pops
Dough: Doughnuts
The Good Batch: Ice cream sandwiches
Tomorrow at The Atlantic and the Aspen Institute's New York Ideas, Demby will sit down with Smorgasburg Co-Founder Jonathan Butler and Blue Apron Founder and CEO Matt Salzberg for a rapid-fire interview on their creative approaches to feeding the foodies of New York, moderated by Atlantic National Correspondent Hanna Rosin.  Watch live at: theatlantic.com/nyi.