New York Ideas 2014
Live Coverage of New York Ideas: Smith Stage
Live coverage of New York Ideas, presented by The Atlantic and the Aspen Institute, including updates on all the speakers at the New-York Historical Society in New York, N.Y.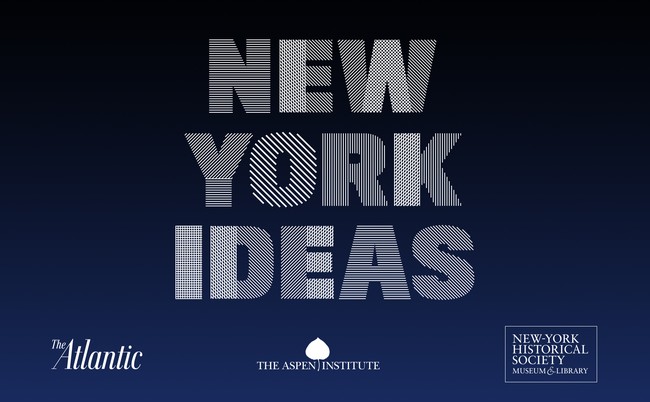 5:33 p.m. And with that we'll conclude the New York Ideas festival. Thanks to our fantastic slate of speakers and moderators, and to a wonderful audience in person and online. Here's to innovation, disruption, risk-taking, and the people who make them more than just buzzwords. See you next year!
5:32 p.m. The message of their new book? "Enough is enough," Giffords states emphatically, with Kelly corroborating with the Newtown shooting example.
5:31 p.m. Giffords is "optimistic" about passing smart gun control measures.
5:30 p.m.: Kelly praises the NRA's involvement in gun safety, but denounces the NRA's new tendency to shape their policies to suit the interests of gun manufacturers. "That doesn't keep us safer," Kelly says.
5:28 p.m.: After Kelly and Giffords traveled around to a diversity of states, they devised a list of common-sense policy recommendations for gun control. Chief among them? Closing loopholes on background checks and limiting high-capacity magazines, among others. 
5:26 p.m.: Has their relationship to guns changed since the accident? "Not really," Kelly says. He's always owned a gun. "One of the interesting things about Gabby's injury is that she doesn't have PTSD," Kelly says, because she was shot first and shot in the head.
5:24 p.m.: Rosin wants to know about their relationship, now that they're living in the same city. "Snuggle?" Giffords says, by way of explanation.
5:24 p.m.: Their new dog, who was raised by a prisoner in Massachusetts, "is good stuff," Giffords explains. 
5:22 p.m.: "Is it true that you asked to relearn Spanish?" asks Rosin, after Kelly explains that Giffords' most difficult challenge these days is speaking. "Si, por favor," Giffords says.
5:20 p.m. During the early stages of her recovery, Giffords fixated on one word: "Chicken." 
"There are worse options," Kelly quips. 
5:18 p.m. Kelly knew that "Gabby was still in there" when she was in a coma when she pulled off his wedding ring and played with it with her left hand.
5:17 p.m. Is Gabby creating a new self?  Yes: "Better. Stronger. I want to make the world a better place," she says. 
5:17 p.m.: Has Kelly been involved in the therapy? "Not really!" Gabby chimes in.
5:16 p.m. Recording Gabby's therapy "was never planned," Kelly says. "As we travel around the country, her recovery, what she went through, has been very inspirational for people who have had their own medical issues. Kelly and Giffords visited some of the victims of the Boston Marathon bombings, in hopes of giving them strength.
5:15 p.m.: Hanna begins with some simple questions. 
Morning or night person? Morning. 
Dog or cat? Dogs. 
Coffee or tea?  Tea with two sugars. 
5:11 p.m. Finishing up the day with a truly impressive pair: former Congresswoman Gabby Giffords, with her naval aviator/astronaut husband, Mark Kelly. They're joined by The Atlantic's Hanna Rosin.
5:09 p.m.: On gun control? "We've lost control," Bratton says.
5:07 p.m.: "The challenge is to do it Constitutionally, always," Bratton says, referring to police interaction with people on the street, again citing the need for reasonable suspicion and the checking of damaging stereotypes on the part of the policeman. But he does say it's impossible to refute the fact that certain crimes are more likely to happen in "certain neighborhoods."
5:04 p.m. What about a reformed version of stop-and-frisk? "It's a basic tool of American policing, and it's something we couldn't do without," Bratton says. But he and Mayor de Blasio agree that the stops were occurring too often before their tenure. "The patient was getting better, crime was down," Bratton explains, obviating the need for a continuing intensive stop-and-frisk volume.
5:02 p.m. Have we become too relaxed about terrorism? Bennet wants to know. Bratton says yes: "Even in America's second-largest city," he says, referencing his time as police chief in L.A., "9-11 has faded."
4:59 p.m.: Citing the Demographic Unit, which kept tabs on Muslim people in the wake of 9-11, Bennet asks if we lost our balance after that disaster. Bratton says no, adding that he has disbanded the unit, which was already significantly down in numbers. He does mention that the NYPD will still be trying to obtain similar data on lesser known communities. 
4:57 p.m.: Can we expect our public spaces to feel different? asks Bennet. Bratton references growing populations and increased use of police cameras, particularly in Manhattan, and license plate scanning. "All of this is Constitutionally-protected activity, which we will use to keep you safe," Bratton defends.
4:56 p.m. Bratton's answer: "With the huge amounts of information we can gather, with the algorithms we have, we can predict with some certainty when and where a crime will take place, unless we prevent it." 
"This is the new reality of policing," Bratton says. 
4:54 p.m. Bennet references the "astonishing" change in murder rates between 1990 and now in New York. He wants to know what's next for "predictive policing."
4:52 p.m. Next up: NYC Police Commissioner, Bill Bratton, is on stage with James Bennet, The Atlantic's Editor-in-Chief.
4:49 p.m. "Having a business . . . has been the single most important driver of creativity in my life," says Adler. "I'm a capitalist."
4:48 p.m.: Garber wonders about Adler's ideas on visual social media. "I love Pinterest," Adler says, for its ability to spur creativity and aspiration in design. 
4:46 p.m. Adler's thoughts on future expansions into other areas of design? "I say yes to opportunities that come my way." 
Garber suggests a line of Atlantic merch. "Well, I'm a reader," Adler says. 
4:45 p.m.: Garber wants to know Adler's favorite design. Turns out it's a pot, which is "something that looks like it was already in our collective conscience, and I just birthed it."
4:43 p.m. Garber asks: how does Adler collaborate with other brands, particularly corporate ones like Barbie and Starbucks? Adler: "I think about Andy Warhol, and that's how I justify it." 
4:42 p.m.: "I have a ridiculously fun and juvenile work environment," Adler says, explaining his creative process throughout the day. He's able to turn his design sense on and off, though, by watching dark cop shows!
4:41 p.m. Does Adler see a tension between his brand identity and his visceral process of design? "I guess that's really about the idea of authenticity," Adler says. "Inasmuch as I've been successful, it's probably because I've tried to stay true to my vision."
4:39 p.m.: "Stores can be a nightmare, because they can be messes," says Adler. "The web is much more pristine. Stores can be maddening, but creative."
4:36 p.m.: Megan Garber, of The Atlantic, begins her interview with interior designer Jonathan Adler, with a fun fact: Adler studied semiotics in college.  
4:35 p.m.: Davidson brings up a little-known fact about Stern: he's designed affordable housing in addition to the ritzy buildings he's known for. "Architecture is for the whole city," he says, including passerby, so there's no excuse for bad architecture. It marginalizes low-income housing and sets it apart from the fabric of the rest of the city.
4:34 p.m.: "It is an integrated vertical community," Stern says of one of his buildings on Central Park South. "People really like that."
4:29 p.m.: Stern finds it "pretty exciting" that architecture is returning to the "super-tall, super-slender" buildings of the 1920s. But he wants to make sure to manage sway structurally, lest people's orange juice sloshes around in the glass in the morning.
4:27 p.m.: Stern: "I think the tall buildings on Central Park South are a natural evolution of that part of town," and he puts that idea in the context of historical buildings from the 1920s and 1930s. "I'm not upset about it at all," he asserts.
4:26 p.m.: "Epidemic might the right word," Stern says, in response to Davidson's assertion that New York has seen an increase in glass residential buildings, which sets the usual association of glass with commercial buildings on its head.
4:24 p.m.: Davidson asks if there's a "New Yorkiness" to Stern's buildings in the Big Apple. Stern says that his work is influenced by the diversity of the context. 
4:22 p.m. Here comes the King of the Skyline, Bob Stern, the Dean of the Yale University School of Architecture, interviewed by Justin Davidson, an architecture critic at New York Magazine.
4:19 p.m.: The world puts temptations before us, and it's our job to be mature enough to resist those temptations, put away the iPhone, and engage in human interaction.
4:16 p.m.: Technology is leading to a hollowing out of the middle in the legal field and probably in the medical field as well. It also provides unique opportunities for exploitation by less than savory characters.
4:14 p.m.: "The American dream is a tough sell these days," quoth McAfee. Technology tends to exacerbate inequality, and education tends to mitigate it.
4:11 p.m.: McAfee doesn't see a coincidence between the decline of the American middle class and the rise of the personal computer and the digital revolution.
4:09 p.m.: Automation and technology can handle run-of-the-mill fact-reporting journalism, but it's still nowhere close to being able to replace long-form or column-style journalism.
4:06 p.m.: We used to think chess was the highest level of human intelligence; now, we don't even try to compare machine abilities in chess to human abilities. One reason for optimism, though, is that a team of computers and humans together is superior to just a machine.
4:04 p.m.: McAfee thinks you should probably take dating advice from MIT people, and use David's robotic check list when on a first date.
4:03 p.m.: "I think we all wish I was Thomas Piketty right now." - the very humble Andrew McAfee.
4:01 p.m.: Steve Clemons is introducing MIT's Andrew McAfee and the New York Times' David Brooks.
3:58 p.m.: Special Ed teachers were found to request books often for their students to read out of to therapy dogs, since it allowed them to practice reading and oration in a safe environment. This is the kind of realization that educational systems still are not hip to.
3:55 p.m.: "I think we're still taking some comfort in that naivete," says Best, in response to how politically combustible his work is.
3:53 p.m.: Darren Walker was inspired by Best's naivete when they first met. What is the biggest surprise for Best? How much opposition some of the teachers and projects are still getting from school districts and other organizations.
3:51 p.m.: "So, are you building a movement of people angry about our public schools?" Not angry, just energized.
3:50 p.m.: Donors on DonorsChoose.org are more likely to vote on an education referendum and become mobilized about these issues, according to Charles Best.
3:48 p.m.: "Philanthropy is commendable, but it must not let the philanthropist overlook the circumstances of injustice in America that make philanthropy possible." - MLK, via Darren Walker. Setting the stage for a very interesting conversation.
3:46 p.m.: "Nothing is risk-free, and particularly around money," says Gorman. "What really matters is getting your capital back first." Rattner closes the panel: "Spoken like a true banker."
3:43 p.m.: Rattner: Can Morgan Stanley compete under the terms of Dodd-Frank? Gorman says "absolutely," by looking at the new landscape and tailoring their business model accordingly. 
3:41 p.m.: What about Dodd-Frank? Gorman thinks that it does two things well: it puts the preventative measures up front, including "a doctor check-up" with the Fed, and it also creates an "orderly" way of letting institutions collapse "on the back end."
3:39 p.m. Rattner keeps the heat turned up: "Why did no one go to jail?"
Gorman: "The fact of the matter is that bad judgement, incompetence, greed . . . they're not criminal offenses." 
3:37 p.m. "The country is not in love with bankers," Rattner says. 
"I didn't know that," says Gorman. 
"Well, I'm here to speak truth to power," says Rattner. Who says bankers  can't be funny?
3:35 p.m. Rattner: What about Lehman Brothers? Did they handle that right? Gorman says yes, "In aggregate . . . [the government] did a phenomenal job." He holds true to that position even when Rattner brings up AIG. 
3:34 p.m. Rattner pulls out the big guns: should we have repealed the Glass-Steagall Act? "No," Gorman says. "If you look at it, it's the modern banking institutions that got into trouble." But he hedges when it comes to derivatives.
3:30 p.m. James Gorman, Chairman and CEO of Morgan Stanley, thanks the audience for staying for the banking part of the afternoon. He's joined by Steven Rattner, Chairman of Willett Advisors LLC and Economic Analyst on MSNBC.
3:28 p.m. Final question: Will Brad Pitt be on "True Detective?"
Plepler remains close lipped. "There are an awful lot of interesting people that because of Matthew's and Woody's brilliant work, who plan to join next season."
3:27 p.m.: New HBO programming coming your way:
- "The Ballers," staring the Rock
- "The Brink," starring Tim Robbins as secretary of state
- "The Leftovers," created by Damon Lindelof
- "West World," produced by J.J. Abrams
-"The Normal Heart," based on Larry Kramer's play
3:26 p.m: At the end of the day, it's all about the product. You build as much dexterity as you can, but you have to make the content outstanding. 
3:23 p.m.: Geist points out a surprising statistic: 80 percent of HBO viewing is still of theatrical film. Plepler says it's important to make sure their film lineup remains first class—it's the combination of great films with the cultural cache of their original programming that makes the brand so strong. 
3:18 p.m.: With something like "Girls," it's impossible to know if it's going to become a cultural Zeitgeist as much as it has. "You never know if it's going to be popular, so you have to be proud of it."
3:16 p.m.: Plepler says that his "north star" is hiring great people. You want Lena Dunham feeling like there isn't a greater place to work. 
3:11 p.m.: Plepler says that everyone always assumes that the Golden Age of premium cable began with "The Sopranos," or "Sex and the City," or "The Wire." 
He thinks the tipping point was actually back in the early 90s with "It's Garry Shandling's Show." Plepler said that program showed that you can do something with a truly original voice, and that excellence and quality will define success.
3:10 p.m.: "The Today Show"'s Willie Geist joins us now to interview HBO CEO Richard Plepler, the next on our "lazy Susan of CEOs," as he calls it. 
3:06 p.m.: The first example of Kickstarter-style crowdsourcing was Alexander Pope's translation of The Iliad, which had 700 subscribers whose names are on the inside cover of the edition.
3:05 p.m.: Andrew Ross Sorkin wants to know what Strickler's CEO coach is teaching him. We're all very curious.
3:02 p.m.: In total, $1 billion has moved through Kickstarter - about $1,000 per minute. The largest single sum raised was $10.2 million, by the Pebble.
3:00 p.m.: In the last year, Spike Lee, Zach Braff, and Marina Abramovic have both used Kickstarter for their projects. This doesn't worry Strickler, because Kickstarter is just giving these artists the chance to make the project they want, without having to answer to a corporate interest. In return, fans and audience members are able to connect with artists to a much greater extent.
2:57 p.m.: "The great engine of capitalism has won" in music and film, but people are getting upset now over technology. Does that mean technology is the new thing to be hipster for?
2:56 p.m.: Strickler gave Oculus $25 because he thought the world would be much cooler if Oculus existed, and that's what mattered to him.
2:54 p.m.: People who contributed to Oculus are a bit peeved that they didn't get any money out of the sale of Oculus to Facebook, but Strickler doesn't seem too worried.
2:52 p.m.: Time to learn how a waiter, a rock critic, and a designer started one of the most successful crowdsourcing websites, with Yancey Strickler and Andrew Ross Sorkin.
2:50 p.m.: Kestenbaum ends with a bet for the panelists: In 5 years time, will 1 in 10 people have knowingly bought something with bitcoin?
Alberts: I think 1 in 10 will have spent some sort of virtual currency, but might not have known it. 
Bruno: In 5 years, it's a little tight.
Cary: Absolutely!
2:43 p.m.: Cary says lightweight regulations at this time is the most important thing that could be happening in the industry. But Alberts says some government regulation is also a vote of confidence that can help the industry to expand.
2:41 p.m.: A major difference between bitcoins and traditional payment types is in the transaction costs. While Bruno says the typical credit card fee is 1.5-2 percent, Cary says the bitcoin fee is about 1/10 of a penny. 
2:37 p.m.: Bruno says there is a great deal of interest among financial institutions in studying and learning more about bitcoin. He says he's talked to regulators in central banks who are thinking about how they should learn from this technology in terms of the way we manage payments. 
2:33 p.m.: Kestenbaum polls the audience: Who has ever purchased something using bitcoin? A grand total of 3 people.
2:32 p.m.: Cary sees it as much more of an innovation. He makes the comparison to being in the 1970s and having someone tell you we're going to revolutionize the postal industry. It would have sounded crazy, but email did just that.
2:29 p.m.: Alberts says we're pretty far away from Bitcoin being a foundational currency, which makes the deflationary aspect not as critical of a concern. Bruno says it would be a messy process to getting there. 
2:25 p.m.: Now we have Pryor Cashman Partner Jeffrey Alberts, McKinsey & Company Principal Philip Bruno, and Blockchain.info CEO Nicolas Cary in conversation with NPR "Planet Money" Co-Host David Kestenbaum on bitcoin, which Cary calls an "absolutely global phenomenon."
2:19 p.m.: Clemons asks: Can we really walk away from all the preservatives? 
Accessibility to natural, good food is a human right, Ulukaya believes. Manufacturers have to put the human in the center.  
2:17 p.m.: On Chobani not being able to make it to the Olympics: "We were really heartbroken. The Olympians were eating Chobani while they were training in the U.S. We all made the pallet together."
2:12 p.m: After decades of Greek yogurt being a specialty product, Ulukaya took his yogurt straight to the mass market. It was an instant hit in his first location, Shop Rite stores. "I knew the question wasn't about if I could sell it, but if I could make enough."
2:07 p.m.:  When Ulukaya bought the Kraft yogurt factory that became his Chobani factory, his first change was to paint the walls white.
"I hope you have other ideas," one of his board members said. 
2:04 p.m.: Clemons points out that it's interesting that a Turkish guy is owning the Greek yogurt market in the U.S.
"Only in America," Ulukaya says.
2:00 p.m.: Chobani Founder and CEO Hamdi Ulukaya joins us now for an afternoon chat with Steve Clemons.
1:59 p.m.: Isaacson keeps the big questions coming. Does Green believe in other universes? 
"Do I believe in other universes? Absolutely not," he says.
"Do I find it a compelling possibility, and can I see how the math suggests it, and does that compel me to work on it? Absolutely."
1:54 p.m.: It was great to discover the Higgs boson, Green says, but it wouldn't have been the worst thing for it not to be true. "We love it when ideas we cherish are proved wrong. That's the opportunity of a lifetime to come up with new ideas to take its place," he says.
1:51 p.m.: Isaacson asks Greene about the biggest lesson we've learned from the large hadron supercollider, which Green calls one of the "pyramids of our time." Definitely the discovery of the Higgs boson particle, he says.
1:48 p.m.: Is space really a thing or just a useful concept, a vocabulary that allows us to articulate locations? In Einstein's theory, space is a thing. Space and time would exist even without anything else. But very much still an issue that we debate. "It's very hard to remove everything from the universe," Greene says, to laughter from the audience. 
1:40 p.m.: Isaacson asks Greene the big question: "How did it begin?"
"We don't know," Green says. "But we have some ideas."
 One of those ideas is the cosmic inflation theory, which attributes the expansion of the universe to gravity.
1:37 p.m.: Aspen Institute President and CEO Walter Isaacson takes the stage with Physicist Brian Greene to explain the cosmos in twenty minutes. Here we go.
1:31 p.m.: Ansel lays out the equation for his new creation, the chocolate chip cookie and milk shot: "Ice cold milk. Warm cookie. Nothing wrong, right?"
1:29 p.m.: Kummer wonders, "Who is the marketing genius coming up with the brilliant names for your products?" Ansel says it was a collaborative effort by his bakery team.
1:26 p.m.: Kummer stops mid-sentence to congratulate on Ansel winning the James Beard Award for Outstanding Pastry Chef last night. Congrats! 
1:23 p.m.: Our spelling lesson for the day: kouign-amann. Ansel's bakery refers to it as the "DKA" (Dominique's Kouign Amann) since it's so hard for people to say. 
1:21 p.m.: Ansel breaks out a blow torch to show off another of his creations, the "frozen s'more." "It smells like a campfire," he says of the smoked stick holding the marshmallow. Kummer goes silent as he tastes the dessert and fills us all with envy.
1:20 p.m.: Chef Dominique Ansel give Corby Kummer a taste of New York's hottest food item—the cronut.
1:15 p.m.: And we're back! Who's ready for dessert? 
12:40 p.m.: And with that, we'll see you back after lunch!
12:36 p.m.: Bittman's take-home message for our NYI attendees: If you eat real food, you'll probably have a pretty healthy diet.
12:34 p.m.: Bittman tells the tale of his daughter shocking his parents by taking a whole piece of lox to put on her bagel. "Food has become so abundant, so inexpensive. The kind of overeating we can do with no effort was not available to our grandparents." 
12:30 p.m.: Kummer asks Bittman about one thing he's very passionate about: advocating against sugary beverages and junk food. "An important point is that a lot of what is sold as food is not food," he says. 
12:25 p.m.: In the mid- to late-90s, it was clear that there were people who didn't know how to make popcorn, Bittman says. In writing his book "How to Cook Everything," he left out the recipes for venison and foie gras and tried to teach Americans to make simple but essential dishes.
12:21 p.m.: Bittman tries to write "simple, down-home, non-chef, you-can-do-it recipes." If we can convince more Americans to cook food from scratch, it would be a great change, he says.
12:20 p.m.: In our final session before lunch, The Atlantic's Corby Kummer returns to the stage with New York Times food writer Mark Bittman.
12:14 p.m.: "We'll never get everyone out," Miliband says. "You've got to make change on the ground." 
12:05 p.m.: The Atlantic's Steve Clemons introduces former U.K. Foreign Secretary David Miliband. "It's a bit sad to be 48 and to be 'used to be' something," Miliband says.
"We'll we're going to get to what you're doing now," Clemons says (running the International Rescue Committee).
12:03 p.m.: Millennials are a key driver of impact investing, Brandenburg said. They're also some of the leading entrepreneurs in the space. Location-wise, Rodin says it's going global. The next big innovation we're seeing in impact investing is the proliferation of crowdfunding websites. 
11:56 a.m.: Rodin give as an example the Greyston bakery in the Bronx. They bake the brownies that make their way into Ben & Jerry's Ice Cream, are financially successful, and employ people who are homeless or recently released from jail.
"Why wouldn't you want to do something like that if you could have a triple win?" she says.
11:50 a.m.: Rockefeller Foundation President Judith Rodin and Nathan Cummings Foundation Fellow Margot Brandenburg join Atlantic Senior Editor Derek Thompson on stage to talk about impact investing. 
Thompson gets right to it: What is the difference between impact investing and investing investing?
Brandenburg defines it simply: investments made with the intent to deliberately create a positive social impact in addition to financial benefit. 
11:47 a.m.: Everyone is curious about Brooklyn right now, Demby says, but there is no Times Square tourist equivalent. Smorgasburg fits the bill: "I can go see a hipster and a beard!" 
11:43 a.m.: The weirdest applicant Smorgasburg has ever had? The Ham Burger, a burger made out of ham. "It was like if you got a rare hamburger, but it was ham. The meat inside was cool. And I was like, 'I'm going to get sick,'" Demby says.
11:40 a.m.: Demby really wants to have a reality show about the Smorgasburg vendor application process. There are so many great stories involved, he says—the perils of taking phyllo dough on the subway to your interview, the story of a stockbroker quitting his job to sell mofongo.
Any takers? Richard Plepler?  
11:35 a.m.: We're getting closer to lunch, and it's time to hear from the foodies: Blue Apron CEO Matt Salzberg and Smorgasburg Founder Eric Demby on stage now.
11:33 a.m.: Delaney says the most surprising part of Crowley's comments was that an app developer would suggest that people are focusing too much on starting into their phones.
"In moderation," Crowley says.
11:31 a.m.: Delaney asks the question on everyone's minds: what about privacy? 
People are totally fine with hitting a button to say "I'm at Starbucks," Crowley says, but if they app tells them "We know you're at Starbucks," people feel less comfortable with that. And you can always delete all your data, he says. That 3 a.m. check-in can be erased. 
11:29 a.m.: On Swarm: "I can open this app up now and know that four of my friends are in the audience today." Hi Dennis's friends!
11:27 a.m.: Crowley on the decision to split into two apps: One of the things that we've observed is that the best apps are the simplest one. Our conclusion was to make one app about checking in and sharing with friends, and another app about discovery. 
11:20 a.m.: Crowley says he wants to help a generation with their heads in their phones to better experience the actual world around them. If you're building these profiles, he says, you should be using that data to enhance your experience of the real world. 
11:18 a.m.: Quartz's Kevin Delaney is back with Foursquare's Dennis Crowley in his first interview since launching the new app Swarm. 
11:14 a.m.: Golden on what attracts her to contemporary works of art: "I can't name it." It's a feeling, she says. 
Wardropper feels similarly. He says for a work to find a place in the Frick Collection, it has to check off all the boxes, but then it has to have something more. "It has to sing in a way that makes you stop." 
Sing like a Goldfinch, perhaps? 
11:08 a.m.: Golden advocates greater levels of access for all New Yorkers to culture. The Studio Museum is free on Sundays(!) to help open up the arts to the community.
11:03 a.m.: The Frick does allow weddings, Wardropper corrects moderator Keli Goff. They're reconsidering it, though, because of a 21st-century problem—people leaning against frames of paintings while taking selfies. 
11:02 a.m.: Golden says an important part of museums is the way in which they root themselves to the community. 
11:00 a.m.: Up now: more great insight on the modern art world from Frick Collection Director Ian Wardropper and Studio Museum in Harlem Director and Chief Curator Thelma Golden. 
10:55 a.m.: Grossman says Getty Images' Lean In Collection is off to a strong start—use of the images is already up 31 percent. 
10:51 a.m.: Coles delves into the controversial topic of photoshopping images. She's fine with covering up a cold sore, but not taking off 30 pounds. What you're trying to do with photoshopping, she says, is to make the picture look recognizable. 
10:49 a.m.: Looking at images in a magazine like Cosmo, readers want "a reflection of who they are," Coles says. 
10:47 a.m.: Rosin brings up the viral Dove ads as a use of the "anti-message" as advertising. Grossman says that women's strong involvement with social media is allowing them to control the conversation more. Tweet away, ladies, it's contributing to diversity!
10:45 a.m.: Grossman says that Getty Images actually rarely uses modeling agencies. Photographers today use friends and connections—much more interested in finding normal people on the street. 
10:41 a.m.: Coles says that at Cosmopolitan she's trying to modernize the magazine by stealth. "We never advise women to spend $3,000 on a handbag. If you're in your 20s, it's much smarter to put that money towards a downpayment on an apartment."
10:39 a.m.: "I feel more intelligent by being in this room," Coles says.
"It's the glasses," Rosin riffs. 
10:38 a.m.: Three impressive women take the stage now: Getty Images Director of Visual Trends Pamela Grossman, Cosmopolitan Editor-in-Chief Joanna Coles, and Atlantic National Correspondent Hanna Rosin. 
10:36 a.m.: With commencement season upon us, Delaney asks for Murphy's advice for new graduates. His message: "Run away from cynicism."
10:33 a.m.: New York is the "heated center" of the art universe, but Shanghai is becoming a major player, Murphy says.
10:30 a.m.: Delaney asks about the future of physical artwork is in a world where we can produce high-resolution copies of art. 
"The ubiquity of fantastic images and the idea that you can sit anywhere in the world and pick up your iPhone to look at an image has increased the value of the original object, because there is only one of them," Murphy says.
10:20 a.m.: Next up, Christie's International CEO Steven Murphy on stage with Quartz Editor-in-Chief Kevin Delaney.
10:13 a.m.: How many men vs. women enter the New Yorker cartoon caption contest? Mankoff says it actually relates well to The Atlantic's current cover story, "The Confidence Gap." An overwhelming 84 percent of the entrants are men, yet 22 percent of the winners are women.
10:11 a.m.: Kelly asks what the funniest animal is after cats and dogs: "There is no third funniest animal...You have sloths. You have them hanging, and then one says to another, 'Take five.'"
But cats outsell dogs five to one. "They're more comically interesting," Mankoff says.
10:09 a.m.: A lesson in perseverance: between 1974 and 1977 Mankoff had 2,000 cartoons rejected by The New Yorker.
10:04 a.m.: Mankoff: "The New Yorker is not an insulated comedy environment. The New Yorker's humor is primarily benign...The interesting thing is that it not only tweaks the readership, but the writership of the magazine....The cartoons are tweaking our liberal piety."
9:59 a.m.: Mankoff explains the allure behind his most famous cartoon: "Humor is conflict. It lets us say things we normally wouldn't. The structure of it is polite, but the meaning is rude." 
9:55 a.m.: Vanity Fair Contributing Editor Jim Kelly asks New Yorker Cartoon Editor Bob Mankoff about the emphasis on Yiddish in his book. Mankoff says it's "the language of love and insult."
9:51 a.m.: Coates asks what other cities Joachim and Barasch look to for inspiration. Joachim points to Chicago's park system. Barasch says he'd look to Europe for a much longer tradition of investing in community infrastructure. 
9:47 a.m.: Joachim says Brooklyn is still "a rainbow" but gentrification is having major impacts. Barasch says gentrification is front of mind for the Lowline in the Lower East Side too. The forces of gentrification are very complex, he says, but important to focus on maintaining ties to the community.
9:40 a.m.: Ta-Nehisi Coates asks the inevitable question--what about the rats? Barasch says it's a problem New Yorkers are programmed to think about, but it's a problem that is directly correlated with food. The Highline had no problem with rats until people started eating on it. It's a sanitation challenge, he says. 
9:37 a.m.: Terreform ONE Co-President Mitchell Joachim says that his project is trying to bring in the creative types: "painters, writers, tinkerers, bohemians—people who put the funk in functionalism."
The Atlantic's Ta-Nehisi Coates asks if Joachim thinks that the term the "Creative Class"—the term coined by Atlantic Cities editor Richard Florida—might offend the people who are actually creative types.
"No one is really comfortable with a label of any kind," Joachim says. "It means you're probably not good at math and science—and that's not true. I have a Ph.D."
9:20 a.m.: Dyson shares a history lesson on the Cold War-era Corona reconnaissance satellite program. Not only did it help the U.S. to know that the Soviet Union did not have as many missile as they thought, but it also laid the groundwork for Google Maps.
9:10 a.m.: Science historian and author George Dyson and Techonomy Founder and CEO David Kirkpatrick start off the day on a light note by talking about NSA surveillance. "If history has taught us one thing, the only thing worse than no security is a false sense of security," Dyson says.
8:55 a.m.: Good morning from the Smith Stage! Join us here today for recaps and insights from the New York Ideas mainstage.