As pressure over deportations intensifies, "Documented" uncovers the human side of the immigration debate
Conservative activist Grover Norquist joins panel of filmmakers and advocates to explore the personal side of immigration and possibilities for future reform, following screening of new film DOCUMENTED.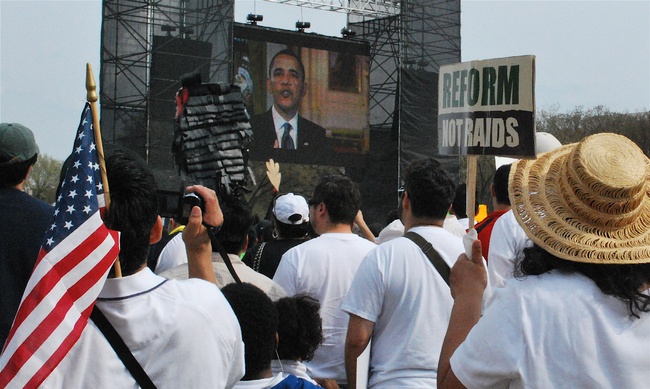 The debate over the nation's nearly 12 million undocumented immigrants is heating up once again. Anti-deportation activists are dialing-up the pressure on President Obama to remedy the administration's reported record-breaking deportation policy.  An investigation led by the New York Times revealed that just 20 percent of the nearly 2 million immigrants deported from the US had a criminal record.  Now the Congressional Hispanic Caucus is pressuring Obama to take fast administrative action, leading many to believe that chances for a legislative agreement may be waning. On Sunday, potential GOP presidential candidate Jeb Bush spoke sympathetically about illegal immigrants' motives, further cementing immigration as a divisive issue within a party hoping to garner Latino support in the next election cycle. 
At a timely moment in this debate, The Atlantic will join Define American and FWD.us for a screening of the new film DOCUMENTED, which explores the experience of undocumented immigrants in the United States through the eyes of the film's writer and director, Jose Antonio Vargas, who himself is undocumented. "Every day, an estimated 1,100 immigrants are deported. The U.S. government has deported nearly 2 million immigrants in five years—a record. But not me. I am privileged to still be in America, my home, and privileged to put Documented on the screen," Vargas said in a recent statement.
The Atlantic's Megan Garber will be joined by Vargas, along with the film's executive producer Janet Yang, and FWD.us founder Joe Green. Additionally, Americans for Tax Reform president Grover Norquist, one of immigration reform's most influential conservative advocates, will join the discussion. The panelists will discuss reactions to the film and the deeper implications of immigration politics on our economy and American culture.
For more information about the film and its creators, visit the DOCUMENTED website and watch the trailer below: