'One Cannot Shame a Depressed Person Into Getting Well'
Readers debate how we should talk about suicide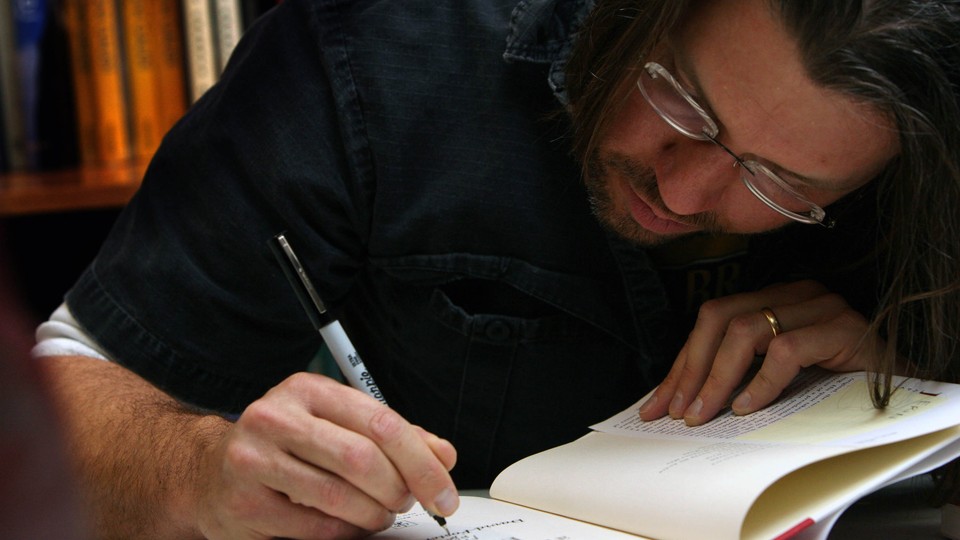 Suicide Is Not an Act of Cowardice
Earlier this month, the radio host John Ziegler tweeted that David Foster Wallace's 2008 suicide was selfish and cowardly. In response to these comments, Ken White argued on TheAtlantic.com that Ziegler's tweets resurrected a dangerous myth:
"When you say that the victims of suicide are cowards, you're telling depressed people that they're weak and contemptible for what they feel," White wrote. "You're reinforcing the lies they're already hearing in their head. You're making it less likely, not more, that they'll seek help."
---
I am writing to express how appalled I am that Ken White chose to write an entire column bashing a couple of tweets I wrote about the long-ago suicide of David Foster Wallace without even bothering to contact me for comment, or to learn more about the real situation.
Had White done even basic due diligence he could have discovered that:
My relationship with Wallace was quite extensive (he shadowed me daily for at least two months while writing an epic Atlantic cover story 15 years ago). And my opinion that his suicide was "cowardly" was based on substantive reasoning.

Contrary to what White writes, my opinion on Wallace's suicide has nothing to do with my perspective on his story about me, which White laughably claims I have "never gotten over." Other than when I am asked—which is quite often—I never think about it. My only real problems with the piece are the many inaccuracies—which I detailed in a letter to the editor in 2005 and in an annotated online version of the article in 2018—and the very weird way in which it is written.

The tweets themselves were stupidly written in haste while I was at a party.

My view of suicide—which I am vehemently against except in extreme circumstances—is based largely on my own battle with deep depression after a 1994 car accident that killed my mother, and the several times that I strongly contemplated suicide in the years after that tragedy.

Because I now have a family, I fully expect that I will never commit suicide. However, if by some chance I do before I am old and/or terminal, no one would be wrong to call me cowardly for doing so.
John Ziegler
Camarillo, Calif.
---
My husband died by suicide in August 2019, after nine months of intensive drug and counseling treatment for major depressive disorder. Like most suicide survivors, I (and our family) have been wracked with grief and guilt that there was something more we could have done to protect and save him from his depression.
Your article was right to take the radio host to task for calling suicide an act of cowardice. But give people who think that a break. Until they've seen someone terrified by his inability to stop a negative downward mental spiral, they don't know what they're talking about.
Articles like yours that try to explain depression and encourage people to talk about its prevalence, particularly in a culture that prizes success and high achievement, will help others. You were right to label depression "inadequately treated." It is, and until we do better, all the hope in the world is false.
Susan Petrarca
Lemont, Ill.
---
Mr. White does an excellent job of gently offering Wallace as an example of what happens in a clinically depressed mind. I am grateful for Wallace's willingness to use his talents as a writer to explain what millions of people struggle with but aren't able to articulate to family and friends.
In addition to a fundamental misunderstanding of both depression and its worst symptom—death by suicide—a broader problem is that we feel free to add subjective labels to other people's struggles with diseases in the first place. I am reminded of a Twitter discussion recently on whether labeling someone's "fight" with cancer as "brave" indicated that someone who chose not to seek treatment was not fighting bravely and was instead giving up in a cowardly manner.
The terms cowardly and brave are subjective and imply a deeper knowledge of the intentions behind, say, attempting suicide or refusing chemotherapy. Suicide is neither cowardly nor brave—it is the ugly, unfortunate final stage of depression. No one has the authority to label it otherwise.
Moreover, calling a victim of suicide a coward is harmful and useless. One cannot shame a depressed person into getting well. Dealing with a dangerous illness is deeply personal and emotionally draining, and spectators would be more useful by offering nonjudgmental support or saying nothing at all.
Laura Beth Jackson
Washington, D.C.