Educational Institutions Should Engage More—Not Less—With China
Graduates of an academic program in Beijing discuss the importance of demystifying and challenging the Communist country from the inside.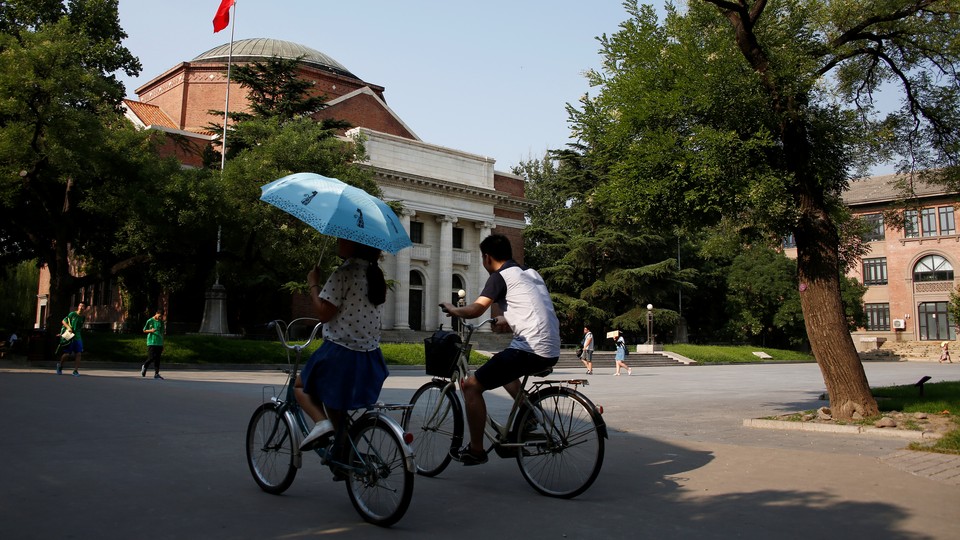 The Moral Hazard of Dealing With China
Last month, Bethany Allen-Ebrahimian wrote that Western universities are confronting a growing moral hazard in China. As the Communist country becomes more and more locked down and carries out cultural genocide against ethnic minorities, she argued, American institutions and entities such as the Schwarzman Scholars program must grapple with the question of when engagement becomes complicity.
---
The search for knowledge requires engaging in principled disagreement and facing uncomfortable truths. The alternative—isolation bred by fear—is worse than uncomfortable; it is dangerous. Bethany Allen-Ebrahimian underestimates the value of an important part of the Schwarzman Scholars program: Students are engaged actors who value critical thinking, not merely empty vessels succumbing to Chinese propaganda. They have chosen to become Schwarzman Scholars to gather knowledge and perform acts of diplomacy.
When Stephen Schwarzman founded Schwarzman College, he sought to develop future global leaders with an understanding of and ability to engage with China and the world. In his book, What It Takes: Lessons in the Pursuit of Excellence, Schwarzman writes, "China is no longer an elective course for future generations; rather, it is core curriculum."
Scholars come to Schwarzman for different reasons. They are entrepreneurs, humanitarians, bankers, educators—and all come to ask questions of and learn from a country and from leaders with whom they may disagree. A typical day at Schwarzman is uniquely focused on supplementing traditional coursework with experiential and peer-to-peer learning. For example, scholars organize nighttime dialogues and debates on current affairs, news, and films such as American Factory and China Global Television Network documentaries.
This learning program is neither a one-way exchange nor is it isolated to the U.S.-China relationship. In fact, 40 percent of scholars are neither American nor Chinese. As international students learn more about the country, Chinese students are exposed to ideas and cultures from the rest of the world. Some scholars even joke about "American culture shock," referring to their exposure to American culture and idiosyncrasies inside the college. But they talk openly and critically about both the U.S. and China. To be sure, there are moments when scholars hold back opinions for fear of offending a peer. Yet these sensitivities are discussed candidly in an evolving effort to achieve our own version of balanced engagement.
Even if one believes that the U.S. needs an aggressive approach to counter China, engagement is essential to demystifying and understanding the country from the inside, grappling with Chinese foreign policy, and managing the complex U.S.-China relationship.
Scholars are encouraged not to withdraw from challenges, but to address them head-on, remaining on the ground where we can do some good. The argument that disengagement is somehow more "moral" equates avoiding difficult topics with a moral high ground, when, in fact, the opposite is often true. As President Theodore Roosevelt famously said, "It is not the critic who counts … The credit belongs to the man who is actually in the arena."
To be clear, we strongly oppose China's actions in Xinjiang and its oppression of the Uighur people. The question in U.S. diplomacy remains: How can we confront the atrocity? American Schwarzman students ask, Should we directly discuss the issue with our Chinese counterparts, or do we join the U.S. echo chamber? From our perspective, Tsinghua University provides access to China's elite, and a platform for scholars to question, critique, and investigate these sensitive topics (including the complex landscape of Chinese domestic politics and economics).
In addition, students embrace the competition of ideas and pursue independent research. For example, we are both researching topics that likely would not be allowed in any other environment in China: state-sponsored cybertheft and gender and media control.
As Rory Truex's recent essay in The Atlantic stresses, the U.S.—and more specifically, U.S. colleges—should continue to publicly discuss sensitive issues in China in order to elevate awareness about specific matters and to protect the fundamental freedom of speech that is under threat from China's efforts to control its narrative abroad.

Emma Campbell-Mohn
Schwarzman '17
Cambridge, Mass.
Amanda Morrison
Schwarzman '20
Helena, Mont.
---
Bethany Allen-Ebrahimian asks a crucial question of American educational institutions with affiliations in China: "At what point does the price of continued ties [with a repressive Communist Party] become too high?" In general, educational institutions can best counter Chinese Communist Party (CCP) repression through more engagement, rather than less.
Exchange programs in China tend to produce more informed critics of the CCP. For example, graduates of the Schwarzman Scholars program have called for sanctions on Chinese officials involved in human-rights abuses in Xinjiang. Graduates of similar programs, such as Allen-Ebrahimian, have joined the ranks of reporters who have investigated the party's human-rights violations and authoritarian practices. Beyond critiquing the CCP, graduates of Schwarzman and similar programs now work in the U.S. government, in the Canadian government, and for the European Union, and provide sorely needed analysis on complex policy issues related to China.
Because the CCP imposes such tight restrictions on the media, educational exchange programs provide one of the few avenues to explore, in Allen-Ebrahimian's words, "how the party governs, and how Chinese society responds to that governance." In more candid conversations, CCP members at Schwarzman described their classes on Marxist-Leninist thought, explained how Chinese citizens view various party organs, and discussed how the party recruits younger students. In these moments, foreign students got a rare glimpse at the human elements of the CCP's operations.
Programs like Schwarzman also benefit the primary targets of CCP censorship campaigns: Chinese students. When I attended Schwarzman, Chinese students improved their English, had access to a range of foreign media, and took classes with foreign professors who covered the CCP and Chinese society. Over drinks, students from the Chinese mainland spoke with students from the U.S. and Taiwan about cross-strait relations. I'm not sure how often young CCP members changed their views—or how often Western students changed theirs—but we left the program with a clearer picture of where our classmates stood and why.
But as Allen-Ebrahimian suggests, American institutions cannot simply allow the party to dictate terms. They should start by evaluating potential Chinese academic partners based on a forthcoming academic-freedom index from the German think tank Global Public Policy Institute. U.S. universities must also guard against becoming overly dependent on sources of revenue associated with the CCP and should establish formal mechanisms to share information with peer institutions about its campaigns to curtail speech on campus.
The U.S. government also has a role to play. It should relax immigration controls on Chinese students—especially Uighurs—who may face retribution for speech acts or their religious background upon their return to China. The State Department recently issued a statement criticizing the International Civil Aviation Organization for blocking users who mentioned Taiwan on Twitter. It should publish a similar statement calling on the CCP to end efforts to restrict speech on U.S. campuses and to respect academic freedom on its own campuses. (In fact, Allen-Ebrahimian explored CCP influence operations on U.S. campuses in a 2018 article for Foreign Policy.)
These steps won't immediately resolve the tensions Allen-Ebrahimian explores in her piece. But by taking a more assertive approach, U.S. universities and the U.S. government can resist CCP censorship in academic settings while maintaining partnerships of great value to students on both sides of the Pacific.
Ricky Altieri
Schwarzman '17
New Haven, Conn.
---
Bethany Allen-Ebrahimian replies:
These are nuanced and well-argued responses from Emma, Amanda, and Ricky. My essay was not a call to action but rather a call to discussion, and I am pleased to see that this has so far been one result. As Ricky notes, I am myself a graduate of a program in China that is quite similar to the Schwarzman Scholars program. It was an experience that changed my life. I know firsthand and deeply value the strengths of engagement, which Emma and Amanda eloquently describe.
But when a government has led the society that it governs far down the path toward genocide, as the Chinese Communist Party has; and when that government has advertised high-profile foreign engagement as proof that its model is both successful and acclaimed, as the Chinese Communist Party has; and when that government has learned how to reverse the ties of engagement to enforce repression far beyond its own borders, as the Chinese Communist Party has, every institution with ties to China must ask itself, Are we making things better, or are we making things worse for the country's citizens and the world?
I do not know the answer to that question—or whether it's time to disengage—and I do not claim to. It is a deeply personal question that every institution and every person must answer on their own. But I do believe that it is time for everyone to begin the process of asking themselves, Where do we draw the line?