Letters: College Presidents Should Focus on 'Mission, Purpose, and Student Success'
Two leaders in higher education respond to Senator Ben Sasse's (incomplete) list of the questions facing American colleges and universities.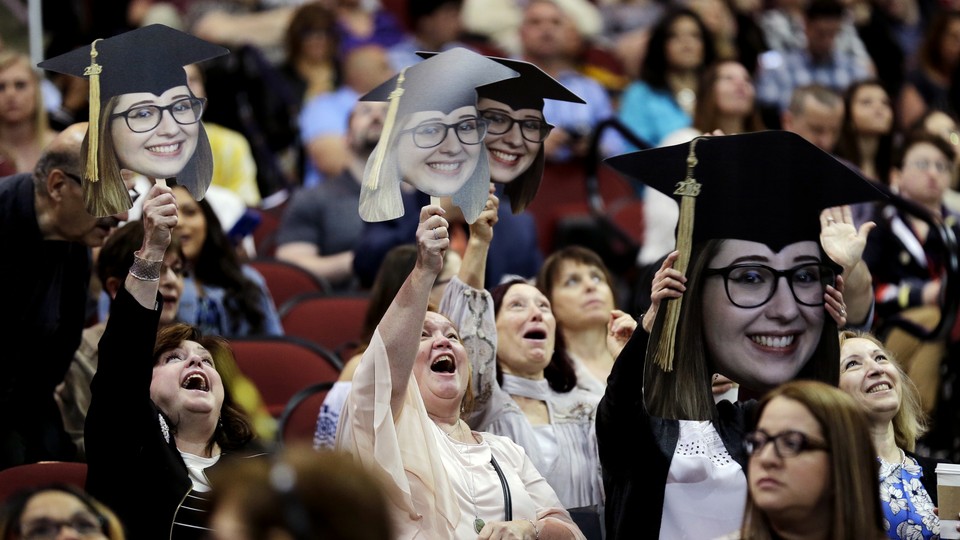 17 Questions Every College Should Be Asking
"Higher education is in the middle of multiple, massive disruptions," Senator Ben Sasse argued in September, "and it isn't clear that the leaders of the sector grasp the magnitude of the waves of change breaking on their ivy-covered gates." Sasse, a former college president himself, presented an (incomplete) list of job-interview questions he hopes search committees will use to find leaders who can actually help their universities tackle the challenges they will face.
---
Central problems in higher education start with the appointment or election of trustees. In public institutions, they are selected through a political process; in private institutions, they are generally selected due to fundraising capacity. In neither case are they required to be experts in higher education, nor are they usually trained for their fiduciary responsibilities.
As a result, trustees are generally not capable of monitoring the alignments among the charter, mission, purpose, goals, strategies, alternative courses of action, assumptions, resource-allocation priorities, rewards, and results. For example, most colleges and universities say that their mission is to educate students at the highest level, but then reward faculty by relieving them of teaching and advising responsibilities. One consequence of this is the abysmal graduation rate at most colleges.
Perhaps as a result of their selection, trustees often reward the campus president for acting as a CEO. In this role, the president focuses on size and scale, organization and delegation, money, and labor issues. Faculty members are viewed as employees. In my view, a better model is the president as CMO (chief mission officer), focused on mission, purpose, and student success, including graduation. In this model, faculty members are viewed, as they were historically, as partners in shared governance.
Robert A. Scott, Ph.D.
President Emeritus, Adelphi University
President Emeritus, Ramapo College of New Jersey
New York, N.Y.
---
I would like to provide one answer to Question 14: "If the state's community colleges could be folded into our system, would you want them? Why or why not?"
Before I answer, I would like to praise the senator's approach of beginning with a set of questions. It's a rare politician who leads with questions instead of pushing ahead with answers. The questions are all vital and important; many of them are at the center of important reform work going on within higher education in our country.
First off, I'd like to share a bit of context. There are approximately 1,100 community and technical colleges in our country. These colleges play a vital and underappreciated role in our national story. In many ways, the comprehensive community college is a uniquely American idea. Rooted in junior colleges that were founded in the early 20th century, the idea for the modern community college really took hold in American policy with the 1947 Truman Commission report. Many of our institutions were founded later in the 1960s during the civil-rights era. At the present moment, roughly 40 percent of America's college students attend a community college.
Two aspects of Senator Sasse's Question 14 require some friendly prodding. First, the idea of folding community colleges into "our system" is problematic, as many states already have the two- and four-year colleges in a unified higher-education structure. Further, the notion that the university is "our" system seems to imply that the community colleges are somehow "their" or "other," which is decidedly not the case. In fact, many of the tricky questions on Senator Sasse's list are more easily answered by community colleges, which have affordable tuition, relevant programs with clear labor-market outcomes, and close ties to employers and community groups. Second, the follow-up question, "Would you want them? Why or why not?," perpetuates a stigma against community colleges that many of us are trying very hard to change. America's community colleges boast many of the attributes associated with small liberal-arts colleges: small class sizes, highly qualified faculty, and a focus on classroom learning as opposed to research and grant-writing.
For readers who are interested in the great work of community colleges, I would humbly reference the dozens of voices on our End Community College Stigma podcast, as well as the social-media #EndCCStigma campaign. The impact of our colleges is widespread, and that impact directly addresses many of the problems and disruptions raised by the senator's 17 questions. To paraphrase LL Cool J, "Don't call it a comeback—we've been here for years."
Steve Robinson, Ph.D.
President, Owens Community College
Toledo, Ohio