Letters: 'There's a Joy in Interacting With the Printed Word'
Readers discuss the decline in the use of library books at colleges and universities.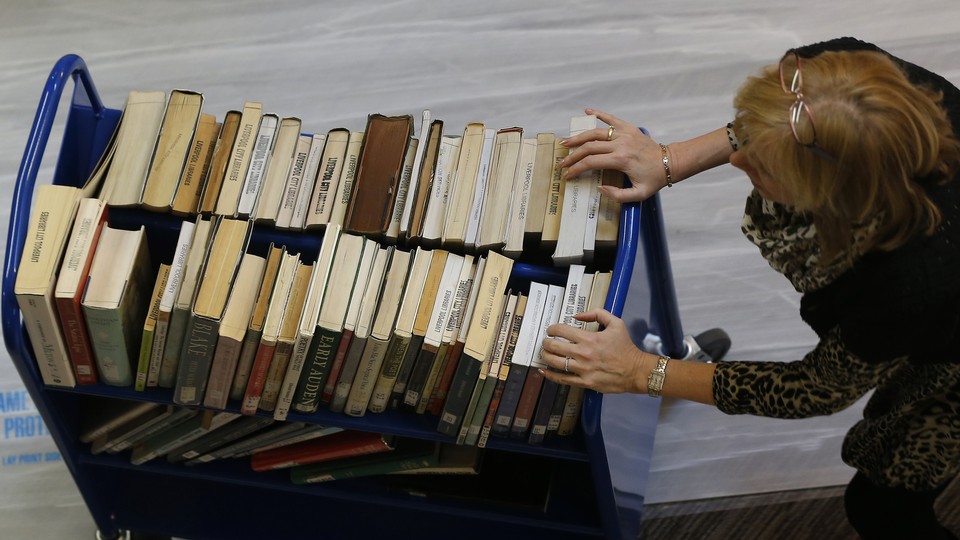 The Books of College Libraries Are Turning Into Wallpaper
University libraries, Dan Cohen wrote last month, are seeing steady, and in many cases precipitous, declines in the use of the books on their shelves.
---
There's a path to making print live and breathe beyond this wallpaper role. We need to make the stacks beckon users by showcasing their interests. At my home library, we recently held a public poetry reading, letting university personalities choose a favorite poem to read and say a few words about the importance of the chosen poem. At the end of the lineup, several audience members asked to join, their books lovingly marked to the important pages. There's a joy in interacting with the printed word that we need only provide the opportunity to celebrate.
Rebecca L. Lubas
Dean of Libraries, Central Washington University
Ellensburg, Wash.
---
Dan Cohen states that books that "benefit from physical manifestations" or "that are rare or require careful, full engagement" are probably better off staying in central places on campus. He then separates those privileged volumes from the "multiple copies of common books" that "can be consulted quickly online"; these, he states, can be moved off-site or deaccessioned. Those of us who work in the fields of bibliography, book history, textual studies, media studies, and the cultural history of reading would argue that all books benefit from their physical manifestations, which regularly require careful and full engagement. Moving books off-site disables—or puts at a serious disadvantage—a whole range of scholarly operations.
The Book Traces project at the University of Virginia aims to demonstrate the historical and informational value of individual copies of library books containing (as many of them do) unique archival information. It is hard to make decisions about which books "require careful, full engagement" and which are too "common" to do so. It will take the collaborative work of librarians, book historians, and field specialists to develop best practices. We have not yet found a lot of good ways to make those conversations happen.

Andrew Stauffer
Department of English, University of Virginia
Charlottesville, Va.
---
To discount the "powerful emotional attachment" to libraries as mere nostalgia is a willful misunderstanding of what has gone wrong at academic libraries. It is telling that book circulation in academic libraries "runs contrary to the experience of public libraries and bookstores, where print continues to thrive." Of all people, why would scholars and students abandon books?
First, historical statistics from the Association of College & Research Libraries are flawed because they never distinguished circulation of bound periodicals from books. The initial big drop in circulation/reshelf numbers was almost entirely due to periodicals going online. This led librarians to a flawed assumption that soon all reading would be digital, and led to a fad for preferentially buying ebooks. Yes, ebooks are easy to access online but, as the author himself points out, they are inferior for deep reading. If more new library books are ebooks, print books on the shelves will become more and more out of date; this will create a feedback loop that further depresses print circulation.
Finally, the idea that "no library can be completely universal" is perfectly true, but trying to be universal is part of the problem. Nearly all academic libraries outsource book selection to "approval plans," so that every library buys essentially the same scholarly books regardless of faculty research specialties, curricula, or geographic location. Academic libraries are doing students a huge disservice when they simply reduce book collections without developing any plan to boost print circulation or to reconnect with a culture of literacy and reading. Instead of spending millions on generic collections, academic librarians ought to treat the college community more like a real community with specific issues and interests reflected in a curated collection of books. Libraries have emotional power specifically because the books a person has read become a reflection of their deep self. I will be surprised if the group work, data processing, or "new forms of digital scholarship" replacing the books ever turn out to have as much impact on the formation of identity.

Amy Brunvand
Salt Lake City, Utah
---
Dan Cohen replies:
I am all in favor of finding ways to engage students with books and other printed materials, and appreciate Rebecca L. Lubas's ideas here. Indeed, the first thing students at Northeastern University see when they walk into the library is an area of staff recommendations, arranged more like a bookstore than library stacks. We also host a popular series run by our archives and special-collections division called "Neighborhood Matters," which explores important topics of local history and culture through presentations, documents, and film, and is open to the public. As appealing as these activities in the library might be, I am pessimistic, however, that they can stem the long decline in the use of college book collections that I identify in the piece, which has many factors beyond just positive encounters with the written word, as compelling as that often is.
As a fellow Victorianist, I am very familiar with the elements that can make individual copies of books unique, such as marginalia from bygone students and faculty in some of the books held by the University of Virginia library, which one can see in the digitized copies of those books on Andrew Stauffer's Book Traces website (as well as in Google Books, HathiTrust, and other places). However, while such volumes are a delight to find, and can in some cases produce new scholarship about the circulation of knowledge, a comprehensive analysis of the total modern library collection, especially at universities that are not as old as UVA or that do not have such extensive collections of older works, would find that significantly altered volumes are relatively rare.
The bigger issue is that privileging even small variations in each book over the larger concerns of the library—to maintain a useful and used collection of books, tailored to community needs and to all disciplines in an institution (not just book historians)—can too easily lead to paralysis and a maximalist take on the retention of all books centrally. As a historian of science and a general nerd, I love to leaf through old computer-programming books, but I also understand that they might have to go off-site to make room for newer, more relevant books in computer science on limited shelf space. I can retrieve them quickly if needed from nearby high-capacity storage. (I did not speak in the article about deaccessioning—tossing these books—just a sensible relocation of them.)
Librarians have always had to make difficult choices about the composition and evolution of their collection; if every book is a special flower, that process becomes infinitely more complex.
My point in talking about the "Great Sorting" was to highlight that there are different kinds of reading styles and different kinds of texts—not all profound or enriching of the soul, but nevertheless filled with necessary information that can help us understand society and the world better when synthesized together—and we now have different media formats that fit those reading styles better. While ebooks are for most people inferior for deep reading, they are superior to print books for full-text searches, quick references, and other critical aspects of modern research. My belief is that we should provide the full array of formats for what research looks like today.
I wholeheartedly agree with Amy Brunvand's idea that a library should reflect its community—that it should, in a sense, be more angular than well-rounded, more idiosyncratic than generic. But what if that community is doing substantial and growing work with data or digital methods, elements that surround us in the modern world? Can the modern library dismiss that as inferior? And can't students do group work during the day and curl up in the evening with a good book?