Letters: 'I Have Not Fallen Out of Love With My Cabbage'
Readers share what they eat for lunch—and why.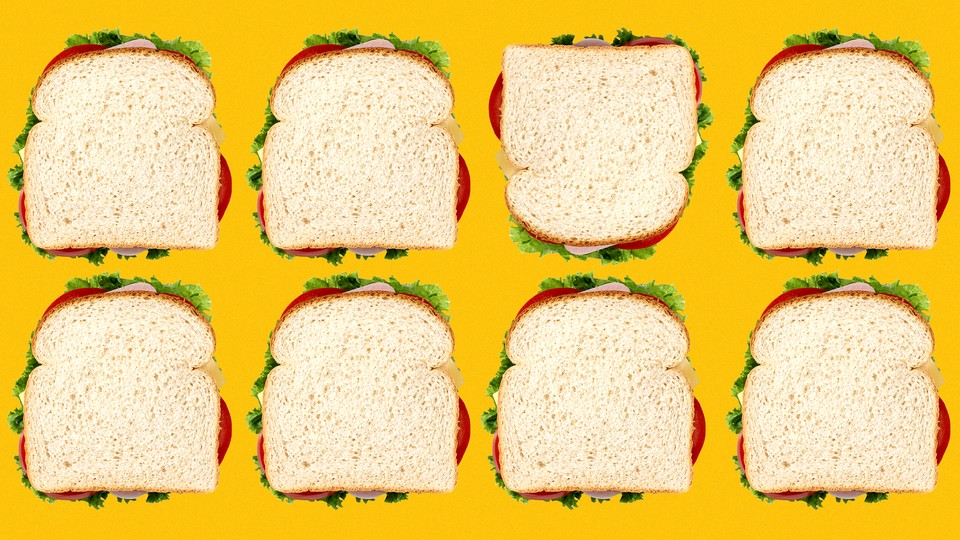 The People Who Eat the Same Meal Every Day
The Atlantic staff writer Joe Pinsker eats the same bean-and-cheese soft tacos every day for lunch. Curious as to what drives others who share his proclivity for routine, Pinsker talked to a handful of people who also eat the same meal every day. One source found solace in the regularity; another liked that it makes grocery shopping simpler. And, one historian explained, many people around the world aren't repeating their meals voluntarily.
---
My cousin is a dietitian and sent me "The People Who Eat the Same Meal Every Day," asking why you didn't interview me. The joke about me with friends and co-workers is that I've eaten the same thing for lunch for almost 30 years. I am very outgoing, high energy, and entertaining, but when it comes to food, I'm boring. I like my weekday tradition of brown rice, vegetables, and tofu! I will admit that I've switched it up the past few years with organic rice and tofu. In addition, I now skip the tofu for half the week and go wild with beans (garbanzo are my favorite, but sometimes I even do cannellini). This five-day-a-week lunch keeps me lean and regular, fills my belly, and increases my already high energy. Why would I switch?
Debby Figoni
Beverly Hills, Calif.
---
I always thought I was somewhat unique in my dedication to eating the same meals every day. When I was in the military, for 20 years, I skipped breakfast, but once I semiretired and joined the civilian workforce, I began eating the same peanut butter and jelly open-face sandwich on gluten-free toast that I've now eaten for the past 25 years. I eat the same thing because I enjoy it and it's also easy to make. My dog also likes peanut butter, so we can share a bite of it as I prepare the sandwich. For 22 of those years, I ate the same lunch—turkey and ham on an open-face sandwich on gluten-free toast. My lunch now consists of some cottage cheese and potato chips, which I again share with my dog. And then I finish it off with a bowl of oatmeal. I save whatever variety I introduce into my diet for dinner, which I eat about 80 percent of the time. One benefit of the sameness is that it allows me to tailor my exercise regimen so that I can maintain a stable weight.
Allen Greenberg
San Diego, Calif.
---
I am one of those people, and I love it. Mine is peanut butter, too! No bread, just scoops of it from the jar! I am 50 years old and have been eating it for years and years.
Meryl Mason
New York, N.Y.
---
The article seems to be mainly about lunches. Is that because Joe thinks everyone eats the same thing for breakfast?
I almost always have oatmeal for breakfast (for 20-plus years): Steel-cut oats cooked the night before, left on the stove to heat up in the morning. I include dried cherries, dried French prunes, cut up apples, hemp seeds, etc. Fruit to add might depend on the season or availability.
While this began out of necessity during my working life, I've continued the oatmeal breakfast into retirement. To me, the benefit is that my digestive system goes right to work on it, and I know the amount I need, and cook no more that that. I sometimes make a later breakfast/brunch for variety, whether just toast, eggs and cheese, hash browns, whatever. But I always start the day with oatmeal. It's waiting for me when I get up.
I don't consider this lacking creativity, because I am always looking to improve it, and I am open to new ideas. In fact, I have a web page on making oatmeal!
John Miller
Portland, Ore.
---
Thank you for your profile of people who eat repetitive meals, and for the quotes from the experts who say it's not a harmful habit! I'm autistic, and one of the ways this has affected me is that I have a low sensory tolerance for trying new textures and tastes. For years in grade school, I would eat a cold lunch of homemade "pizza"—pita bread with red sauce and mozzarella cheese, invariably packed with a couple of Hershey's kisses and a cute note from my parents. I'm grateful both for their tireless packing work, and their patience with my dietary habits.
Madeline Barnicle
Los Angeles, Calif.
---
Type 1 diabetes means that no two days will easily be the same. Eating the same food at the same time each day and taking the same insulin dose the same number of minutes before that meal will not guarantee the same blood sugar result when measured at the same one or two hours' time after that same meal.
The body's many metabolic functions might vary from day to day and can't yet be predicted or controlled. Likewise, the effects of unplanned or unexpected external events on the mind and body's stress response can't yet be controlled.
Mood and cognition are affected when blood glucose levels are out of the normal range. Doing everything possible to control the controllable variables (like what is eaten and when) gives a person with type 1 diabetes the best chance to think, feel, and behave normally from one meal to the next.
Michael O'Meara
Rosales, Pangasinan, Philippines
---
Your article on people who eat the same lunch every day touches on the subject of ritual. I wonder if that is really the crux of the matter. After all, people have incorporated all types of little rituals into their daily lives for thousands of years; maybe eating the same lunch every day is just one of the possibilities. If I had to pick some kind of ritual to ground me or anchor me a bit more firmly in this chaotic world, the daily lunch ritual doesn't sound like such a crazy one.
Jan Michał Zapendowski
Richardson, Texas
---
We also asked readers:
What's lunch to you? Do you eat the same PB&J every day, or do you find joy in varying your midday meals?
Here's how readers responded.
---
As a teacher in the late 1960s, I brought the same easy lunch to work every day. I would eat a two-and-a-half-ounce mini-can of tuna, a slice of whole-wheat bread, a one-ounce piece of cheddar cheese, and an apple in the teachers' lounge. After witnessing several months of this, the other teachers had a good laugh when the news broke about the dangerous levels of mercury in tuna. I became and still am a proponent of variety as the wiser approach to eating. To quote Oscar Wilde: "Everything in moderation, including moderation."
Marilyn Levitt
Chevy Chase, Md.
---
When things are good (approximately 70 percent of waking hours), my breakfast is always a banana and black coffee. My lunch is always from Subway, and is always the same: double-chicken-breast chopped salad, with lettuce, spinach, onions, and (lots of) black olives.
In the other 30 percent of waking hours, I eat a wide assortment of fatty junk. And drink too much.
Conn Nugent
Washington, D.C.
---
I've been bringing my lunch to work with me daily since 1986. Early in my professional career, I recognized that I gained significant weight from eating restaurant meals for lunch and began brown-bagging it as a result. (Back then, we called the weight gain "secretary spread.")
While I refrain from having the same lunch every day, I do streamline my morning routine by incorporating leftovers into the mix. I do this as follows: I plan the weekly dinner menu over the weekend and completely assemble all dinner fare on Sundays so it is ready to pop into the oven when I return home from work. The quantity of each meal is sufficient to feed me and my husband for dinner, and me for lunch the following day. At work, I have a fresh, delicious homemade meal ready to enjoy as needed.
Downside: Meal preparation in the Levine household gobbles up a good chunk of Sunday afternoons. (But it's okay because I can catch up on my favorite podcasts while I work.)  Upside: Food is homemade, fresh, grab-and-go-ready upon leaving the house in the morning without fuss, frustration, or drama. Moreover, neither my husband, who is edging toward 70, nor I, on the verge of 60, needs to take prescription medications—and I believe the advance preparation of homemade, healthy, fresh fare over the past 30-plus years is the reason.
Sara Sherman-Levine
Belmont, Calif.
---
Same lunch everyday? You kidding? Lunch is a reward for the hardworking morning. It is the time you remember you are not a machine. Everything revolves around lunch: if I finish working on this by lunch … or I won't eat my lunch until I make these calls or I sure will write those emails right after my lunch. It is as important for the soul as it is for the body. You need to stop and enjoy your lunch, even it is for 20 minutes, away from your desk!  Soups for winter, salads for summer, leftovers from home anytime. In my opinion (I don't mean to judge others), it is a shame to eat the same thing, like a chore. Life is short—spice it up when you can.
Pinar Kilicci-Kret
---
Every week, I buy a 32-ounce container of plain nonfat greek yogurt and a bag of frozen fruit. Every morning, I put a handful of frozen berries (I do mix up what types of berries or fruit on occasion) in the bottom of a reusable container and put a large dollop of yogurt on top. By the time lunch rolls around, the berries have defrosted and I have a healthier version of fruit yogurt without extra sugar. For variety, I might add some granola to the mix. It is tasty, easy, brainless, healthy, and a lot cheaper than other options.
Kim Connolly
Lexington, Va.
---
I eat the same lunch every day: nothing. Eating lunch makes me drowsy in the afternoon, so I eat a nutritious breakfast, skip lunch, and eat a light dinner—usually a salad with salmon or tuna. If I eat more at dinner, I have trouble sleeping, and if I eat a late dinner, I have trouble sleeping, so I eat dinner at 4 p.m. Because I am 70, my caloric requirements are less than they were when I was younger and more active. I am retired and pretty active for someone my age. I exercise and stay busy, but not nearly as busy as I was 30 years ago. This regimen might not be sensible for everyone, but it works well for me. If I need an afternoon snack, I have fruit or nuts or a combination of both.
Robert D. Martin
Austin, Texas
---
I am in love with regular cabbage. I eat 300 grams of white cabbage almost every day with my lunch, microwaved on high power for four minutes with 30 grams of butter, and a dash of salt. I would say that I have been eating cabbage almost every day for lunch for about five to 10 years. I have not fallen out of love with my cabbage.
Deb Brown
Tucson, Ariz.
---
Eating the same thing daily is likely to result in the same nutrients and nutrient deficiencies. Until we each know what specific nutrient needs optimize personal function, the most conservative and reasonable strategy is to eat lots of different foods with an emphasis on fruits, vegetables, nuts, and whole grains. Personally, I find eating a lunch of home-cooked and microwave-warmed previous evening's dinner with a salad to be economical and nourishing (my spouse is an excellent cook).
Bruce Hector, M.D.
Santa Clarita, Calif.
---
Eureka! I'm not alone in my love of the same lunch every day, according to The Atlantic. For, oh, probably 15 years, I have eaten a peanut butter and jam sandwich almost every day for lunch. It's always Adams Crunchy with no added sugar, and always on Alvarado Street Bakery sprouted bread, untoasted. The exciting variety comes with the jam. I alternate between a red (mixed berry is a fave) and apricot or peach. Boring? Never. I look forward to my lunch every day. It can be consumed cleanly in the car after a noon yoga class, or running errands, or at home without making a mess on my computer keyboard. During my working years I paid for restaurant lunches, but now that I'm older and wiser, it's PB&J for me.
Susan Kimmel
Marysville, Calif.
---
Joe Pinsker replies:
After writing my article, it was a joy to hear from everyone as dedicated to a lunchtime routine as I am—and to learn I'm not alone as I prepare my lunch tacos each day.