Letters: 'Was Her Decision the Right One? I Don't Know.'
Readers share their thoughts—many derived from personal experience—on how transparent cancer patients should be about their prognosis.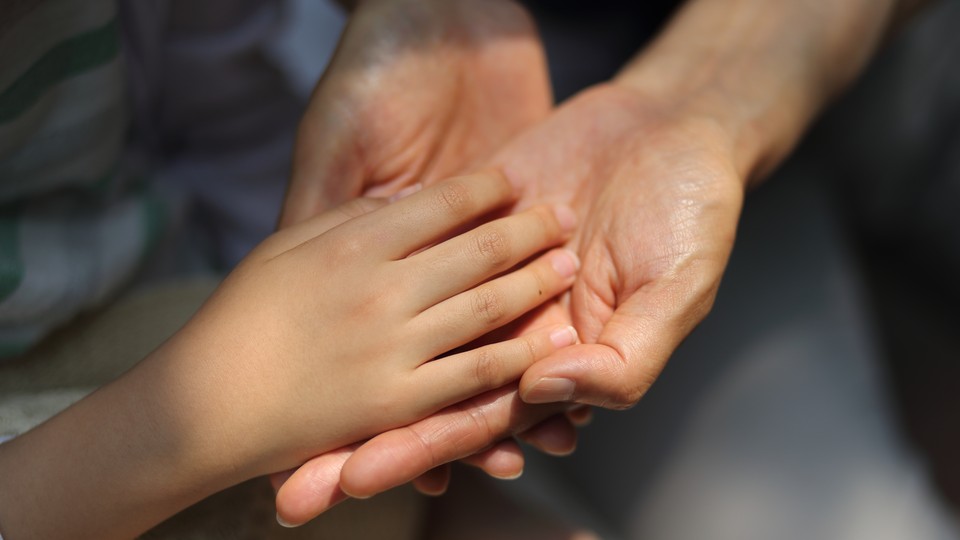 My Wife Was Dying, and We Didn't Tell Our Children
When Jon Mehlman's wife, Marla, was told that her triple-negative cancer cell would likely give her only 1,000 days to live, he and his wife decided not to tell their daughters. "Some might not have made the same decision, believing that the girls had a right to know they should savor diminishing moments," Jon Mehlman wrote for TheAtlantic.com on Valentine's Day. "But Marla didn't want her girls to savor; she wanted them to sail, and that meant less information—not a lie, but a lacuna. Marla refused to let family time together feel too precious, too heightened, too sad."
---
In his article, Mr. Mehlman talks about how grateful his children were that he and his wife hid her illness from them, on the basis that it would allow them more childhood "normalcy." Having lived nearly the opposite experience, I would like to reassure both him and his readers that he is absolutely correct.
When I was 20, my mother was diagnosed with breast cancer. She beat it, but the chemo irreparably damaged her arteries, to the point that the rest of her life was one of ongoing medical struggle. First came the wave of surgeries to install stents in all her major arteries. Then came the bypass surgeries. Next, one of the bypasses failed and spit out a blood clot that lodged below her left knee, and her lower leg had to be amputated. Then a bit more. Then a bit more. Then they took the knee. After that, her mobility went, and it was just a matter of time until a clot developed in the other leg. And so on and so forth.
She was diagnosed with breast cancer in 2003. She died in January 2018. At no time in the intervening period was she ever free of major medical complaints. As her only child and only surviving family, I loved her and supported her and helped her, but in the process I lost my mother. Having to deal with the various medical indignities and necessities rapidly ground away whatever semblance of the mother-child relationship we had, and replaced it with one of caregiver-patient.
Twenty isn't young, but it's still youthful. I was glad to have 16 more years with my mom, but if I could have had 14 of those years not knowing what she was dealing with, our relationship surely would have been different. And, I think, better. Had Mr. Mehlman's daughters been subsumed in their mother's medical needs from day one, they would still have mourned her when she died, but that mourning would have been tempered in a way that it should never be for a child.
Abraham Rash
Montreal, Quebec, Canada
---
My wife and I did the very opposite of what the writer and his wife did. For us, our choice to reveal all to all interested parties has been exactly right. We enjoy the support, the cares, the prayers, and the companionship of a large community of loving people. For us to brave this terrible disease in private would have been to rob our children (about five years older than the author's) and our other family and friends of an essential part of the human journey.
John F. Schuurman
Winfield, Ill.
---
A heart-wrenching story and one that brought back memories of my mother's years fighting cancer when little was known of it. I was never told that it was life-threatening, and she lived and fought it for more years that I was ever aware of at the time. As late as one month before she died, she was making plans for things we would do in the near future as though nothing was wrong. I am grateful my parents never told me that she was dying so I could have an ordinary teen life without fear and worry of her dying so soon.
James Brock
Atlanta, Ga.
---
This article was not only heartbreaking to read but heartwarming at the same time. It gives me hope for the future. It shows me that even when faced with death, people still surprise us. It gave me strength and only supports the life I choose to live: one filled with love and passion for life and everyone around me. To not fear death and to welcome it with open arms when my time comes. To not leave anything unsaid. Thank you for sharing this story.
Eli Vossler
Portland, Ore.
---
My mother died of cancer when I was 12. Like the author of this story, my parents chose not to tell their children that she had limited time left. We were told she was sick but would get better.
I found out just how sick my mom was when an idling hearse woke me up one morning in July.
I have always felt cheated, wanting to better understand their decision and perhaps have a moment to say goodbye. This article helped me realize the gift my parents were trying to give.
Tom Bauer
Redondo Beach, Calif.
---
I have been an avid reader of The Atlantic for decades (I'm 72 years old). My wife is a breast-cancer survivor. I can honestly say that this is the very first time I was moved to tears reading an article. I just happen to have a soon-to-be-17-year-old daughter. Before my wife and I ever thought of being married, she was recovering from surgery and chemotherapy for breast cancer. She was told that she should not become pregnant, as estrogen would be a catalyst toward a reoccurrence of her cancer. She knew that she always wanted to have a child, but had resigned herself to adopting one. I never thought about having a child, but I told her that I would like to have one together. We decided to speak with her oncologist, who said that based on her positive recovery, we could have one child. We moved ahead with planning our wedding. We married on June 10, 2001. Our daughter was born on March 7, 2002. She was conceived on our honeymoon. This has been a total blessing for us. I realize that this was a positive outcome and that many are not so fortunate. However dire the prognosis, sometimes there are survivors. It's important for one to understand one's genetic predisposition for encountering this awful disease, but early detection can oftentimes increase one's odds for survival and a meaningful recovery. This story reminded me of how fortunate we are. Thank you.
Robin Kingsbury
El Cerrito, Calif.
---
So many people are dealing with cancer in a spouse. We've come almost full circle from the days (1970s, I remember) when the word was taboo and people were afraid to talk about it. Now everyone talks about it—but maybe we've forgotten, or started to overlook, the option not to.
Karen Nyhus
San Francisco, Calif.
---
Wow, did this article strike home for me. I am currently 20 months into battling ovarian, and it is proving to be a rather tenacious disease. I found this thoughtfully written, painfully honest, yet upbeat missive a combination of upsetting (as Marla eventually succumbed to the disease) and strangely empowering (as she did not do so easily). I found her perseverance and positivity, her desire to protect her children as long as possible (mine are adults, so it's a different scenario), and her desire to live life to the fullest a good reminder to me to do the same. None of us is promised a tomorrow, but those of us fighting cancers (especially rare ones) have a shorter sell-by date.
Anne Coneys
Cold Spring Harbor, N.Y.
---
I am a medical oncologist and palliative-care physician who has focused on communication, and I was very interested in your recent article about how your wife disclosed her cancer to your children. The title, however, isn't quite true to what your wife really did: She waited until a moment of her choosing to tell the children. She did not completely withhold this information, and it sounds like she was careful about the context and the message. It's a wonderful story, and I wish my patients had more stories like this to read. But the title, I fear, misleads. There is a very important story in the very short paragraph where you describe how you told your children, and I hope that in the future you will tell that story, too. It would help a lot of families.
Anthony Back, M.D.
Founder, VitalTalk
Seattle, Wash.
---
I was once that child whose parents didn't tell her that her father was dying. My dad was diagnosed with Stage 4 colon cancer in October 2016. I was 19 years old. My parents kept the prognosis to themselves. I'm not quite sure why my sister (24 at the time) and I didn't ask, but I'm very glad my parents kept it to themselves.
It was hard watching my dad go through treatments. He was also treated at the Dana-Farber Cancer Institute. God bless that place and the angels working inside of it. I watched my dad undergo chemotherapy for 48 hours straight every other week. At the time, I was attending college in New Hampshire. Yes, I sacrificed some class time to drive home to see my family, but it was nothing compared with what would have happened had my parents told me the truth.
Had I known my dad was dying, I would have stopped living. I would have dropped out of school and moved back home. I would have worried every second of every day. But that's not what my parents wanted for me.
Because my parents kept the burden of the prognosis to themselves, I graduated college. Luckily for my family and me, my dad watched me walk across that stage, six months cancer-free. It wasn't until October 19, 2017, that my parents told me my father should have died. He had a 30 percent chance to live the next three years. My parents lived with the thought of death hanging over their heads for a year while my sister and I lived normal lives. I commend you, Jon, for keeping that secret for seven years. Your girls are very lucky to have a father like you. May your wife rest in peace. She sounds like an amazing woman. She will live on each and every day through your daughters.
MacKenzie Clarke
Boston, Mass.
---
Forty-seven years ago, my mother, who was 50 at the time, made the decision to keep her lung-cancer diagnosis and impending death a secret from me. I was in graduate school at the time and walked in her house and found her dying. She said, "I didn't want to worry you." Had I known, I probably would have left school and gone to be with her until she died. But learning of all this only 90 days before graduation, I chose to stay in school and finish my master's. I have regretted all these years that I did not have time to get things settled with her before she died. Was her decision the right one? I don't know. I had a great career and am now retired. I would not have had all this if I had left school to be at her side. But the ache is still there after all those years. This article is some solace to me. It gives voice to what my mother might have been thinking. Maybe it was a gift. It still hurts.

Jay Whitcomb
Ontario, Ore.
---
Jon Mehlman replies:
I wish that responding personally to each of the letters that has been sent in response to our story was possible, and I hope readers know that I've read every one. Please know that I will never forget your personal reflections, and how many of you chose to share similar circumstances. Readers have been so honest about how we handled our situation, and they continue to drive home that dealing with cancer and death is an extremely personal journey without a singular approach. All of your responses have made me think and have helped us heal.
The outpouring has provided strength to my family, and we will always be grateful. Thank you for helping us move through this challenging time.