Readers Remember W. S. Merwin
"His writing inspired me to continue writing poetry as well, mostly for my own sanity."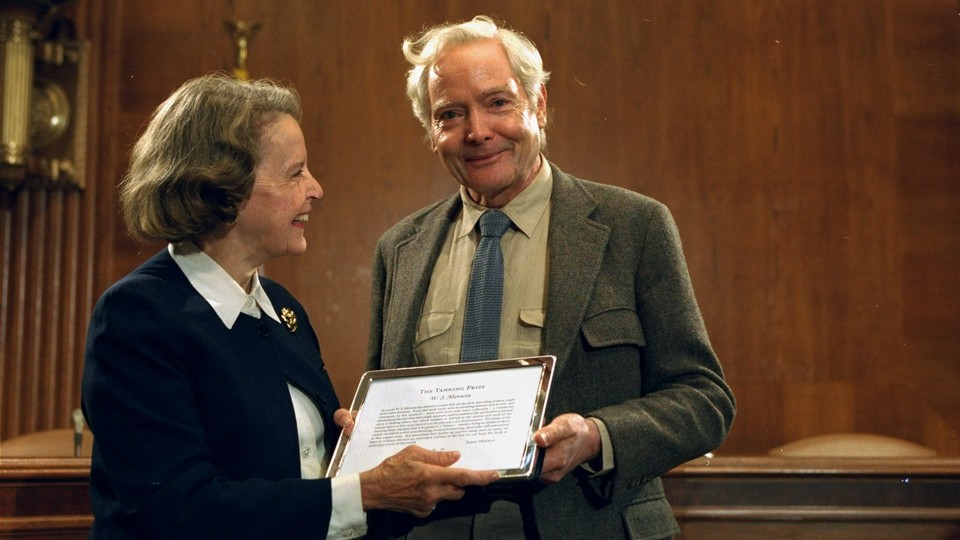 In Memory of W. S. Merwin
On March 15, W. S. Merwin—the Pulitzer Prize–winning former U.S. poet laureate—died at the age of 91. On TheAtlantic.com, Annika Neklason and Walt Hunter wrote about the impact of Merwin's words. Neklason focused on Merwin's poems that were published in The Atlantic. Many of his early poems in the magazine, she wrote, are "weighted with melancholy expectations of a premature ending," but his "body of work remains, after his death, as its own hopeful continuation." For Hunter, "the very power of Merwin's poetry is that it passes on its power to its readers, in the same way that it amplifies the voices of the dead and silent."
---
Not sure why I'm writing, except to second the sadness we all feel at the passing of W. S. Merwin. I won't quote any of his poetry, but simply say that in the late '70s when I used to sit Zen with him at Roshi Aitken's Diamond Sangha Maui Zendo meditation center, and whenever I would house sit for him when he traveled, which I did a number of times, I always encountered a quiet, unassuming, gentle observer of his world and the people in it. His writing inspired me to continue writing poetry as well, mostly for my own sanity.
Neklason's piece captures the man I knew a little in daily life, and more so through the poetry he willed into the world. I am grateful to even carry the memory of brief contact, and the distant experience of those same stars.
Eliot Kaplan
Seattle, Wash.
---
In my first years teaching at the University of Hawaii, I somehow pried money from deans for a program to bring writers to read their work and meet with students. They became long-term friends and mentors: Robert Bly, John Logan, Gary Snyder, Galway Kinnell, and Bill (later William) Merwin, who came twice. The second time, he stayed for a time at my cottage in the mountains above Honolulu, on a ridge called Mount Tantalus, often joined by student editors of the journal I'd founded to give voice to local writers and celebrate Hawaiian culture, Hawaii Review.
Merwin was not simply a guest. He was always doing something: showing a French way of making scrambled eggs, keeping a health regimen with headstands against the wall. With visitors, we read our poems in the evenings. His poems were typed on onionskin, a savings of some measure of paper, lifted somewhere in the air, like his poems. We met on occasion over the years, as at the University of Iowa, where I was a visiting professor. With the poets I've named above, he was part of a generation whose influence was unparalleled since Pound and Eliot; they contributed to the counterculture, brought spirituality and ecology into public dialogue, and contributed to healthy changes in the direction of our culture—desperately needed again. Hunter's article is an important celebration.
Peter Nelson
Altadena, Calif.