Letters: 'The P.E. I Was Exposed to Was Not Evil, Just Sad'
Readers share their memories—the good, the bad, and the humiliating—from childhood gym class.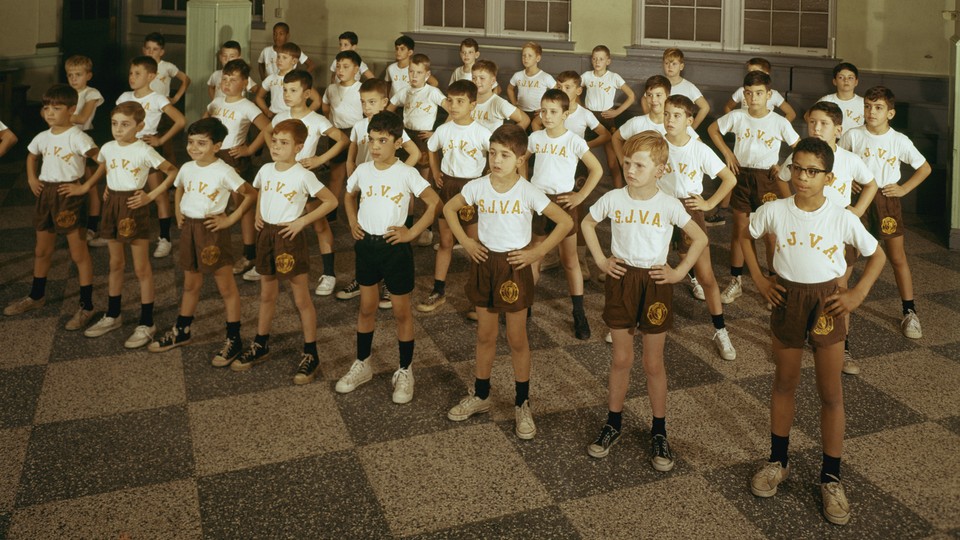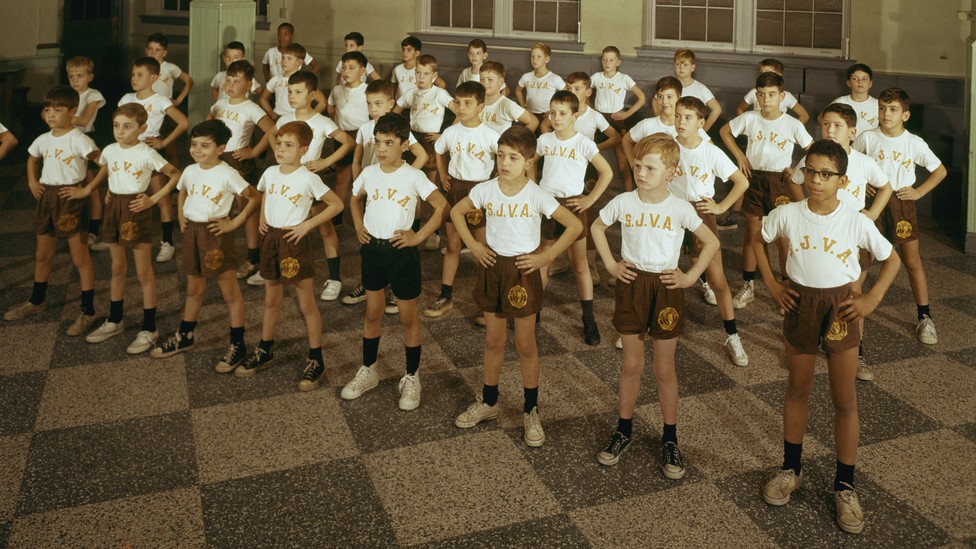 We Asked Readers:
Was gym class a traumatizing part of school that still brings back shivers about that one particularly menacing bully? New research backs up what all too many of us already know: P.E. is kind of the worst.
Tell us: What was your childhood P.E. experience like?
Here's how readers responded.
---
A handful of readers explained how gym class creates a culture where bullying thrives:
Twelve years old, entering high school, physically underdeveloped and socially challenged, I was a prime candidate for bullying. Our high school allowed upper-class students to choose where they spent their time during free periods. One of the options included the gym. There was a group of older students who spent their study time in the bleachers during my gym classes. To this day (I'm now 77), I remember their taunts and jeers as I participated in the exercises. They had a nickname for me, one I can't say even after all these years, so real is the pain when I recall it, not because it was forbidden language, but because of the mocking way in which they used it.
A painful experience, yes, but suffering that was mitigated by my very wise eighth-grade teacher. He had taken me aside one day to tell me that my brain had developed faster than my body but in the long run that was an advantage, and that my body would catch up to my brain someday. That short piece of mentoring stayed with me through high school, enabling me to use my intelligence to attract friends and thwart enemies, succeeding where I could and minimizing those areas where success was beyond my reach.
Anne Hayes
Derby, Conn.
---
P.E. brings back memories of everything awkward about school and adolescence. Being picked almost last. Communal showering. Not being able to wear glasses because they might break, so therefore not being able to see, so therefore not being any good. As a girl in the '70s, not learning how to play soccer, but having to memorize the size of the field; same for basketball and baseball. Don't even get me started on dodgeball. The game where the kids who were already being picked on daily got battered, and it was sanctioned by the teachers.
The P.E. I was exposed to was not evil, just sad.
Marjorie Colletta
Alexandria, Va.
---
As an artistic, bookwormy type of kid, P.E. was my idea of a nightmare. Especially since at my school, the girls had to wear these hideous, shapeless, green polyester one-piece sacks that snapped on over each shoulder. The mean girls would chase after the nerdy girls (me) and yank at the snaps, making the top of the sack fall down while we were out on the field near where the boys were (in their non-sack-like T-shirts and shorts). And don't get me started on how our gym teacher, whose whistle-adorned neck resembled that of a pit bull, used to look at me in utter derision when I klutzed my way through whatever activity we had that day. P.E. made me hate exercise even more than I did to begin with!
Pamela J. Kincheloe
Rochester, N.Y.
---
Girls' P.E. in middle school was great. I learned to play volleyball. But I was the only Jewish player on the team and the Christian girls didn't socialize with me. Sadly, they didn't invite me to eat lunch with them. I've never forgotten that experience.
Donna Myrow
Palm Springs, Calif.
---
One reader recently rediscovered her P.E. report card:
I recently came across my third-grade report card, from 1967. My P.E. teacher had commented that "Katrina ... is not especially athletically inclined. She will try anything once but lacks initiative in athletic competition."

Fortunately, I don't think my parents ever showed me that report card so I never internalized its negative message! As it turned out, sports have been a major part of my life, on both the amateur and professional level. I'm turning 60 this year and, while I no longer compete, I still backpack, ski, scuba dive, cycle, swim, and ride horses, among other things. These sports have kept me healthy in mind and body, allowed me to share incredible experiences with family and friends, and brought me great joy.
Takeaway lesson for P.E. teachers: Encourage kids to find sports they can be passionate about. Competitive team sports aren't for everyone, but with a little guidance and positive reinforcement, almost all people can find a sport they'll enjoy and succeed at.
Katrina Weinig
Washington, D.C.
---
Forget gym class; for some readers, the locker room alone was anxiety-inducing:
I was in high school in Los Angeles in the 1960s, when gym class every day was mandatory and no one thought of questioning it. What was also mandatory was that everyone showers after gym class, and to ensure compliance, the gym teachers—all women—would stand at the entrance to the shower room checking off our names as we left. If they suspected that a girl had simply pretended to take a shower, they would pull her towel away to see if she had water drops on her naked body (many girls learned to splash a few drops on themselves so they could pass the test, as most of us preferred to shower at home). This felt not only tyrannical, but intrusive and embarrassing—and if you didn't have enough showers on the teachers' dreaded lists at the end of the semester, you got an "Unsatisfactory" in behavior on your report card.
Claudia Plimpton
Amherst, Mass.
---
In my seventh-grade gym class—in Fort Wayne, Indiana, in 1959—we girls had to line up each day in military fashion so the teacher could look down the collar of our droopy, one-piece gym suits to make sure we were wearing either a bra or an undershirt. If found wanting, we were called out, in all senses of the word.
Julia McGregor
Minneapolis, Minn.
---
I was in a public middle school (which was then called "junior high") in the late 1960s in Louisville, Kentucky. We girls had to wear a horrible royal blue one-piece outfit with sort-of-bloomer legs and snaps up the front. I was small and thin and very physically inept. I shrank into the background as much as possible, but in team play that was impossible. The very, very worst memory, though, is that after class, we had to strip and take a big group shower. For girls going through puberty, it was the ultimate humiliation.
Caren Nichter
Martin, Tenn.
---
Other readers found ways to avoid participating altogether:
Being a music, drama, and English devotee, I found P.E. a horrible and jarring way to spend an academic period. It was the only subject I ever failed, due to my boyfriend's trunk, which was my escape route to skip, skip, skip that harrowing high-school subject. Today I am a certified yoga teacher and yoga therapist and love to swim and hike, but would always choose to read a book before engaging in physical activity.
Susan Borofsky
Düsseldorf, Germany
---
I don't blame it on the gym teachers or the classes. But I thought it was cool to always complain about my period. I took pride in doing as little as I could without getting in trouble.
Joan Chandler
Chicago, Ill.
---
What was gym class like to a nerdy, depressed adolescent? Torture. I loathed games, was an unpopular pick for teams, and dreaded gym class. Fortunately, Mrs. Pratt, our ancient gym teacher, had a policy of excusing girls with menstrual cramps from participation—with a "note" from a parent.  I always had a "note." I had cramps three days a week, every week, throughout junior high school.
Diana Dubrawsky
Silver Spring, Md.
---
In high school in Queens, New York, I menstruated with "horrible" cramps at least four times a month to avoid P.E. and the dreaded "gym suit."
Yvette Sedlewicz
Garland, Texas
---
I hated it. Constant harassment. Team sports are evil. I finally stopped going. Got into trouble because of it. Did not care.
William Milne
Barrie, Ontario, Canada
---
Because it was 55 years ago, I have forgotten why we did this, but my best friend and I decided to protest P.E. We refused to put on P.E. uniforms one high-school semester. At the time, our school was giving number grades in every subject and the P.E. teacher gave us a 70—for merely sitting on the gym bleachers, I suppose. Those low grades in P.E. ruined our overall four-year grade averages. That protest cost us the valedictorian and salutatorian honors our senior year and it was a graduating class of 31 students. Since then, I think very carefully about what and how I protest.
Helen Albanese
Oakton, Va.
---
One reader found a way to customize P.E. to fit her needs:
Oh, how I hated P.E.! I hated my body, was terribly self-conscious in those awful gym shorts, and was terrified of being the weakest link in the team chain. Every week, weather allowing, my high-school P.E. class went for a 45-minute run through the woods around the school. My mother had recently been trying to get fit and was spending her mornings speed-walking through the neighborhood. I read an article in one of her fitness magazines about how a fast walking tempo was as good for you as going for a run. The next day I took the magazine to school, screwed up my courage, and confronted my gym teacher. He was a towering, gruff man and I was an overly sensitive, poetry-reading, theater-department geek. I stated my argument—"Scientific research shows that a brisk walk is as beneficial as a jog, therefore I plan to walk the jogging route at a fast pace instead of running." I showed him the magazine article, said I had my mother's blessing, and waited, shaking in fear, for the backlash. However, I was met with approval. My plan was allowed! I was the only one allowed to speed-walk, cementing my reputation as the weird one who did everything her own way. But the respect I had for my gym teacher grew and, I would like to think, his for me. I still grumbled while I fell behind in burpees, but I was pleased as punch speed-walking through the woods.
Amy McGriff
Delft, Netherlands
---
Many readers had positive experiences—one even discovered a lifelong love for distance running:
I enjoyed my childhood P.E. classes. They were a welcome break from the rest of the day and a fun way to release steam.
Mohammed Siddiqui
Doha, Qatar
---
I don't remember much of what we did in gym class, but I do remember having lots of outdoor playtime regardless of the weather. If it rained, we still went out. If there was snow and cold, we bundled up. We played a lot of dodgeball and kickball and there were always jump ropes (double Dutch) going and we practiced shooting baskets from the basketball free-throw line. And here's the best: We were taught dances of all sorts. I remember square dancing, but in particular I remember we learned the minuet. Of all things, the minuet? It was so not an East Chicago thing. Go figure.
Jan Clifford
South Pasadena, Calif.
---
I started kindergarten in 1974 in Northwest Florida, in the deepest of the Deep South. Two P.E. teachers team-taught in my elementary school, one male and one female, and I probably remember them better than most of my other teachers through all of K–12. They were very kind and made P.E. fun. They started a running program where we started out running a half mile each day and then built up to a mile. Some students chose to walk the distance, but I chose to run and discovered a lifelong love for distance running. I ran competitively in cross-country and track through junior high, high school, and college, which I attribute to my wonderful elementary-school P.E. teachers. I even got a small college scholarship after I was among the top-ranked Florida high-school women in the mile, two-mile, and 5K.
Yes, we played the much maligned game of dodgeball, but we also participated in a creative variety of games ranging from disco dancing to group activities with a silk parachute to my very favorite, field day with popcorn and snow cones afterward for 15 cents. Many of the activities were group-oriented rather than competitive, and they built community at the same time as they promoted physical activity. I also loved rainy-day P.E., with such classics as Heads Up, Seven Up, an indoor game played at tables which involved putting your head down, having one of the kids choose someone while everyone's eyes were closed, and then trying to guess who was "it."
I realize that not everyone has such idyllic memories of P.E. However, as someone who has struggled with depression as an adult, I think that P.E. and running together acted as a natural antidepressant that stabilized my mental health without my even realizing it. I probably would have had to start taking medication at a much younger age had it not been for developing a love for exercise early in life.
Karen Kruse Thomas
Baltimore, Md.
---
For me, P.E. was a godsend. I was a good student in school (straight A's), and I owe it to some good teachers and to ... P.E.! We had class twice a day in grade school, plus during our long lunch breaks. All afternoon and morning, looked forward to getting out to play softball, football, dodgeball, rassle with the other guys, whatever. It enabled me to sit for the rest of the school day without too much agony.
Robert Sarracino
St. John's, Newfoundland, Canada
---
Finally, one reader had a recommendation for how to fix P.E.:
Students would be better off by starting each school day with 20 minutes of simple teacher-demonstrated calisthenics!
Michelle Miller
Toronto, Canada