Letters: 'It's Honorable Work'
Readers respond to Austin Murphy's essay on going from writing for Sports Illustrated to delivering packages for Amazon.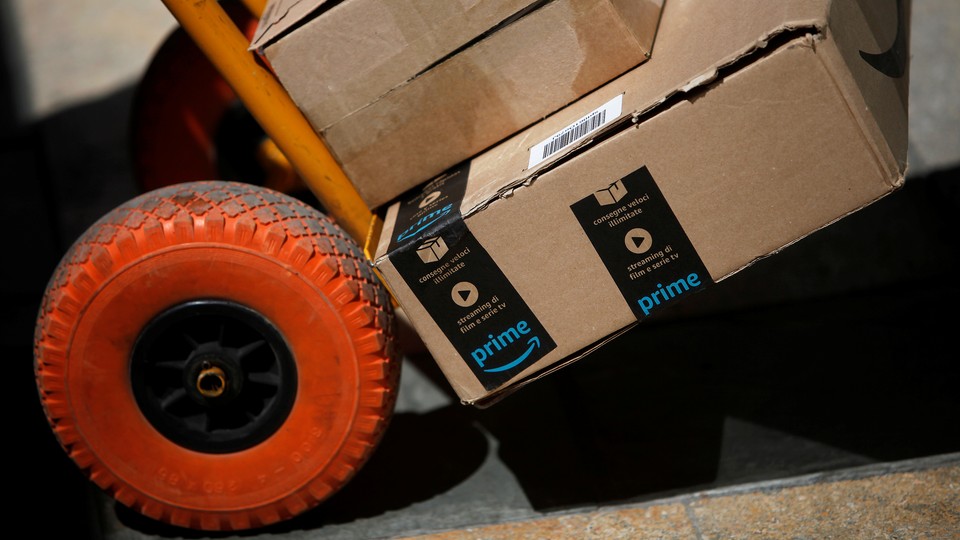 I Used to Write for Sports Illustrated. Now I Deliver Packages for Amazon.
Austin Murphy began delivering packages for Amazon after his writing career slowed down and he and his wife decided to refinance their home. In December, Murphy wrote an essay for TheAtlantic.com about the experience. From the satisfaction of getting to the end of his route to the discomfort of being unable to relieve himself, Murphy's daily journeys, he has realized, are, "in their minor way, heroic."
---
I felt for Mr. Murphy in his search for a bathroom in unfamiliar territory—and while in a hurry. So I felt I should write.
Something he can get from Amazon—and one might make a point that they should provide these as a matter of workplace comfort for drivers: A neat tapered cup firmly adhered to a longish bag with crystals that turn to gel on contact with liquid. Will not spill. Usable by all genders. A must for a glove compartment. Why suffer?
Cat litter and a lidded bucket make short work of the other necessities.
Other drivers may laugh, but they may also be flagging him down at intersections.
Dale Forbes
Corvallis, Ore.
---
I loved Austin Murphy's piece on transitioning from a writing gig for Sports Illustrated to delivering packages for Amazon. Lots of people have been needing to transition in this economy. I suppose we should count ourselves, the readers, lucky that Mr. Murphy has the writing skills to convey that experience so well.
Jim Smeenge
Los Gatos, Calif.
---
Being the wife of a UPS driver for the better part of the past 14 years, I must admit I was curious.
Reading though the article, I was bombarded with how degrading the job is thought to be by the man who now does it, despite his resolution at the end that delivering 279 packages in one day out of a small van made him feel heroic. It made me think: Do people who see a delivery man really think that this hardworking person is insignificant? Does the general population need to hear the well-written words of a freelance writer in order to know that the men and women who make our obsession with online shopping possible are heroes? This saddened me.
Is being a delivery driver what my husband went to college for? Is it what he saw himself doing for the majority of his "prime years"? Absolutely not, but when we found out we were pregnant when I was 21 and he was 25, he did what he had to do to provide for us. He has worked at a job he never planned on for almost 13 years to provide a roof over our head, procure us health insurance, put me through my bachelor's and master's degrees, and allow me to obtain my Certified Public Accountant license. His job allowed me to be a stay-at-home mom for four years while my son was young. It allowed us to send our kids to a private school when the public schools failed them. He gave up the future he planned on so that my kids and I could chase our dreams.
My loving husband has spent the past 14 years sacrificing time with his family to provide for us. Delivering packages to ungrateful people who don't understand why he couldn't have gotten to their house earlier in the day and don't think about what his life is like. Being blamed by a large company for all the missteps of his management and still coming home laughing. This man, this lowly deliver driver, is my best friend, the love of my life, and he is my hero.
Jennifer J. Heim
Saint Charles, Mo.
---
I too am no longer working at a job I had for more than a third of my life. I was laid off two years ago from a large telecom company where I was a technical writer. Because of my age (64), I have not been able to find any other employment. So I am now driving for Uber and Lyft.
As this employment does not pay well (after expenses, I estimate that the job pays approximately $9 an hour), it is sometimes difficult to make ends meet. I can enumerate the hassles and existential fear of not being able to get by financially for the rest of my life, but that didn't seem to worry the author of this article, and I am beginning to see I shouldn't be too frantic about it, either. In that, the article helped me better understand the circumstances of my life at this moment.
To be truthful, I am enjoying helping people get to and fro. I meet interesting people every day, and, for those who are willing to chat, learn a good deal about life. I especially enjoy meeting people from other countries around the world who give me insights into their culture I wouldn't get anywhere else, even if I visited their country.
I have not been shy about letting friends know that I work for ride-sharing companies, although at first I was unhappy that I had to do it at all. But things change, life changes. It doesn't give you any warning, either. And I hope this doesn't seem too condescending, but it is what it is. It's honorable work, and someone has to help these people get home when they've had too much to drink.
Gary Nash
San Diego, Calif.
---
I loved Austin Murphy's piece on driving for Amazon. It allowed me a window into the lives of so many men I see, especially this time of the year. In fact, it made me want to run out when the doorbell rings and offer them the use of a bathroom! Thank you for providing your readers with really good writing, the kind that pulls you in with a relatable story and allows you to walk in somebody else's shoes. After all, "our feet are the same!"
Pauline Urbano Hechler
Phoenix, Ariz.
---
Austin Murphy replies:
I was, well, deluged with creative solutions to the issue posed by nature's call (many involving funnels). Dale Forbes's may be the best. Thank you.

To Jennifer J. Heim: While I strove to be self-deprecating, I intended no disrespect to anyone else, in particular the brown-clad legions of UPS drivers, who occupy the highest reaches of the delivery pyramid. I never used "degrading," or any variant of it. It's simply not how I feel. I salute your spouse's skill, and celebrate your family's roll-with-it resilience.