Letters: 'Colin Kaepernick Did Not "Win"'
Readers discuss the recent settlement between the former San Francisco 49ers quarterback turned activist and the National Football League.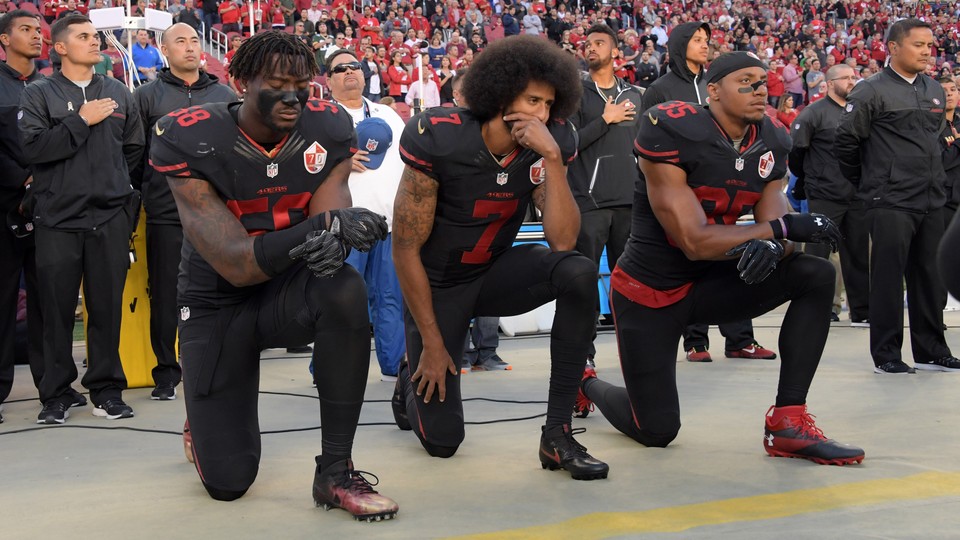 Kaepernick Won. The NFL Lost.
Last week, Colin Kaepernick reached a settlement with the NFL, the details of which remain undisclosed. "Technically, the NFL did not admit that it conspired to blackball Kaepernick from the league after he began taking a knee during the national anthem to protest racial injustice," Jemele Hill wrote. "But nontechnically speaking, the NFL lost. Massively." Kaepernick, she argued, "bested a league that has a long history of pummeling its opposition in court, especially players."
---
As a lifetime fan of the NFL, I am ecstatic. The final statement—regardless of our not knowing the amount going to Kaepernick—is a breath of fresh air and an appropriate fall for the greedy and thoughtless owners who brought this on.
It is a result that—while short of reinstatement as a quarterback—does give Kaepernick his well-deserved "win."
For kicks, the picture below shows the extent to which I supported taking a knee as the right thing to do.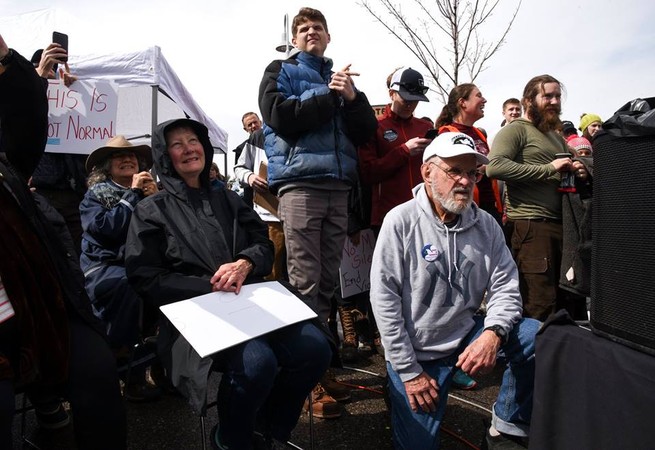 Dan Lourie
Bozeman, Mont.
---
Colin Kaepernick did not "win." Winning for Kaepernick would mean that there was racial justice in America, not receiving money from the NFL.
Alex Coulter
Whitefish, Mont.
---
Ms. Hill's article about Colin Kaepernick winning his collusion case against the National Football League was insightful and correct in every way. Her indication of how fearful the league owners were of Donald Trump's use of the issue shows the league's timidity when faced with major social concerns.
Kaepernick was not protesting against the NFL at all when he first took a knee. Nor was he making any statement in opposition to the United States or its anthem or flag. In fact, he was actually exercising one of the most revered rights symbolized by that anthem and flag. It was the president, the fans, and the media who interpreted his actions as a protest against the flag and the anthem, rather than responding to the concern he was raising. It should be mentioned that while settlement of the case means tacit agreement that NFL collusion did exist (as Ms. Hill so clearly indicates), the subject of Kaepernick's protest—namely, the inequity in police treatment of black and minority males—remains unaddressed.
Melvin L. Mitchell
Durham, N.C.
---
I can't see how a battle fought over free expression has been won when the settlement rests on the plaintiff's promise to remain silent about its terms.
Henry Ehrlich
Staten Island, N.Y.
---
Normally, when a civil case is settled with undisclosed terms, one can assume that it involves some financial settlement. And while that's probably true here, I'd be surprised if Mr. Kaepernick did not also extract additional concessions from the NFL that benefit many others besides just himself.
Aaron Margosis
Arlington, Va.
---
Great article. Great perspective. The scale balance has always been tipped toward ownership. It's about time players and fans gained some leverage.
Joseph Kelley
Terre Haute, Ind.