Letters: More Unthinkable Moments
Readers share what they would add to The Atlantic's list of moments that define an improbable presidency.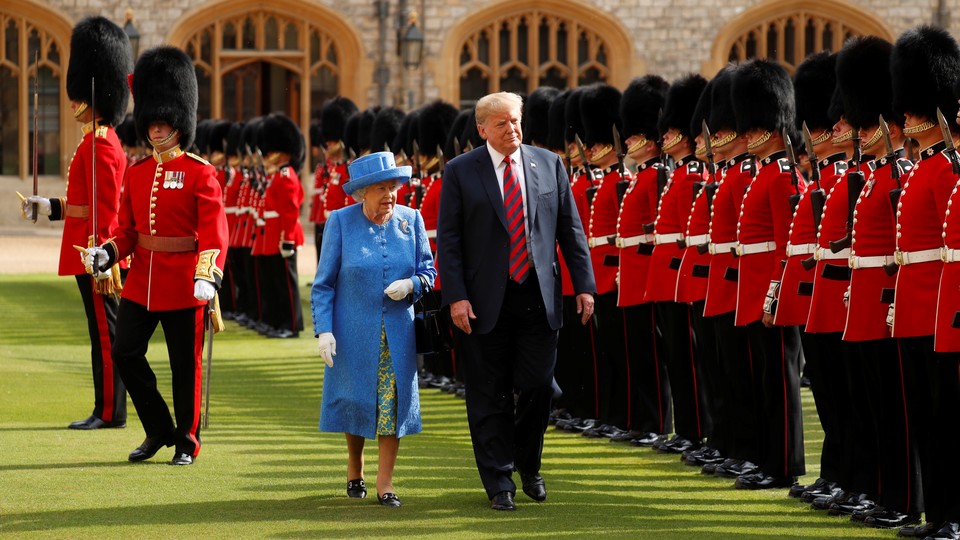 Unthinkable: 50 Moments That Define an Improbable Presidency
This week marks the halfway point of Donald Trump's presidency. "Like many Americans, we sometimes find the velocity of chaos unmanageable," Jeffrey Goldberg, the editor in chief of The Atlantic, wrote in his introduction to a special project taking stock of Trump's first two years as president. "So we decided to pause for a moment and analyze 50 of the most improbable, norm-bending, and destructive incidents of this presidency to date."
We asked readers: Which moments from the Trump presidency would you add to this list?
Here's how readers responded.
---
Some readers thought the list should include moments from the campaign trail:
"The list doesn't address candidate Trump," wrote Steven Coleman, of Townsend, Massachusetts, "but in some ways that list is even more worrying, because it demonstrates just how ugly the mood in our country has become" when people vote for a candidate "who suggests gun rights supporters could consider assassinating Hillary Clinton if she is elected."
Theodore A. Goldbergh of New York City cited Trump's likening "his attendance at a military-themed boarding school paid for by his father to actual military service" as an unthinkable moment.
To Elinor Dalessandro of Drexel Hill, Pennsylvania, Trump's "single most egregious and appalling stunt" was his mocking of a reporter with a physical disability, in 2015. "How that didn't abruptly upend his run will always remain a source of profound sadness and shock at the lack of humanity in so many," Dalessandro wrote.
---
As president, readers pointed out, Trump's disparagement of his perceived opponents continued:
In discussing the government shutdown, Harold Norman of Charlotte, North Carolina, wrote, Trump "notes that government workers are Democrats, which somehow makes it okay to put them out of work."
Scott Brown of Carmel Valley, California, said:
My specific addition would be his accusation that Obama bugged him late in 2016. I remember the distinct feeling of being through the looking glass when I read it. It also introduced we West Coasters to the phenomenon of waking up, checking your phone, and getting the distinct impression that the world is on fire.
---
Several readers commented on Trump's impact on international relations:
"Somewhere in the next 50 fumbles," said Lenny Smith of Clarksboro, New Jersey, "we should include the rude pushing-aside of the prime minister of Montenegro so Trump could be in the spotlight."
"To me, the biggest damage may be the abandoned treaties and NATO support," argued Paul David Musgrave of McDade, Texas. "The world leaders know Trump is a buffoon, no surprise there. But the lesson that will hurt the U.S.A. maybe forever is that we are no longer trustworthy. Regardless of what happens to Trump or his successors, the simple fact remains that the American voters can elect a moron at any time, who can wreak havoc on any agreement. So why bother to negotiate treaties?
"That damage has occurred and is irrevocable," Musgrave continued. "I am sad for my country's ruined reputation."
"What about when the president invited the Russian ambassador, his entourage, and Russian press (disallowing American press) into the Oval Office, disparaged just-fired FBI Director James Comey, and blabbed state secrets?" asked Vicki Brown of Superior, Montana.
Jamie Alley of Victoria, British Columbia, Canada, wrote:
As a Canadian reader of the The Atlantic, here are three more unthinkables.

Trump calls Canada a national-security threat as justification for his tariffs on steel and aluminum, causing havoc in cross-border trade and resulting in huge economic pain to both countries.
A top Trump official says there's a "special place in hell" for the Canadian prime minister. No correction from the president. Imagine if the situation had been reversed. All Trudeau said was that he would always act in the interest of Canadians.
After the U.S. requested that Canada arrest the Chinese business executive Meng Wanzhou, the CFO of Huawei, causing China to retaliate by arresting Canadians in China, Trump says he might use the Huawei executive as a bargaining chip in trade negotiations, leaving Canada out to dry for living up to our extradition treaty obligations.
"As an Australian," Ian Burns wrote, "I would add the disgraceful manner in which Trump treated our then–prime minister on their first telephone call."
And one reader in England recalled the president's 2018 visit there:
Last summer on his visit to England, we witnessed Mr. Trump's arrogant and rude treatment of an elderly Englishwoman in her 90s.

This lady was kept waiting for the best part of 20 minutes as she stood alone in blazing heat waiting for the arrival of her guest who was joining her for afternoon tea.

Unfortunately, she had to greet Mr. Trump alone as no other member of her family would agree to meet him. We all felt sorry for her, Queen Elizabeth II, putting on a brave face and having to be stoical as usual.
---
One reader pointed to the president's reliance on Fox News for advice:
Colin Murphy of Cleveland, Ohio, wrote:
The relationship between the president and Fox News is as astounding as it is troublesome. From tweeting reactions to Fox & Friends segments in real time, to fielding late-night calls from Sean Hannity, to hiring Bill Shine as communications director, to engineering a government shutdown after criticism from its commentators. The examples that range from seemingly benign to crisis-inducing have become a part of our daily lives, but if the integration of the White House and a major media organization transitions from unthinkable to accepted practice, the task of keeping the voting populace informed will be forever complicated.
---
One reader argued that the list would be better off focusing not on Trump, but on his congressional allies:
According to John Crusius of Seattle, Washington:
Even more important, and even more unthinkable (although not attributable to this presidency), are the facts that virtually no Republican in Congress has challenged this president when any of these 50 events have occurred, and that 90 percent of the Republican Party still supports this president, despite public awareness of these 50 events. We'll call these unthinkable item numbers zero-a and zero-b in this American crisis.
---
A number of readers expanded on the president's response to national disasters beyond Puerto Rico:
"In New Bern, North Carolina," Ann Ringland wrote, "as he was looking at the aftermath of the hurricane, Trump said to a homeowner with a big boat in his front yard, 'At least you got a nice boat out of the deal.'
"I am from North Carolina," said Ringland, who lives in Durham, "and this comment made me want to throw up. North Carolina is still recovering, and people's lives are forever changed."
Christine Megorden of Long Beach, California, recalled, "When the president blamed California's forest management for the devastating Camp and Woolsey fires. And threatened to deny aid and relief to citizens who had just lost everything. Even though the majority of the burn areas were on federal land. Even though his own administration had cut funding for this federal land. And all of Finland (including the president!) was bewildered by his suggestion we could avoid these fires by raking leaves."
Amy J. Cohen of Los Angeles, California, cited Trump's recent threat "to rob states of disaster funds to fulfill a campaign promise."
---
Finally, a reader urged us to remember the time the president insulted pet owners:
Marsha Tupper of Kanab, Utah, called back to "when Donald Trump proclaimed that the Mike Pence family bringing their pets to Washington, D.C., was 'low class' and 'embarrassing.'"
"There are so many animal lovers in this country," she wrote, "who will never forget this."
---
Join the Conversation
Which moments from the Trump presidency would you add to this list? Email us at letters@theatlantic.com with the subject line "Unthinkable," and include your full name, city, and state. Or tweet using #TrumpUnthinkable.