Letters: 'There Was Honestly No Good Solution'
Readers weigh in on the University of North Carolina's recommendation that Silent Sam, a monument to a Confederate soldier, be housed in a new, $5.3 million building.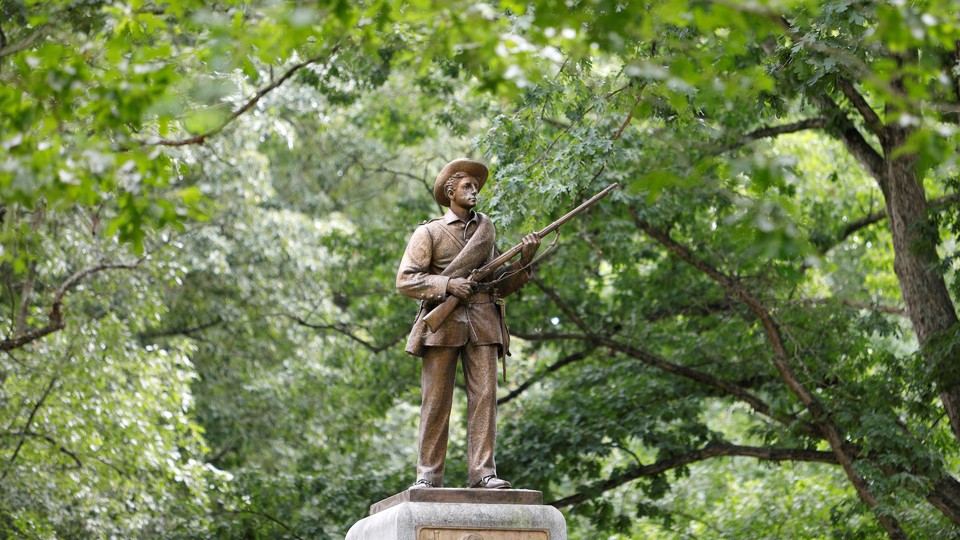 Silent Sam Survives
On Monday, the University of North Carolina at Chapel Hill announced its recommendation that Silent Sam, a monument to a Confederate soldier, be housed in a new, $5.3 million building. What would it mean, symbolically, to get rid of the statue altogether, and what will it mean to keep it on campus? "It's easy enough to remove a name … or a statue," Adam Harris wrote, "but more difficult to root out an idea—one that, at some level, continues to grip the nation."
---
On my first day of class my senior year at Carolina, I protested the existence of Silent Sam at the forefront of the university. Now, more than a year later, after all the sacrifices students, faculty, and community members have made to make UNC a more welcoming place, the chancellor and board are recommending an exorbitant plan to house the statue dedicated to white supremacy.
There was honestly no good solution that the board could have proposed; any recommendation that brought this symbol of hate back to campus would be met with ill will. But a plan that costs $5.3 million with a yearly operating budget of $800,000? Was there really no other solution? For months, the university administration touted a transparent conversation, one with focus groups and collecting suggestions from faculty and students to come up with a solution together. But what was presented to the board was a plan not by students or faculty, but a plan largely recommended by the private-security firm it consulted with, which included suggestions that additional investments be made in support of UNC police presence on campus.
This new proposal is, quite frankly, bogus. The timing seems deliberate, with the news dropping on the eve of finals, when students and faculty alike are wrapped up in projects, papers, and grading. The detailed plan most likely includes a cost much higher than the projected $5.3 million—the budget does not account for the proposed "mobile police force" listed in the appendices. Odum Village, the proposed site of the new museum, is located on South Campus, where many black students reside.
As an alumna, I support the efforts of students, staff, faculty, and community members organizing to stop the statue from residing on campus. I also applaud the graduate students and faculty who are striking and refusing to grade and submit final grades until their demands have been met. I hope this plan continues to be met with resistance. For UNC to truly be "for all kind," we should continue to loudly and proudly decry any attempts to glorify symbols of white supremacy on our campus.
Insaaf Mohamed
UNC at Chapel Hill, Class of 2018
Burke, Va.
---
At the end of August, we saw the toppling of the confederate statue, known as Silent Sam, on the campus of the University of North Carolina at Chapel Hill, my alma mater. Today we learned that the statue is to be resurrected in a new location on the edge of campus that hasn't even been built yet—a new, $5.3 million historical center charged with better contextualizing our university's history. That's right, Silent Sam is to be the first announced resident of a brand-new, multimillion–dollar campus museum, with a proposed annual operating budget of $800,000. The rollout of this idea will be rocky, as today's announcement arrives as a disappointing slap in the face to many who feel that an emblem of white supremacy and racism should not have a place on campus anywhere, and particularly not a brand new building! How many scholarships could this fund? What types of professorships or meaningful research could this support?
The announcement states that it will be a university historical center to house the statue and contextualize the university's past, with state-of-the-art security to protect the controversial trinket. No one is arguing that history shouldn't be shared in its entirety, particularly so it does not repeat itself, but this certainly shouldn't be celebrated as the initial, central artifact of some building that is supposed to reflect historical accuracy.
How much longer before this negatively impacts the recruitment and retention of future students, especially students of color, considering whether UNC at Chapel Hill is a place that is welcoming and supportive of them?
This makes such a negative statement about which history the university plans to prioritize. Sure, pitch the historical center, establish how important it is to contextualize our true, rich history properly, and emphasize what makes this university great! You don't even have to mention the statue in your announcement; just state that a small portion of that historical center will shed light on and acknowledge our university's shortcomings. This historical center feels like an afterthought and is already tainted in its presentation, particularly without funds even being raised. This will only be known as the new home of Silent Sam, and I would implore Chancellor Carol Folt, the university's board of trustees, and the system-wide board of governors to reconsider this decision that does nothing to redress the blight of white supremacy and racism that this statue will continue to cast.
Justin Young, M.D.
UNC at Chapel Hill, Class of 2002
Los Angeles, Calif.