Letters: 'I'd Been Mommy-Tracked. I Felt Humiliated.'
Readers share their experiences contending with the difficulties of balancing a career in TV news and a fulfilling personal life.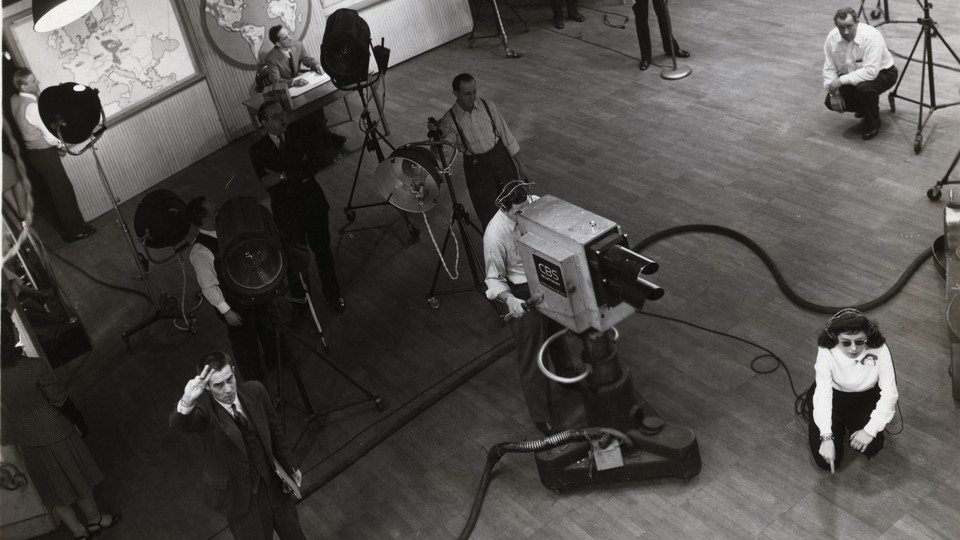 It's Almost Impossible to Be a Mom in Television News
Earlier this month, Julianna Goldman described the many structural challenges facing mothers who work as TV-news correspondents. "Retaining moms in TV news matters not just for the moms, but for audiences, too," she wrote. "The more women there are in TV news—from the top on down—the better and more diverse stories there are for the public to consume."
---
While I'm certain Ms. Goldman's story is accurate, the headline is not. It should be changed to "It's Almost Impossible to Be a Mom in National Television News." Without the enormous burden of world travel, many mothers have successful careers in local television news, which is still the No. 1 source for news in the United States, according to recent Knight Foundation research.
As a local-TV-news director for the past 30 years, my experience until I left the business this year was that the number of on-air women was growing, and in many newsrooms, they are the majority of anchors and reporters. Women were the majority of on-air journalists at my most recent station in Cleveland when I left, and on the assignment desk. The majority of these women were mothers. This is good for local TV news because mothers are a key part of the audience. They watch, in part, according to local-news research I've seen, to get information to keep themselves and their families safe.
The most recent Radio Television Digital News Association survey showed a new record high for women working in local TV newsrooms, 44.4 percent. This is still behind the national full-time U.S. workforce, of which women make up 47 percent. The survey also showed a new record for female news directors, the managers who do the hiring, at 34.3 percent. The highest percentage of these women were in the top-25 TV markets.
While all newsrooms—and workplaces—in our country still have a long way to go to support working mothers and fathers, local TV news certainly seems to be a better option right now than the national networks.
Fred D'Ambrosi
Cleveland Heights, Ohio
---
As a mom of three years and a local TV-news anchor and reporter of 15 years, I cannot express my gratitude to Julianna Goldman enough for shedding light on these truths so many TV moms have quietly experienced. For me, this article was an eloquent affirmation of all the ideas I've wanted to express in explaining my "choice" to stay home with my babies.
Name Withheld Upon Request
---
The article "It's Almost Impossible to Be a Mom in Television News" resonated with me so much. Though I am not a mother, I quickly found the world of broadcast news to be particularly taxing for women. I started out as a reporter and evening anchor in northern Michigan, then landed a job as an evening reporter at a news station in South Bend, Indiana. One of the greatest challenges was balancing all of the responsibilities that came with reporting one-man-band style. It wasn't enough to simply get the story. You had to manage the equipment, stay on track with your deadline, be actively posting to social media while reporting, and do all of this in flawless makeup, perfectly coiffed hair, a skintight dress, and heels. Even when I was promoted to morning anchor two months into my reporting role, there was still enormous pressure on my physical appearance, and the job consumed every aspect of my life.
By the time my contract was up, I was suffering from health issues related to sleep deprivation and had zero personal life. Although the career was exciting and I was proud of my work and my quick promotion, I knew it wasn't sustainable, especially if I wanted to have a family in the future. I felt like I had to choose between having a seemingly glamorous but all-consuming career and having an ordinary career but fulfilling personal life. I decided the latter was for me.
Allison Preston
South Bend, Ind.
---
I could have written Ms. Goldman's piece myself, as at the same 15-year mark I also hung up my microphone.
I'd worked in four TV markets as an anchor and as a news reporter, settling in Portland, Oregon. But everything changed when I had two daughters. Television news requires a nanny, family living nearby, or another parent at home. At any time, I would be called—"Can you get in here right away?"—and I'd scramble to go in. I'd give it my all, and would work until the wee hours of the night or until the crack of dawn when I had to. But of course, no matter what shift I worked, I still had two preschoolers who needed my full attention the next day. I dozed off more than once at the children's museum.
I was very fortunate: I was allowed to work out a part-time schedule the last five years of my career. I figured I'd go back to work when the girls got to elementary school. As a result, I tried to go in whenever I was needed.
It didn't matter in the end. When an anchor job came up that I really wanted, it was filled by a younger woman before I was given my token audition. My news director told me, "Stay here as long as you want, we love having you here 'on the bench.'" I'd been mommy-tracked. I felt humiliated, and quit the next day.
I agree, having more women as news directors and station managers may be the answer for some women who can make it work. I'm not sure it will ever be a family-friendly career. Perhaps that is the better message. I'm glad to hear younger reporters have already planned their exit.
Teresa Luce Spangler
Lake Oswego, Ore.
---
Julianna Goldman's story about her experience as a mother and television-news correspondent rang a familiar bell for me. My mother was the great journalist (and great mom) Marlene Sanders, who was a pioneering correspondent for ABC and CBS News starting in the 1960s. In one respect, she had it easier than her successors today because the technology did not allow for the current, incessant pressure for live shots. But in most respects, things were worse—because she was nearly alone as a working mother and correspondent in those days and because the world was an even more sexist place. (When Sam Donaldson, who was a colleague of my mother's, and later mine, at ABC News, found out I was her son, the first thing he said to me was, "Boy, we really discriminated against women in those days!") I don't have a great answer for the dilemmas posed by Goldman's piece; I'm "talent" in the industry, not management. I just wanted to offer a word of solidarity and support for Goldman and my colleagues who are struggling with the same issues.
Jeffrey Toobin
New York, N.Y.
---
Julianna Goldman replies:
At the outset, I want to thank everyone who responded to this piece by sharing stories of their own. I had my second child the day before the piece was published (talk about timing!) and I have been overwhelmed by the feedback from other industry moms. A number of you told me that you realized you were not alone and that you felt like your feelings were validated as I laid out the institutional and structural challenges of balancing motherhood and a career in TV news. I too felt validated hearing from all of you. I also really appreciated stories from moms who described how they've found ways to pursue their dream job in the industry and raise a family.
The feedback also highlighted challenges faced by others across the industry, including producers, fathers, same-sex couples, single parents, and mothers in local news. There are definitely follow-up pieces to be done! As Fred points out, my focus was based on my own experience working in national news, and I'm heartened to see that there is an upswing in female local-news directors, especially because, as he noted, local news is still the dominant source of news in the United States. At the same time, as Allison and Teresa point out, local news presents a unique set of challenges for working moms—unpredictability, odd hours, slim budgets, and reporting in one-man-band style.
I certainly never intended to say that being a mom in TV news is impossible. It certainly is not, and I am in awe of the mothers I know and heard from in the industry who are producing and reporting stories of critical importance. While I agree that TV news will always be uniquely challenging for moms, I also believe that management can do more to help make it easier. As Jeff shared, Sam Donaldson had the self-awareness to acknowledge the industry's history of discrimination against women, and hopefully other powerful figures in TV news will continue working on making the environment better for women as well as mothers.