The Year in Letters
How Atlantic readers responded to the news in 2018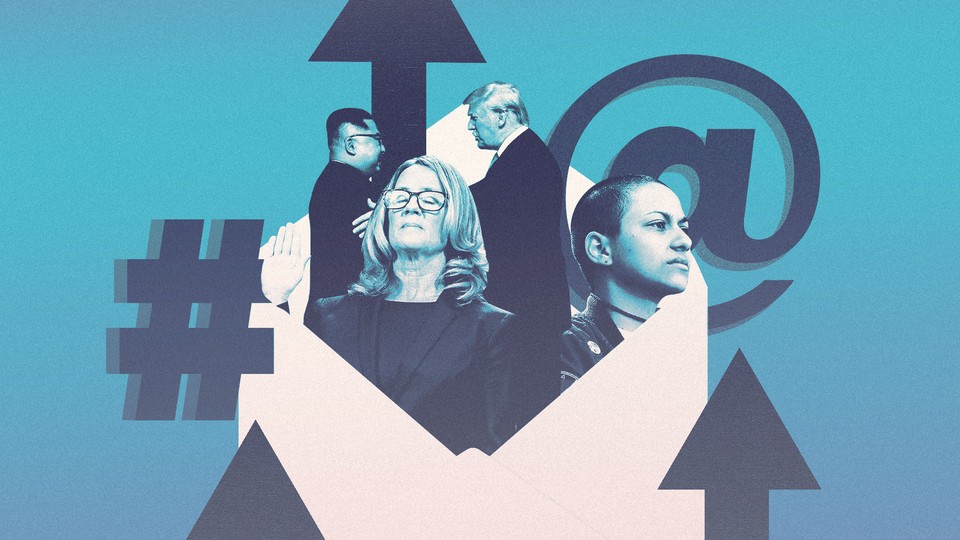 Updated at at 3:39 a.m. ET on December 27, 2018.
The Atlantic's readers wrote eloquently and passionately about a wide range of news events, stories, and complicated ideas this year. Here's a look back at some of what they had to say.
---
February
After the shooting at Marjory Stoneman Douglas High School in Parkland, Florida, Heather Sher, a radiologist who treated some of the victims, wrote about her experience in the emergency room.
"As a doctor," she wrote, "I feel I have a duty to inform the public of what I have learned … It's clear to me that AR-15 and other high-velocity weapons, especially when outfitted with a high-capacity magazine, have no place in a civilian's gun cabinet."
While not all readers agreed with Sher's conclusion, many expressed gratitude for her decision to describe what she had seen. "Your thoughts and words were clear, rational, and provided a unique insight into what most of us will not (thankfully) ever see in our lifetime, but will spend days and weeks fearing," wrote Cindy Pond of Harrodsburg, Kentucky.
March
The Munich Security Conference, Eliot Cohen argued in February, was a stark reminder that the global elite have nothing of substance to offer a world in turmoil. Benedikt Franke, the chief operating officer of the Munich Security Conference Foundation, took issue with Cohen's claim that the conference had lost its way.
"While it may seem petty to get into a quarrel about something as trivial as a policy conference," Franke wrote to The Atlantic in March, "I believe six of Eliot's arguments in particular warrant a written response."
April
In April, Sigal Samuel spoke with moral philosophers from around the world about the dilemma of American responsibility in Syria. "What if there is no ethical way to act in Syria now?" she asked. Many ethicists were at a loss.
Readers shared their own answers to that vexing question in their letters. Emily C. Susko of Santa Cruz, California, wrote a poem on the subject. It begins:
And now, now will we go to war?
Is that what we were supposed to have done before?

Overthrow the man who was misbehaving?
Insist we be the ones to do the saving?
Remake the demolished country in our image?
… Did we learn any lessons from the last world-war scrimmage?
May
Graeme Wood's "The Refugee Detectives," published in The Atlantic's April issue, took readers inside Germany's high-stakes operation to sort people fleeing death from opportunists and pretenders.
In May, a researcher on refugee flows, a program director at a German political foundation, and the policy director of the International Refugee Assistance Project wrote in to push back on Wood's framing. "In search of an exciting story, Mr. Wood has left out important facts and nuances, an obfuscation that simplifies and exoticizes refugee narratives and stories in a damaging way," wrote Ilil Benjamin, the researcher.
Wood responded directly to the critiques: "My article was written to infuriate exactly the class of letter-writer that has responded in tedious triplicate here," he wrote.
June
"Donald Trump and Kim Jong Un shook hands, strode along colonnades, dined on stuffed cucumber and beef short rib confit, and signed a joint statement," Uri Friedman wrote in June of the two leaders' meeting in Singapore. It might have been the beginning of something big, Friedman argued, but it started out small.
Nathan King of Madison, Alabama, disagreed. "It is unreasonable to expect anything more than what Mr. Trump got," he wrote, "so I find it unfair to claim he got very little in return. President Trump (and the world) really want only one thing: the complete denuclearization of North Korea. That will likely take years."
July
The Justice Department announced in July that it was reopening its investigation into the 1955 murder of Emmett Till. Vann R. Newkirk II saw the move as a cynical play. "It's unclear just what could possibly come out of the case's reopening," he wrote.
Dave Tell, the author of the forthcoming book Remembering Emmett Till, replied to Newkirk's piece with a counterargument. He agreed that it was unlikely that any potential outcomes of a reopened trial would be proportionate to Carolyn Donham's "admitted role in inciting men to lynch a child in defense of her honor." But, he wrote, "there are other reasons to welcome the continuing investigation. I've written extensively about the commemoration of the Till murder, and one of the many lessons I've learned is this: The long-delayed pursuit of justice can spark racial reconciliation in the most unlikely of ways."
August
When Kofi Annan died in August, Krishnadev Calamur reflected on how the world's failure in Rwanda had changed the former United Nations secretary-general's worldview. One reader, D. S. Battistoli of Abenasitonu, Suriname, made a historical argument to lay out what he saw as the UN's proper role in Rwanda and other conflicts—which is not to prevent genocide.
"It doesn't seem to me that it can properly be said that the UN failed in, say, Rwanda, any more than it can be said that my hammock failed once again this morning to make my coffee," Battistoli wrote.
September
In September, Christine Blasey Ford came forward to allege that the then–Supreme Court nominee Brett Kavanaugh had sexually assaulted her when the two were in high school. In the weeks leading up to the Senate Judiciary Committee hearing where both Ford and Kavanaugh testified, Americans once again faced a collective reckoning with the prevalence of sexual assault. The discussion, Megan Garber wrote, asked an insidious question: Is sexual assault simply the way of the world? Caitlin Flanagan wrote a forceful essay about her own high-school experience, titled "I Believe Her."
In response, readers wrote in with their thoughts about Kavanaugh's fitness for the Court and the significance of Ford's story. Some even shared their own stories of assault.
October
On October 5, a jury found the Chicago police officer Jason Van Dyke guilty of second-degree murder in the 2014 shooting of Laquan McDonald, who was 17. Nicole Gonzalez Van Cleve wrote about the context for Van Dyke's actions and the guilty verdict. "The city convicted one cop," she wrote, "but the cop culture that created Van Dyke and others like him is still very much extant. Unless Chicago gets serious about reform, there will be more Laquan McDonalds because there are still Jason Van Dykes."
In response, Elyse Blennerhassett of Brooklyn, New York, sent in an illustration that she and a friend had made about the case and a letter describing its meaning.
See the drawing and read more here.
November
The shooting at the Tree of Life synagogue in October* was clear evidence, Franklin Foer argued, that dormant hatreds have reawakened. In the wake of the massacre, he wrote, "any strategy for enhancing the security of American Jewry should involve shunning Trump's Jewish enablers."
In November, as readers processed the killings, some reflected on their own Jewishness and their ties to Pittsburgh. "I am a former congregant of Tree of Life synagogue in Pittsburgh," wrote Stefanie Weiss of New York, New York. "I see many former Squirrel Hillers on Facebook mourning over the loss in our community, and realize that we grew up in such a special place that most of us, no matter how long ago we left, continue to feel like members of this community. We are collectively heartbroken at our loss of innocence."
December
The recent news that the young Chinese researcher He Jiankui had allegedly made the first CRISPR-edited babies caused an international uproar. Ed Yong outlined the 15 most damning details about the experiment and the circumstances surrounding it. "It is still unclear if He did what he claims to have done," Yong noted. "Nonetheless, the reaction was swift and negative."
Atlantic readers echoed that concern. "He overtly violated the Hippocratic oath," wrote Martha Lynn Coon of Austin, Texas, "that is, first do no harm."
---
* This article originally misstated the month in which the shooting at the Tree of Life Synagogue took place. We regret the error.