Letters: 'Everybody Needs Comfort, Calm, Respite'
Readers discuss the meaning of Fred Rogers's famous advice to "look for the helpers."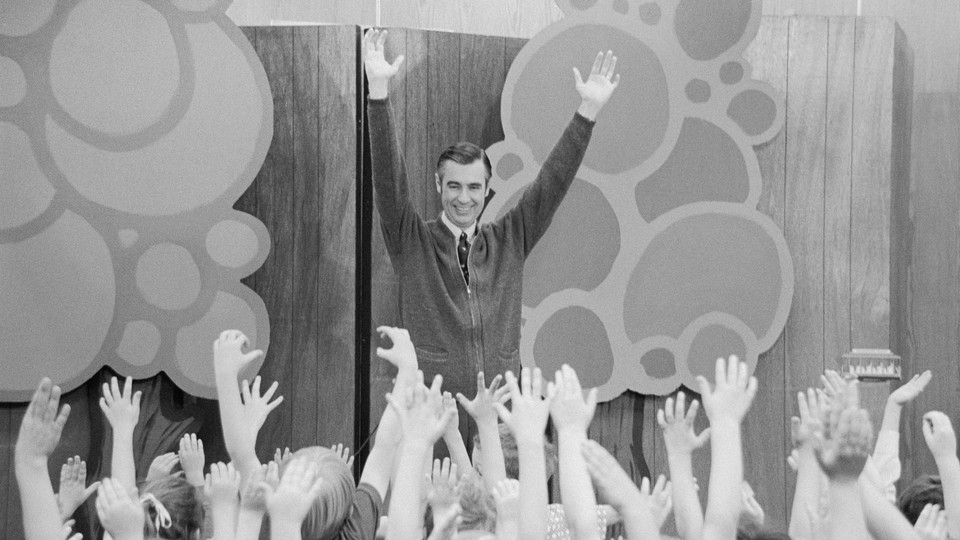 The Fetishization of Mr. Rogers's 'Look for the Helpers'
After the Tree of Life shooting, Ian Bogost argued that to turn the reassuring line into a consolation meme for adults is to misinterpret advice that was originally meant for preschoolers.
---
I was appalled to read such an intellectualized, narrow, and superficial interpretation of Mr. Rogers's direction to children to "look for the helpers." Of course he was talking to, for, and about children, but not just to children. Many parents watched Mister Rogers' Neighborhood with their children, not just for their children but also for themselves. I was one of them. Mr. Rogers provided comfort and security in the middle of the day. Everybody needs comfort, calm, respite—whatever you want to call real love and connection.

Yes, Mr. Rogers firmly believed in parents taking care of their children, but his understanding and compassion went far beyond that: He believed adults should take care of themselves and one another. How we do that is a reflection not just of our neighborhood, but of our culture and civility.
Robert Boyce
Springfield, Ore.
---
Ian Bogost challenges the moral wisdom of Fred Rogers's celebrated suggestion that we call our attention to those who provide material aid and comfort around tragedies like the massacre at the Tree of Life synagogue.
Bogost's argument is misguided and morally counterproductive on a number of counts.
First, most adults don't really suppose that Rogers's (mother's) advice to look for the helpers is "sufficient relief." When folks recirculate Rogers's advice in the wake of tragedies, it's because it's genuinely important to remind oneself that there is hope in the human goodness that's always on display, even in the darkest moments. Such hope is needed for making the more concrete efforts to redress wrong and reform broken systems.
That's the psychological reality that Bogost does not trouble himself with. Indeed, he does not disguise his contempt for his readers' moral and emotional intelligence, explicitly casting them as stunted internet couch potatoes, "helpless as children," self-infantilized by their addiction to mawkish memes. Insulting readers with uncharitable assumptions about their maturity, at least in this context, is wrong in itself, but Bogost's argument has the added, perverse effect of subverting the gesture Rogers suggests.
Of course, there are disputes about whether armed citizens, for instance, deserve to be considered "helpers" alongside rescue workers and other authorized personnel. Whoever you think is a real helper, others will probably regard as helpers those you think are actually harmful. But this obvious point hardly means we must give up calling anyone a helper, or encouraging one another to notice them. On the contrary, it makes the proper use of the term an urgent priority.
Some people (the American Red Cross, public-TV stations, many news-media organizations, on-site volunteers) are genuine helpers in particular situations. The fact that regressive elements in our society—white nationalists, anti-Semites, conspiracy theorists—mistake harmers for helpers does nothing to change that fact. What escapes Bogost is that stirring up doubt about that fact is what's dangerous. By doing so, one ironically reinforces the "Everything is relative" hogwash that erodes reality-based discourse in our hazardous "post-truth" era of declining trust in news, other institutions, and one another.
In short, Bogost is wrong on several counts.
He's wrong that adults believe that Rogers's advice is "sufficient relief" or all that's needed to redress tragedies and reform the systems that produce them.
He's wrong that the habit of looking for helpers in the wake of tragedies is only of value to children.
And, most importantly, he's wrong that "it's time to stop offering this particular advice." Looking for the helpers isn't a naive flight from our duty to help others. It gives us the hope we need to be better helpers in the first place.
Christian M. Golden, Ph.D.
Knoxville, Tenn.
---
Ian Bogost replies:
Fred Rogers is so universally beloved, and for such good reason, so I understand why some readers are eager to defend him against a perceived slight. I love him, too, which is why I wanted to revisit his lesson in such detail. After doing so, it strikes me as more superficial to take Mr. Rogers's lessons as received wisdom, even when transformed by intervening events and media practices. Mr. Rogers might indeed offer comfort to adults, and that comfort has a place. But for we adults who grew up with him, it is also a memory of the comfort he offered to us as children. Let's not let that memory of childhood justify a child's version of solace, one we adults should have outgrown.