Letters: 'We Continued Our 70-Year-Long Unbroken String of Voting'
We asked readers of The Atlantic Daily to tell us about their experiences voting in the midterms.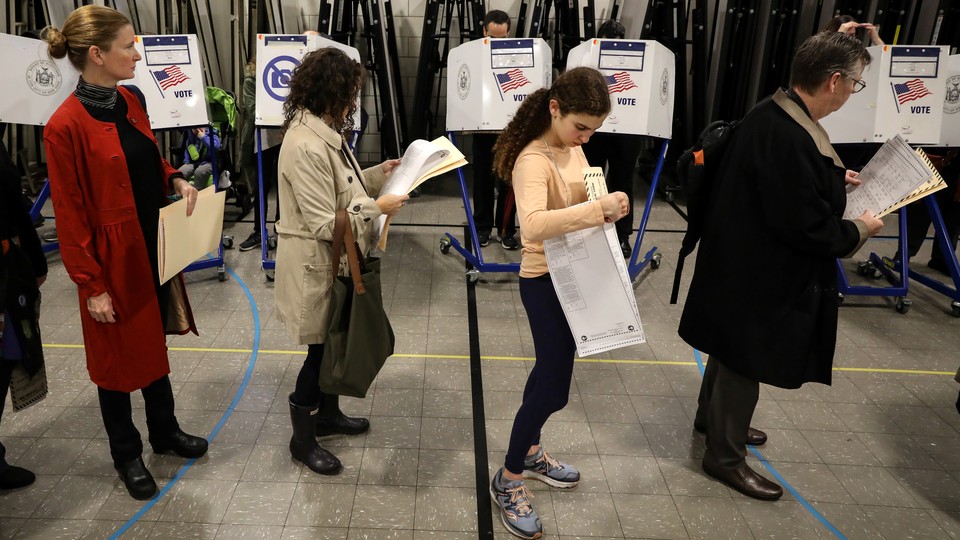 We Asked Readers:
Updated on November 12, 2018

Voter turnout for midterm elections is traditionally mediocre, though there are signs of a swell this year. While some eligible voters sit out because they've become disillusioned with the political process, others become excluded from the process through what is tantamount to voter suppression. If you voted—or tried to—on Tuesday, tell us about your experience.
Here's how readers responded.
---
I didn't vote on Tuesday because I mailed my ballot in more than two weeks ago.
What prevents every state from having this option for voters?
The messes with which voters had to cope today once again provide strong evidence that the USPS still provides an important option for supporting our democracy.
Michael O'Meara
Covington, Wash.
---
In Colorado, every registered voter in the state receives a ballot in the mail. You then have the option to mail your ballot or drop it at conveniently located collection points. On Election Day, there are election centers where people who need to vote in person may vote, and we allow same-day voter registration.
As a result, Colorado has some of the highest voter turnout in the country, and our elections are very secure. Why can't this be the national norm? Voter suppression is a disgrace to our country.
Barbara Briggs
Denver, Colo.
---
Washington State has mail-in ballots with postage-free returns. Voters received their ballots around the 20th of October, giving them plenty of time to research the candidates, mail in the ballots, or put them in conveniently located ballot boxes. There are also some polling places. It is easy to register in Washington, with the objective to make voting as easy as possible. It is unfortunate that so many states put up barriers to make it hard to vote. Why we continue to see long lines at polling sites is a mystery when a statewide system of mail-in ballots is so easy and fair.
Joni Henry
Seattle, Wash.
---
My son lives in a heavily blue neighborhood in Omaha, in a heavily red state. He showed up to vote at his polling place, a church, when it opened and got in a long line with signs pointing to a door. The door, as it turns out, was locked. He went around to the other side of the church and found the open door leading to the polling place. He returned to the line leading to the locked door and found people telling those waiting in line that if they were concerned about being late to work, they could vote on their phones or online. He directed those in the fake line to the actual polling place.
Name Withheld Upon Request
---
In NYC, voters were asked to line up for long periods in heavy rain in front of empty schools. Some were seniors and parents with babies and toddlers. I asked if we could go inside, and was told no. Previously, I've been at crowded school voting sites during presidential elections, and voters were respectfully allowed inside, in the auditorium and other sections. Some potential voters left because they could not keep standing in the rain that long.
Miriam Fisher
New York, N.Y.
---
Mr. and Mrs., in our 90s, voted in Los Angeles County, while our invalid neighbor could not because the election board changed locations to a high-school auditorium. There was no parking, double steps to an entrance approximately 40 feet above street level, plus six blocks (round trip) walking uphill from the street parking spot.
We complained at the voting location, and most workers agreed with us. They had all arrived at 6 a.m. and had to lug heavy voting equipment up the double steps. Mrs. reported the issue to the local congressman's office.
Other than our personal voting problem, the day was sunny, and we continued our 70-year-long unbroken string of voting; always.
Ben Silva
Glendale, Calif.
---
I live in Massachusetts, and I have never experienced anything but help and respect at the polls—and never any long lines. I have been voting here for more than 40 years. While I agree that any attempt to suppress voting rights is wrong, I would like to see some emphasis placed on the positive experiences most of us have.
Donald Fatzinger
Rockland, Mass.