Letters: 'The Future of American Prosperity in the Next Century Is at Stake'
Readers criticize Amazon's decision to locate its new headquarters in Virginia and New York—and the process that led to that choice.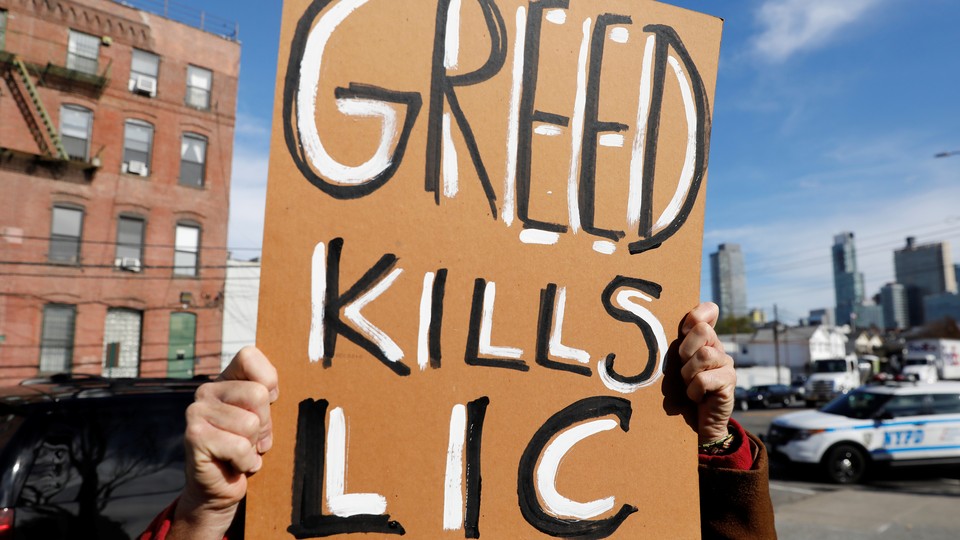 Amazon Decides on HQ2
Last week, Amazon announced that its second headquarters would be split between Northern Virginia and New York City. In articles for TheAtlantic.com, Alana Semuels and Derek Thompson unpacked what the decision—and the corporate-giveaway culture that enabled it—tells us about American cities and their future. Amazon's choice to build in two large metropolitan areas, Semuels argued, may accelerate America's great divergence, where highly educated urbanites are doing better and better, and everyone else is doing worse. Thompson wrote about America's system of corporate giveaways, such as the nearly $100 billion that local governments spend each year on relocating headquarters and factories between states.
---
The border wars are silly and robbing the taxpayers blind while leaving many areas economically depressed. Not to mention all the time, effort, and high salaries that metro areas pay to public-private partnerships and development agencies that in most cases are barely paying their way.
Patrick J. Newton
Cincinnati, Ohio
---
The argument made in Thompson's piece is remarkably similar to the policy already in place in the European Union, namely in Article 107 of the Treaty on the Functioning of the European Union.
Article 107 has its origins in the genesis of the European Economic Community (EEC), through the 1957 Treaty of Rome, in Article 92. Arguably, the European single market, defined by its "four freedoms" of movement, capital, services, and goods, relies on Article 92. This article declares that any aid granted by a country that distorts or threatens to distort competition is incompatible with the common market. By eliminating distortions at the state level, the European common market can therefore guarantee those four freedoms. The United States, on the other hand, allows states some control over their local market. Therefore, America's own common market can be at risk of distortion.
This article in the Treaty of Rome had such a resounding impact on the EEC that the United States took notice. President John F. Kennedy pushed for the 1962 Trade Expansion Act to commence a sixth round of General Agreement on Tariffs and Trade negotiations, which began in 1964. Kennedy knew that if the United States did not respond to the profound change brought in by Article 92, American products would be blocked from the European market. The Kennedy round of the negotiations led to the American adoption of antidumping rules, which, although they create proportional effects in international trade—i.e., preventing the sale of imported goods below their market cost at home—do not prohibit signatory states from subsidizing any economic activity for its sole domestic needs. Thus, today the states of New York and Virginia are entitled to attract Amazon via subsidies, much like Governor Scott Walker was entitled to offer more than $4.5 billion to attract Foxconn to Wisconsin.
The Amazon case has demonstrated that if the United States does not get up to speed with domestic subsidy legislation, not only will American companies struggle in the more-level playing field of the European market, as Kennedy feared more than half a century ago, but the United States will also no longer be the driving force in directing international trade rules. America will become a rule taker, and not a rule maker. The future of American prosperity in the next century is at stake.
Giovanni Passamonti
London, U.K.
---
When I graduated in 2017, most of my friends went to Seattle or New York for work. Their computer-science backgrounds meant six-figure salaries, and their neighborhoods meant thousands in monthly rent. For me, a humanities major with no coding experience to speak of, D.C. was a happy medium, offering solid professional experience and somewhat affordable housing while I found my footing. I found full-time positions that paid me enough to afford rent and start saving for retirement.
My peers can't afford Amazon coming to D.C. Most folks I know make less than $60,000 a year—those who make more are either defense contractors or data scientists, or have advanced degrees. Entry-level workers in the nonprofit sector, much less the majority of paid interns and Hill staffers, can't afford a rent hike.
There are cities where HQ2 could have created real value. I worry that it will do more harm than good in Arlington.
Connor McLean
Arlington, Va.
---
Alana Semuels replies:
Connor is right that the presence of Amazon and other tech companies that offer high salaries will likely make Arlington less affordable for the government and nonprofit workers who already live there. Looking at the S&P CoreLogic Case-Shiller Index, which measures home prices, Seattle and San Francisco, two tech hubs, saw the biggest price spikes over the past year: 13 percent in San Francisco and 11 percent in Seattle. Washington, D.C., by contrast, saw only a 3 percent increase over the past year. There is some good news for Arlington residents: There are fewer limits to building in Virginia, and Virginia doesn't have the same space constraints as San Francisco and Seattle, which are both hemmed in by mountains and the ocean. But residents who want to make sure they're not displaced should hold local officials accountable for creating more housing—what led to affordability problems in San Francisco and Seattle was when companies created a lot of jobs and housing did not follow.