Letters: 'I Want to Grow Up to Be Someone That Fights for Families Like Yours'
Teenagers in California respond to the story of a mother and son separated at the border.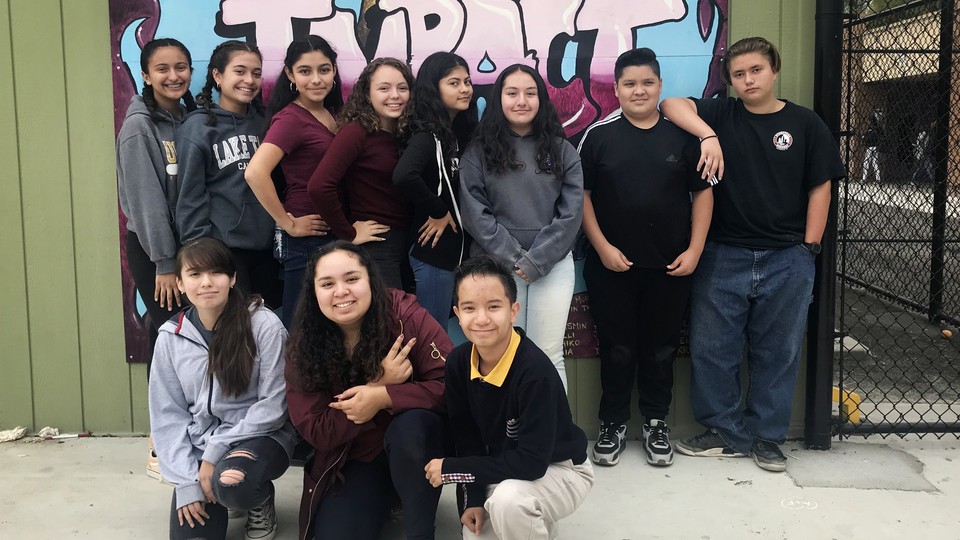 'The Separation Was So Long. My Son Has Changed So Much.'
In September, Jeremy Raff reported on the story of Anita and Jenri, a mother and her six-year-old son. Anita and Jenri fled Honduras and crossed the Rio Grande on a raft near McAllen, Texas, in mid-June; they immediately turned themselves over to Border Patrol and asked for asylum. In accordance with Trump administration policy, agents separated Anita and Jenri; they were detained 25 miles apart from one another for a month before a lawyer helped them reunite.
Christsna Sot, an eighth grade teacher at Impact Academy of Arts in Hayward, California, showed Raff's video to his students, who wrote letters to Anita and Jenri. Here is a selection of those letters.
---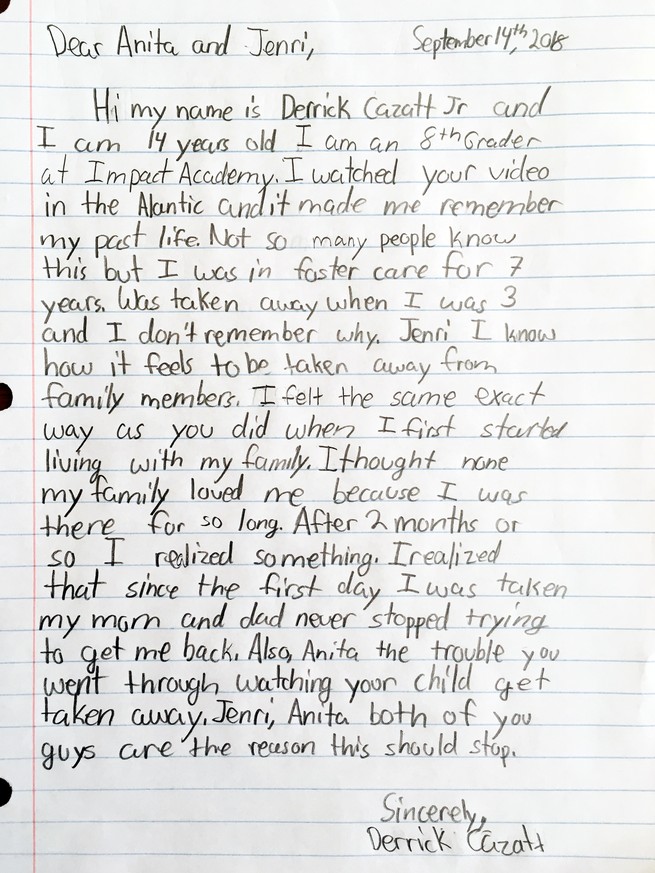 I watched your video in the Atlantic and it made me remember my past life. Not so many people know this but I was in foster care for 7 years. Was taken away when I was 3 and I don't remember why. Jenri I know how it feels to be taken away from family members.
Derrick Cazatt Jr.
---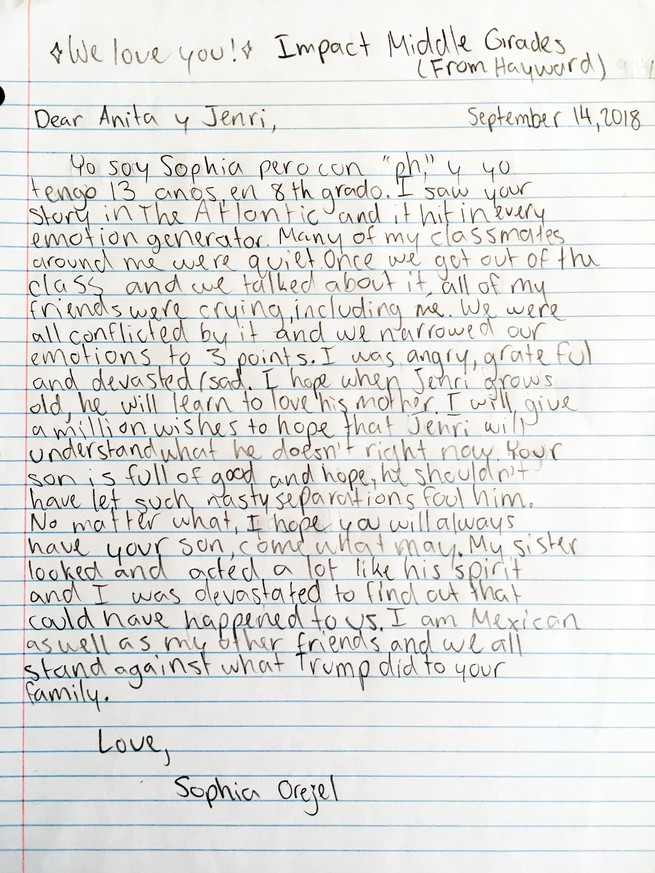 I will give a million wishes to hope that Jenri will understand what he doesn't right now. Your son is full of good and hope, he shouldn't have let such nasty separations fool him.
Sophia Orejel
---
I watched your video in the Atlantic and it made me feel angry. I was mad, disappointed, sad, all of these emotions because this world is unfair. … I really hope that your case gets solved, and that you can live a normal life with your son.
Yaneth Jimenez
---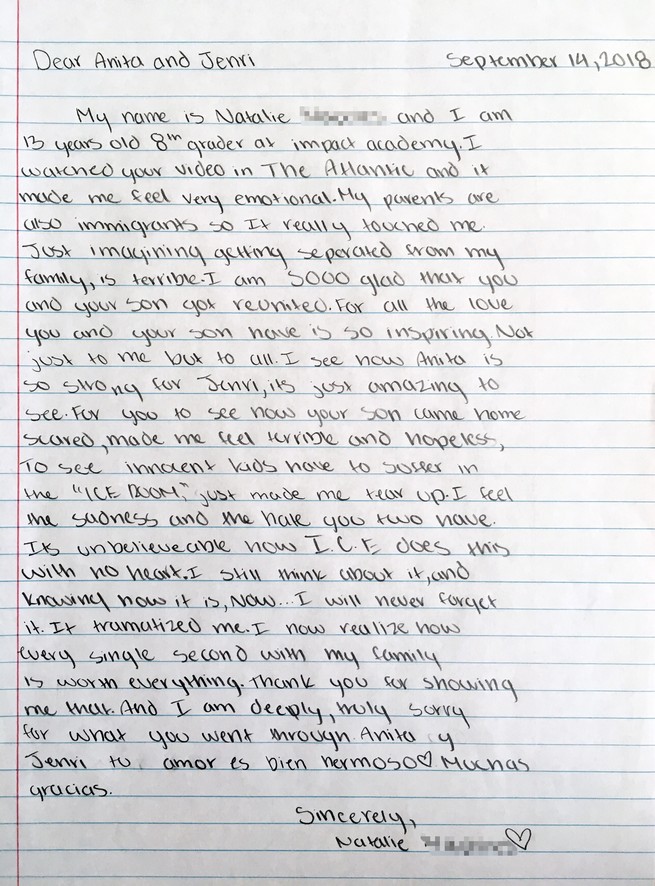 My parents are also immigrants so it really touched me. Just imagining getting separated from my family, is terrible. I am sooo glad that you and your son got reunited.
Natalie
---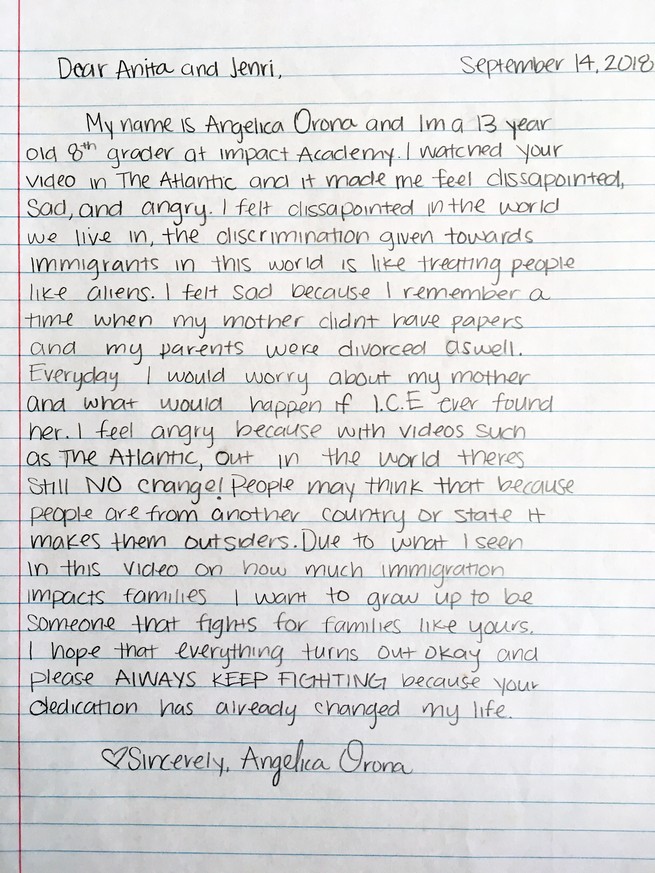 I felt sad because I remember a time when my mother didn't have papers and my parents were divorced as well. Everyday I would worry about my mother and what would happen if I.C.E. ever found her.
Angelica Orona
---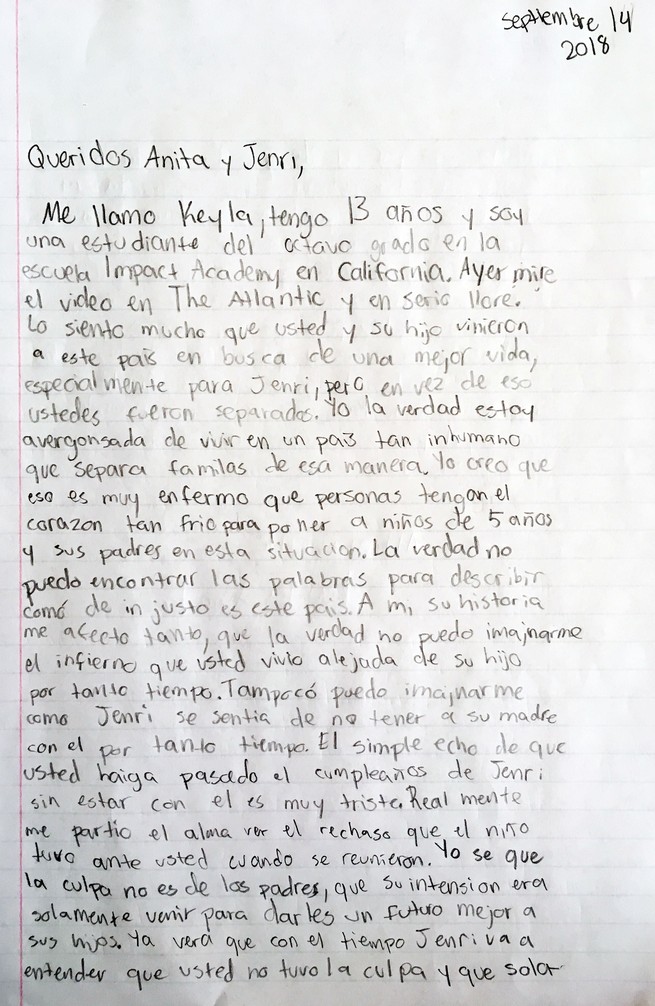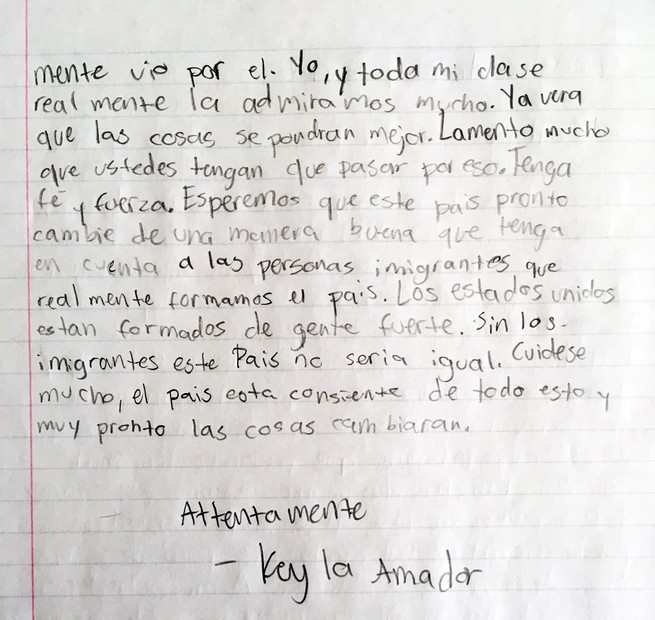 Dear Anita and Jenri,
My name is Keyla, I'm 13 years old and I'm an eighth grade student at the school Impact Academy in California. Yesterday I saw the video in The Atlantic and seriously I cried. I'm so sorry that you and your son came to this country in search of a better life, especially for Jenri, but instead of that you were separated. I'm truly embarrassed to live in a country so inhumane that it would separate families in that way. I believe that it's sick that people would be so cold-hearted to put a five-year-old boy and his parents in that situation. The truth is I can't find the words to describe how unjust this country is. Your story affected me so much that in truth I can't imagine the hell that you lived away from your son for so much time. I also can't imagine how Jenri felt to not have his mom with him for so long.  The simple fact that you spent Jenri's birthday without being with him is very sad. Really, it broke my heart to see your son reject you when you reunited. I know that the fault isn't the parents', that your intention was only to come to give your kids a better future. You'll see that with time Jenri will understand that it's not your fault and that you only came for him. My whole class and I really admire you a lot. You'll see that things will get better. I'm really sorry that you had to go through that. Have faith and strength. We hope that soon this country will change in a good way that keeps in mind that people who are immigrants really formed this country. The United States is made up of strong people. Without immigrants this country would not be the same. Take care, the country is conscious of all this and very soon things will change.
Sincerely,
Keyla Amador
---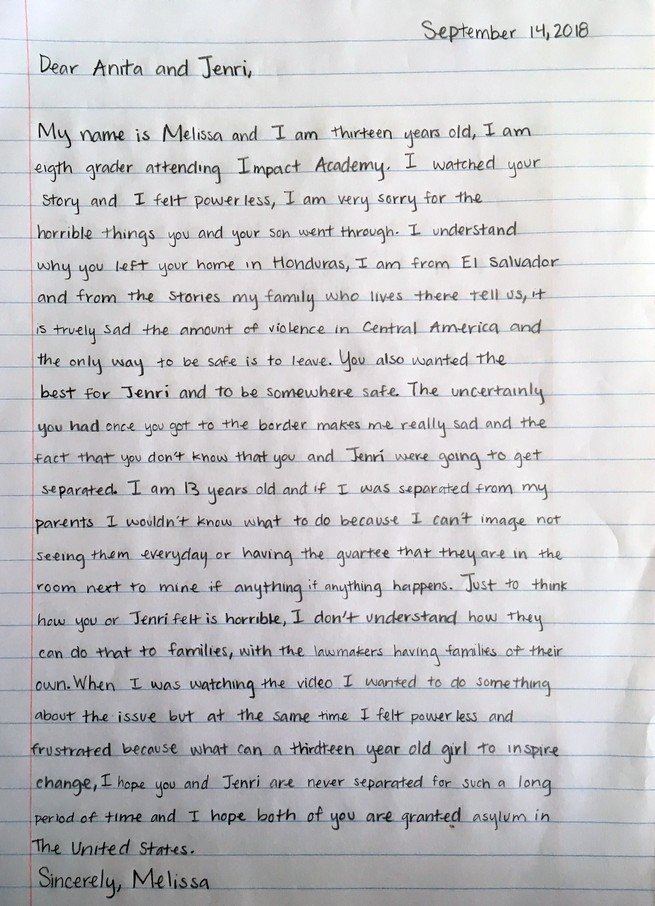 I understand why you left your home in Honduras, I am from El Salvador and from the stories my family who lives there tell us, it is [truly] sad the amount of violence in Central America and the only way to be safe is to leave.
Melissa Martinez
---
It was very awful to see the way you guys are being treated. I have family in Mexico and I would hate to see that happen to them if they came to the U.S. I was glad to see that the lady helped you reunite with your son.
Melissa Delgado
---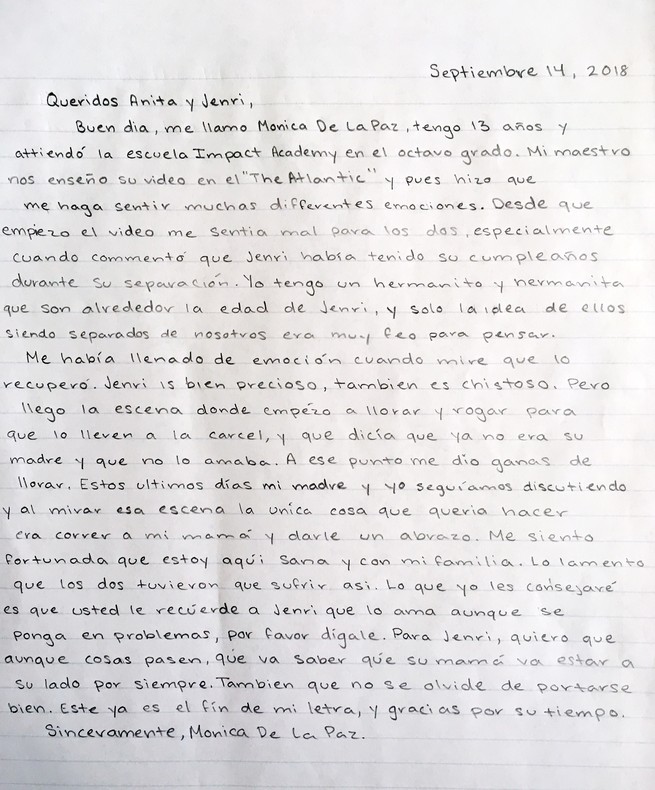 Dear Anita and Jenri,
Good day, my name is Monica De La Paz, I'm 13 years old and I attend the school Impact Academy in the eighth grade. My teacher showed us your video in The Atlantic, and it made me feel a lot of different emotions. From the start of the video I felt bad for both of them, especially when they mentioned that Jenri had had his birthday during the separation. I have a little brother and sister that are around Jenri's age, and just the idea of them being separated from us was really awful to think about.
It filled me with emotion when I saw that you got him back. Jenri is precious, and he's also funny. But in the scene where he started to cry and beg to be taken back to jail, and said that you weren't his mom and that you didn't love him. At that point I felt like crying. These past few days my mom and I were arguing, and watching the scene the only thing I wanted to do was run to my mom and give her a hug. I feel fortunate that I'm here, safe, with my family. I'm sorry that you both had to suffer like that. What I advise is that you remind Jenri that you love him even if he's in trouble, please tell him. For Jenri, even if things happen, I want you to know that your mom will be at your side always. Also don't forget to behave well. This is the end of my letter, and thanks for your time.
Sincerely,
Monica De La Paz
---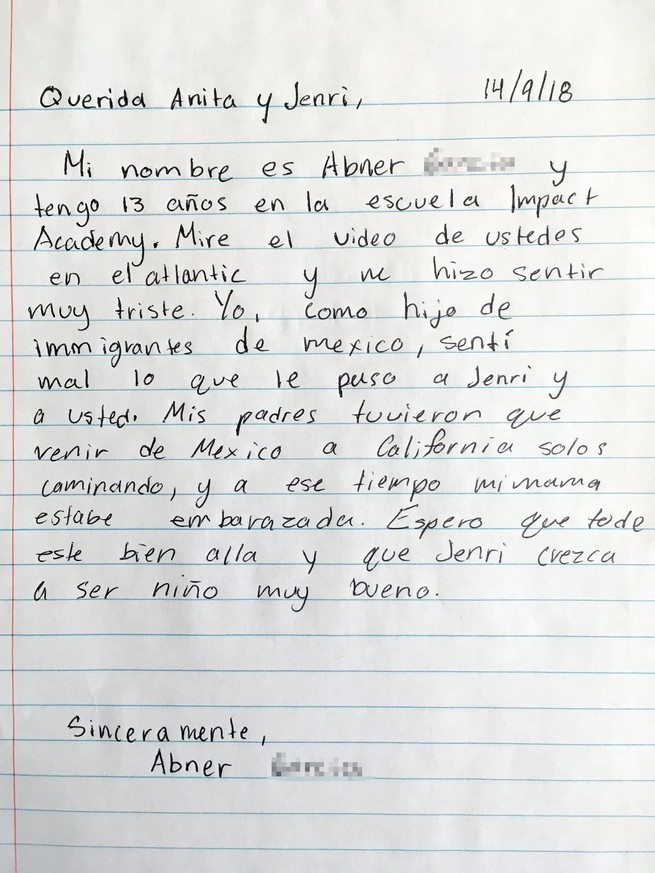 Dear Anita and Jenri,
My name is Abner and I'm 13 years old at the school Impact Academy. I saw the video of you in The Atlantic and it made me feel very sad. I, as a son of Mexican immigrants, felt bad about what happened to Jenri and you. My parents had to come from Mexico to California walking, and at that time my mom was pregnant. I hope that everything is good over there and that Jenri grows up to be a very good boy.
Sincerely,
Abner
---
Dear Anita and Dear Jenri,

My name is Joshua and I'm 13 years old and in eighth grade (8) at Impact Academy. I saw your video in The Atlantic and it made me feel angry, furious to just think of being away from my mom for so much time and I'm 13, I can't imagine that for a 5-year-old boy that comes from a horrible place where you were threatened at gunpoint and later to come to the United States and to be separated from his mother and later sent to the "hielera," a very cold place and to be jailed like a prisoner. It disgusts me for this country and where we've come, from a country that helped other countries and people, to a country that separates families that flee for their lives and jails them. Jenri's words were devastating and they show how traumatizing that experience was. But Jenri, remember that your mom will always be there for you and fought every day to see you. She loves you and I don't know her but it's visible in only 20 minutes. I will never be able to say how it feels but I'm sorry. But from here it will only get better.
Fondly
Joshua Barron
---