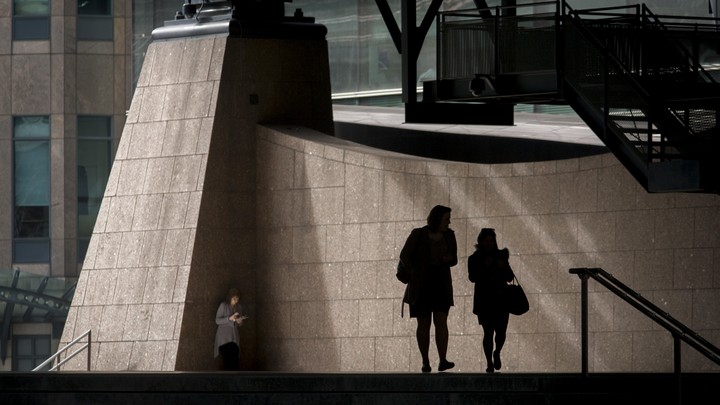 A Lack of Confidence Isn't What's Holding Back Working Women
Last month, Stéphanie Thomson wrote about a strong body of research suggesting that women feel just as confident in their abilities and leadership skills as their male peers—but have a harder time self-promoting, because they know that doing so won't always advance their career. "Ultimately," Thomson wrote, "the biggest problem with the confidence-gap theory is that it places the responsibility for closing the gender gap on individual women when the solution might instead lie beyond their control."
---
The ongoing debate about the "confidence gap" sheds fascinating light on gender inequality in the world of work. But the debate must take into account global differences. In her article, Stéphanie Thomson argues, "There's a strong body of research suggesting that women feel just as confident in their abilities and leadership skills as their male peers." This may be true in high-income economies where gender gaps in education and skills are narrowing, but the same cannot be said in lower-income countries where women struggle with confidence precisely because they lack the business knowledge and skills to do their jobs effectively, and because they often haven't had the opportunities or support to grow their confidence. One woman told me that she was horrified when she joined one of our financial-literacy training programs because the early lessons made her realize that she'd been wasting money on materials her business didn't need. Gaining the skills to better manage her finances was ultimately what bolstered her confidence. Confidence is a complex phenomenon rooted in a number of factors—self-esteem, capabilities, social and professional networks, gender norms—that differ according to social and geographical context. Efforts to understand and improve confidence must take all of these issues into account.
Helen McEachern
CEO, Cherie Blair Foundation for Women
London, England
---
I'm glad to see the studies revealing that it is the working culture that is skewing the results, not women's lack of self-confidence. My daughter got her greatest boost by showing that her work boosted productivity by 33 percent. It seems to me that it's men who have to do the work for women to achieve equality. Without them stepping up, we will not see progress.
Magdelen Constan
Milton, Mass.
---
Several readers responded on Twitter:
It's incredible how much research is now reflecting my experiences. Up to now lots of the things told to women in general didn't help my experience.
I like this
"Start each meeting by asking everyone to share one thing they've achieved since you last met" https://t.co/gW7jQ0HYiL

— Sue Molloy (@suemolloy) September 23, 2018
---

I've known "the confidence gap" is bullshit since I first heard about it - as a recovering overachiever, I've experienced the backlash since childhood - but I'm glad to see articles backing that up: https://t.co/y76aZtzK2f

— b. pains (@demew) September 20, 2018
We want to hear what you think about this article. Submit a letter to the editor or write to letters@theatlantic.com.