Letters: 'We Need to Resist the Mallification of New York'
Readers grapple with the implications of Manhattan's empty-storefront problem—for the city, and for urban life everywhere.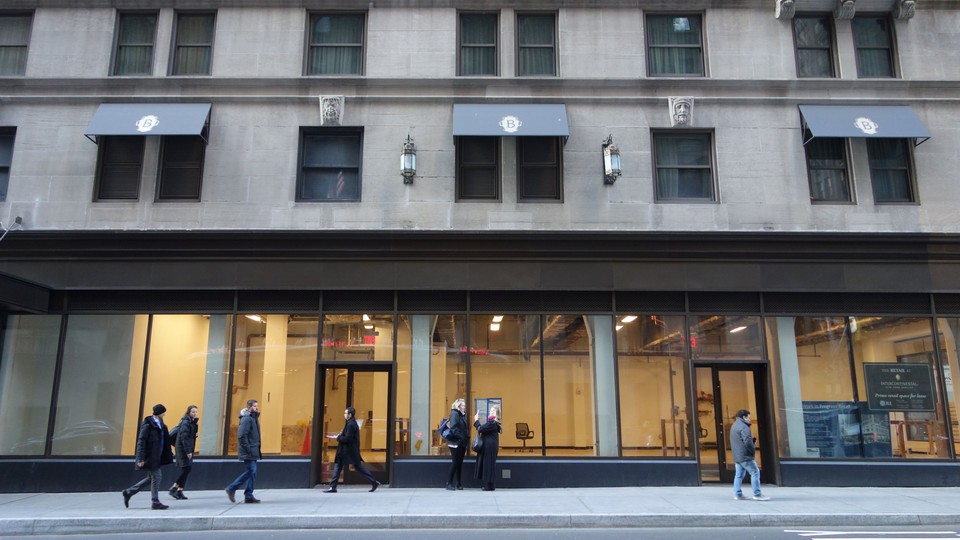 How Manhattan Became a Rich Ghost Town
New York's empty storefronts, Derek Thompson argued last week, are a dark omen for the future of cities.
---
I so enjoyed this article, in a sad way. I experienced this on a micro-level in Montrose, a Houston, Texas, neighborhood. It was quirky, old, tree-lined, and everybody moved there to get their piece of the grooviness. Then they built curb-to-alley condo-strosities with pavement instead of lawns, street-level garages, and no porches. Now Montrose is nothing but a huge apartment complex.
Cheri' Ben-Iesau
New Orleans, La.
---
Derek Thompson hits the mark. New York has too many empty storefronts, as landlords hold out for deep-pocket chains to open their checkbook, while small, more quirky establishments disappear year by year.
There's a solution to this, and San Francisco paints the way. In many (but not all) neighborhoods, San Francisco prohibits the opening of a new store by a company that owns more than 11 countrywide.
The idea is to help sustain the kind of diverse, quirky retail establishments that made San Francisco (and New York) such great cities. And it works. Neighborhoods in San Francisco like Hayes Valley, the Mission, and the Upper Haight are still great neighborhoods to stroll and spend time in. Meanwhile, New York is taken over by the CVSs, Bank of Americas, and Chipotles of the world.
This kind of retail control doesn't, and shouldn't, work in every neighborhood; Fifth Avenue and 14th Street don't need controls. But there's a strong argument for saying that Greenwich Village, the Lower East Side, and Park Slope should not go the same way.
Our city council is dominated by self-styled progressives; maybe they need to start taking cues from the progressives of San Francisco. We need to resist the mallification of New York, and ways to do so have already proved themselves elsewhere.
Greg Costikyan
New York, N.Y.
Formerly San Francisco, Calif.
---
Mr. Thompson's article is spot-on about the frightening decline of distinctive retailers in Manhattan. Living near the Guggenheim Museum, I certainly notice the numerous vacant storefronts on Madison Avenue. Accompanying that erosion, my informal survey of neighboring buildings in four directions of the compass shows that far more apartments and townhouses than in past years are dark at night, reflecting their absentee and investor owners' real-estate banking.
That, of course, just makes things worse for traditional retailers.
Richard Grimm
New York, N.Y.
---
Speaking as a Clevelander, I was a bit baffled by Mr. Thompson's logic that high rents in Manhattan somehow make Manhattan more like Cleveland, a city where rents are comparatively low. Mr. Thompson is of course welcome to visit any of the inexpensive and accessible cultural institutions, quirky restaurants, curious antique shops, or myriad coffee joints of my hometown, but he needn't, really. We'd prefer not to import New Yorker chauvinism from New York.
Kristina Collins
Cleveland, Ohio
---
The article "How Manhattan Became a Rich Ghost Town" warns of "the Clevelandification of urban America." Derek Thompson was only borrowing a quote, but his use of a good line rendered a bad example. Cleveland has been affected by "mass commodification" probably less than any big city in the country, the result of its slow growth over many years. There's no Ikea here, no Primark, no Johnny Rockets. My family gets burgers and shakes from a prewar grill around the corner. We get our pizza from a 60-year-old restaurant, and our pierogi from a spot that's been open nearly twice as long. My local hardware store (single location) carries what the slate-roofed houses in our neighborhood need. Family-owned, small chains get the grocery dollars here. Cleveland can be fairly criticized for some things, but bland trendiness isn't one of them. My former neighborhood on NYC's Upper East Side has my current home beaten on that by a long way.
Mark Doyle
Rocky River, Ohio
---
What we have is not just a retail system systematically being converted from eccentric local shops to high-end chains. We have a population undergoing the same sort of manipulation. Young people looking to break into the arts or media or to build a new business can no longer live or work in Manhattan, and mostly no longer try.
I am that rarest of rare birds—a fourth-generation, middle-class Manhattanite, barely hanging on. I have watched the ebbs and flows of this tide my whole life. What is going on now in demographic and commercial transformation is as dramatic as the abandonment of the '70s, but this time it is by intent and design, not out of desperation.
John Albin
New York, N.Y.
---
Having lived in the West Village and now on University Place for 40 years, I've watched as high rents and wealth have stripped these neighborhoods of their small businesses and village color. Your article paints an accurate picture of the how and the why this has happened. I'm giving up my beloved Greenwich Village for a smaller city in South Carolina. I look forward to a less crowded environment and a spot where, for now at least, a young entrepreneur can open up a business and thrive. Sure there are things I'll miss, but I'll have immediate access to nature and an apartment whose amenities make it like a five-star resort, right downtown. Greenville, here I come.
Elizabeth Feinman
New York, N.Y.
---
As a New Yorker my whole 38 years, and a police officer for 15, I know the pulse of this city. Manhattan needs to institute a tax on properties that have been vacant for more than a year. Most any New Yorker who really knows what is going on is hunkering down in Long Island City, Astoria, or certain parts of Brooklyn (all which have became overvalued). But at least those areas I just mentioned don't have Duane Reades on every corner. All of my friends on Long Island who used to go to NYC for a night out at a restaurant, entertainment, etc., instead go to either the places I mentioned or actually stay on Long Island (you can blame the wretched Long Island Rail Road for this, as well). Actually, with all of the restaurants and bars on Long Island, many people stay there not wanting to see sterile NYC blocks with Duane Reades and homeless individuals every 10 feet. There is zero charm to the city now. It's not even worth living in NYC anymore.
It's gridlock and construction warfare everywhere, and the subway is in need of a costly makeover. Almost every meal I now order in an NYC restaurant sucks. Years ago it was always mouthwatering. Here's another reason how I know this city is in trouble: Being a police officer, I get to speak with basically hundreds of tourists a day. I can honestly say that about 90 percent of the tourists say they will never come back. They plop down in Times Square hotels and are exposed not to great cuisine, but to Bubba Gump Shrimp tourist traps and lame wax museums. I tell them that they have to go to Brooklyn or Astoria to experience New York. Most don't go. The biggest beneficiaries of the decline of NYC are New Jersey and Long Island. At least the strip malls there have parking.
Christopher James
New York, N.Y.
---
Several readers responded on Twitter:
---
---
---
---
---
---
---